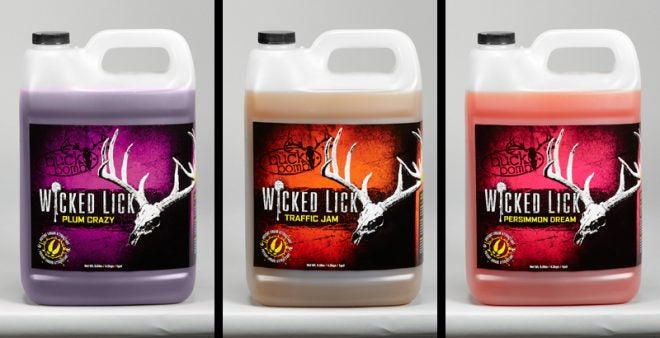 When it comes to attracting deer, there are many schools of thought among hunters. Some believe that using any form of scent, feed, or call to attract game is "cheating." Others believe in using any possible means to pull in the deer. And most of us fall somewhere in between.
I've used my share of scents and calls but have never successfully used any liquid deer baits. Once upon a time, I did try some stuff that looked and smelled suspiciously like grape-flavored Gatorade G2 in front of a game camera, with zero interest from wildlife.
Buck Bomb recently sent out a press release about some stuff called "Wicked Lick," which might be worth a try–when and where it's legal, of course. Here's what they say about it:
Wicked Lick… is an irresistible liquid deer attractant that will keep deer coming back… to your hunting area.

[It] is an extremely sweet, potent liquid that has a taste that deer love. The attractant can be poured on the ground, or onto stumps and logs, where it will soak into the pores of the wood and hold deer in the area for a longer time as they keep coming back to dig at the wood to try and get more of the product.
Wicked Lick comes in one-gallon jugs in three flavors: Persimmon Dream, Traffic Jam (acorn, pumpkin and sweet potato), and Plum Crazy (Muscadine). MSRP is $12.99.
Have you ever used this kind of attractant? What did you think of it?