Review: Kineti-Tech Muzzle Brake and Sound Redirector
Major Pandemic 09.28.16

While building several AR15 pistol builds, I wanted that "stumpy" look where the hand guard would overhang the muzzle. The problem was that I was using Aero Precision Custom COP Monolithic uppers, which do not have much space inside the hand guard for things like giant muzzle brakes.
Because the hand guard was to overhang the barrel by an inch or more and I was intending the muzzle brake to make up the extra length, I could not use a traditional flash hider or brake, lest the hot gases injure my support hand.
After mulling over a number of possible solutions, I found the reasonably-priced Kineti-Tech Muzzle Brake and Sound Redirector combo, which is mighty cool for the price.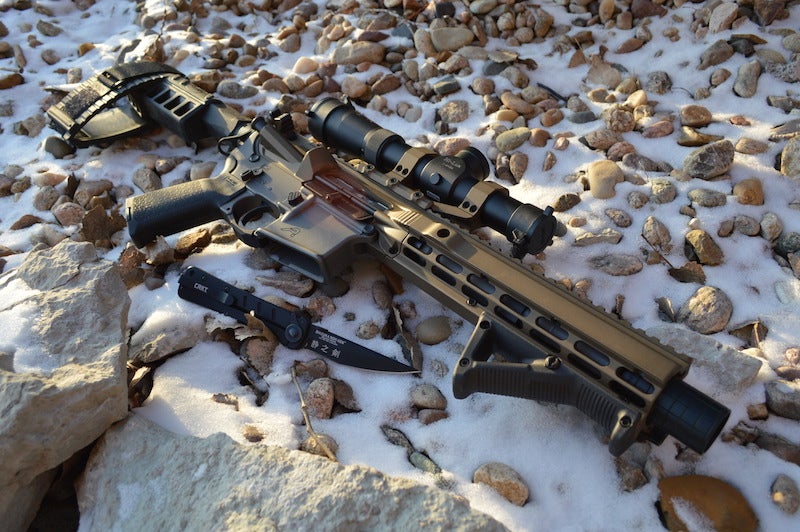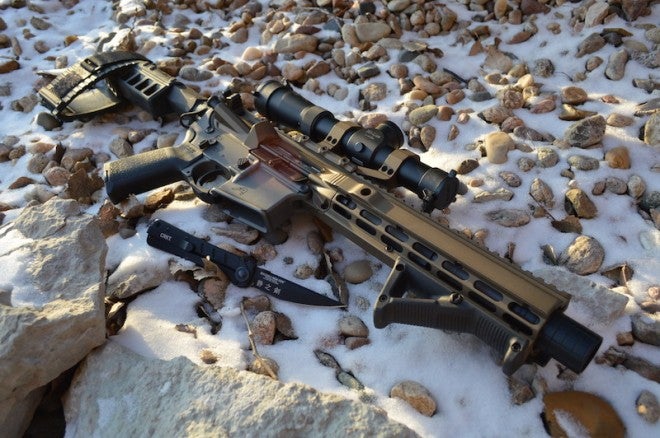 Fit, Finish, Feel, Features, and Functions
The idea is pretty simple, but I really like how Kineti-Tech has pulled it off. You get either a radial or ported brake, plus a screw-on blast shield/sound redirector. The blast shield just threads on like a suppressor over the externally threaded Kineti-Tech brake, and the result is decent braking with a concussion directed forward of and away from the shooter.
The Sound Redirector also makes it more pleasant for those around you at the range. Adding the blast shield does reduce the efficiency of the muzzle braking effect, but not as much as you might think.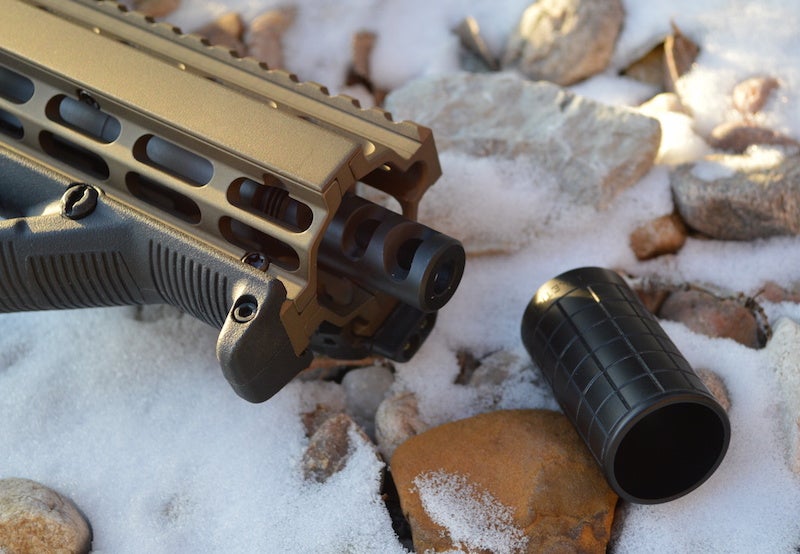 Since AR15 pistols are all the rage, many people are realizing that brakes with blast shields or Krink-style comps are a great option to reduce the thunderous roar or fireball blast of short-barreled AR15s.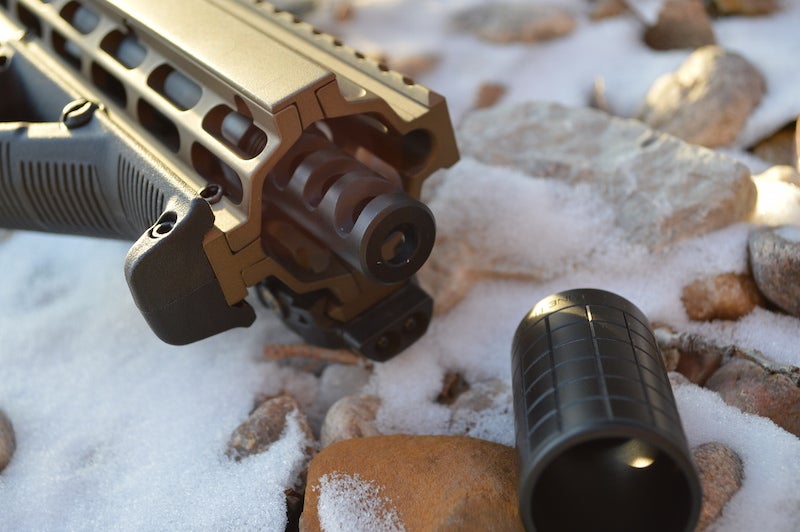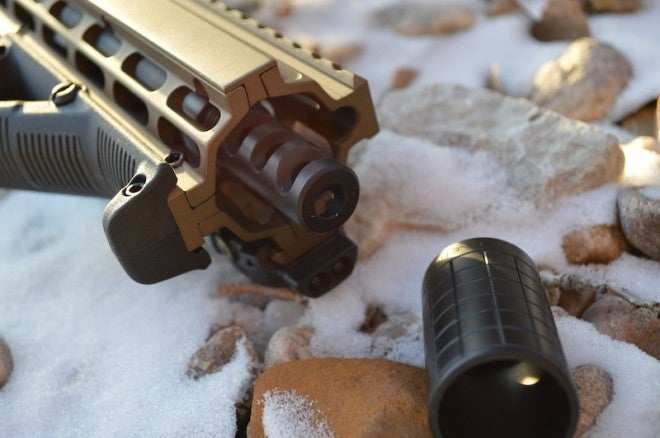 Kineti-Tech brakes are well made of A311 Stressproof Steel, and the Redirector Shroud is T6061 aluminum. The buyer has a number of options to cater to their needs. There is a choice of 6-port brake or a radial brake, a choice of four Shroud/Sleeve styles, and either 1/2″x28 – 223 or 5/8″x24 308 thread and caliber options.
At this point I have purchased three for 300 Blackout, 223 and 7.62×39 AR15 pistols, and they are all well-made items that perform extremely well for the price.
Shooting It
After some testing, I was left impressed with the recoil reduction of Kineti-Tech brakes and blast shields. So far I have tried both the radial and 6-port muzzle brakes and see a place for both. With or without the blast shields attached, the radial brakes create less "fireball" than the 6-port versions, but the 6-port versions are more effective at reducing recoil.
My choice was to opt for the radial models on my 7.62×39 and 223 builds (because they are generally fireball monsters) and I used the 6-port version on my 300 Blackout upper to make an already-light-shooting round feel even lighter.
I have not tried it yet, but I would like to attach one of these to my DPMS GII 308 AR rifle to both push sound pressure away from me and to help with recoil. The same thought goes for doing the same thing on a 308 bolt action as well.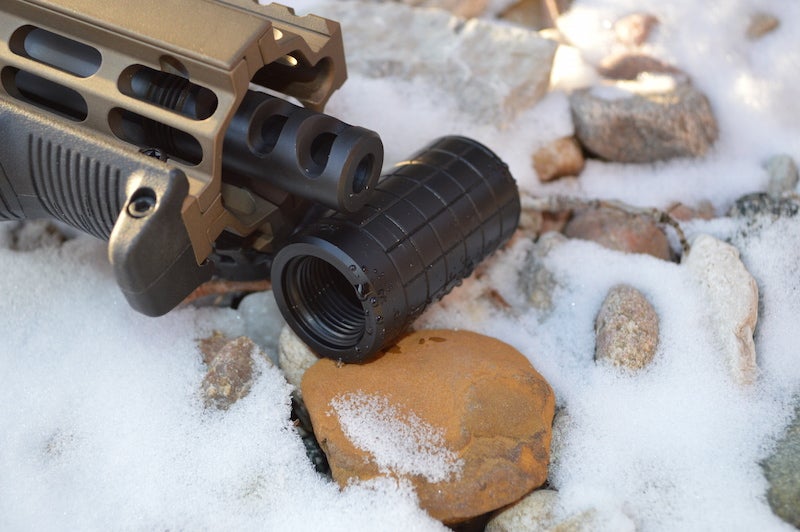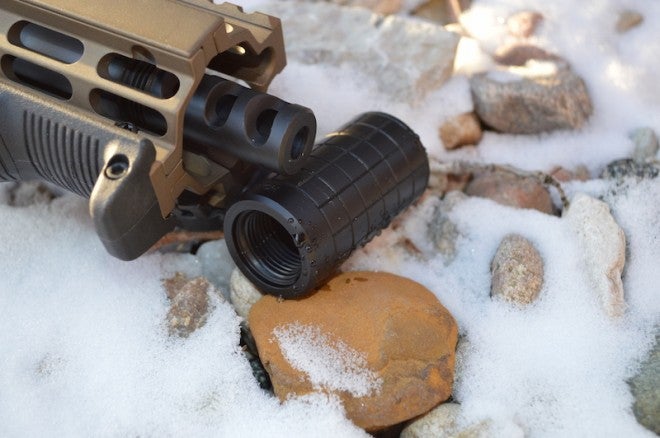 Final Thoughts
I was skeptical at first, considering similar brakes were selling between $150 and $250 and this Kineti-Tech combo complete is only $59. Pretty impressive price and features, considering this is still less expensive than most high-quality brakes alone, and this comes with a blast shield.
What I liked most about the Kineti-Tech Brake and Redirector combo was that it fit inside even the slimmest handguards I have. Functionally the combo did its job and delivered very good blast redirection and overall braking effect on each of the AR15 uppers they were installed on.
Great product and execution on a simple idea that would work just as well on your 3Gun rifle as a AR15 pistol build or even on your 308 hog or sniper rig.
Manufacturer Info and Specs
This 2 piece design provides a great recoil reduction as well as A sound director. Redirects sound forward to greatly reduce the "at ear point blast" compared to with the sleeve removed. Design to redirect propellant gases with the effect of countering flash recoil and unwanted rising of the barrel during firing. Quality made here in the USA with A311 StressProof Steel. Item is 2.325″ and really sets off the look of the gun….very nice.
Outer brake threads are 13/16″ X 16
Through Hole – 5/16″ 223/556 cal.
Length – 2.325″
Width – 1.25 sleeve 1″ Brake"
Barrel Thread – 1/2″ – 28
Outer sleeve Thread – 13/16″ X 16
Thread Length – 3/4
Material – Steel A311″
Finish –  Parkerized/ Hardcoat Anodized MIL-A-8625F Type III / Color as Shown
Redirector Shroud – T6061 Aluminum
MSRP $59 for brake and redirector make your own combo