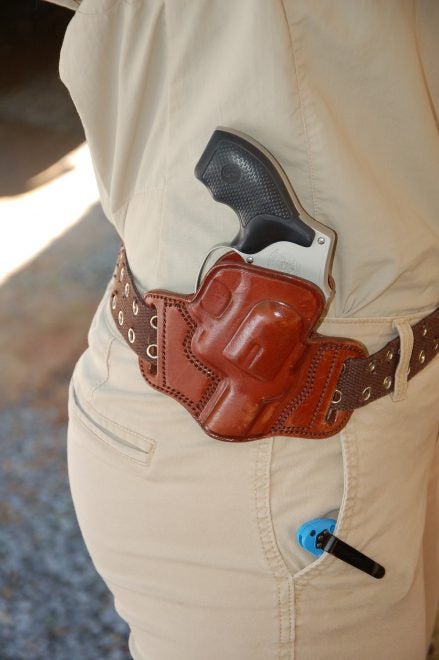 A lot of discussion is devoted in the self-defense arena about concealed carry and what gun or holster to use, but little to nothing about where to position that weapon. Are there best carry positions to use? Are some modes more accessible than others? Is there a more comfortable way to carry a handgun concealed or otherwise? Good questions.
If we limit this for now to concealed carry, then we are talking about carrying the weapon inside the waist band or outside of it. This is something the carrier has to decide as a matter of personal preference. Inside the waist band means, of course, inside your pants with the belt lapping over the outside of the holster. I do not like this mode simply because it is not comfortable for my body style, which is no style at all. Try IWB to see if it works for you.
Outside the waist means on a belt either with the belt fed through the holster loop or a clip on style that secures over the pants belt. Then a shirt and/or jacket worn outside the pants covers the weapon and provides the concealment. With either approach, the covering garment has to be swept aside to make the weapon withdrawal. This takes practice for efficiency to get the weapon drawn and aimed in a timely manner when reacting to a quick response.
The next consideration is where exactly on your waist to place the holstered weapon. The majority of concealed carry modes generally just position the holster directly at the side of the waist just under your drawing hand either right or left side. Others move the holster somewhat further back just behind the hip bone so it is somewhat obscured by the hip.
Another choice is to position the holster in the small of the back, which tends to be just either side of the spinal cord and not directly over it. This can provide an extra measure of concealment, but it is not particularly comfortable for sitting at a desk or driving a vehicle. It can also be dangerous if the weapon is positioned directly over your spinal cord and you fall on it. You're looking at a potentially serious injury.
Another option is crossdraw, which is really good for sitting but requires a further reach. Shoulder holster carry is an alternative if you regularly wear a suit coat or jacket. So, try out various modes to see what works best for you, then practice drawing the weapon.