Review: Southern Grind's Jackal
Jon Stokes 10.04.16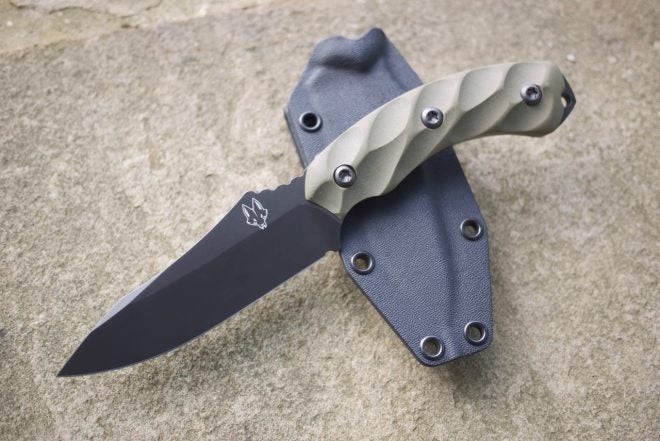 I always see a lot of great stuff at SHOT Show in Vegas every year, but this past year I only saw two things that I absolutely had to have. One was a pistol that I recently picked up and plan to review, and the other was a knife: the Jackal, by musician Zac Brown's Southern Grind blade shop.
The Jackal caught my eye at first because of its distinct blade shape. It's like a larger version of one of my favorite pocket knife blades, the blade on the Leatherman Skeletool CX. When I picked up the Jackal and held it in my hand, I was sold.
Features and Specs
The Jackal sells for about $230 most places and runs a high-carbon 8670M steel, which has a reputation for being tough as nails and a great edge holder. But it also for rusting pretty quickly, hence the coating on the blade. For their 8670M Gran Daddy blade, the website says: "Blade cut from reclaimed carbon metal sawmill blades for superior capability that's also environmentally friendly." I don't know if this applies to the Jackal, too, but I assume it does.
At any rate, the steel seems to have a solid reputation online as an L-6 alternative, at least if you maintain it and/or coat it. It's one of those areas where you're trading off performance (durability and edge holding) for corrosion resistance.
The grind is a flat grind, and at 0.21″ at the spine is thick enough without being over-the-top Busse thick. The blade thins out rapidly to the edge, and this is one of the reasons it's good that they went with such a tough steel, even at the expense of rust resistance. This means you get the performance of a thinner edge but with plenty of toughness.
The blade comes sharp out of the box with a factory edge, but I went ahead and stropped it a bit before using it.
The fit and finish on this blade are impeccable. The grinds are perfect, and there are quite a few of them for a production blade. The handle slabs mate perfectly with the tang.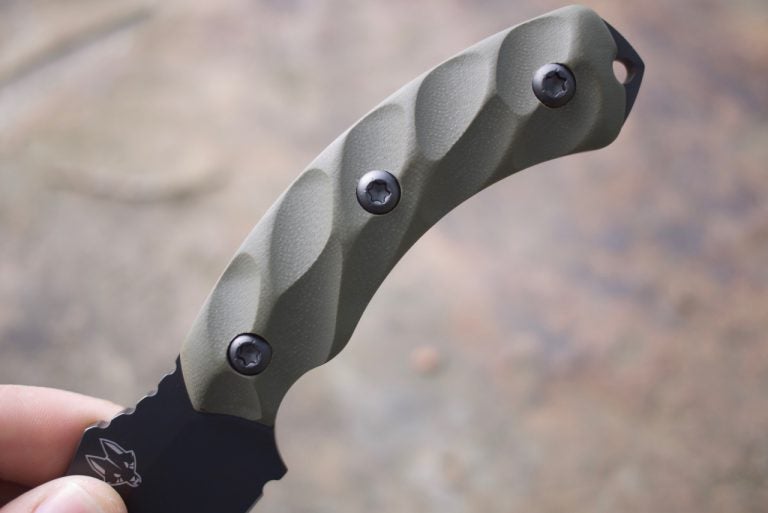 The G10 handle slabs are held on with three standard torx screws, and the end of the handle has a lanyard hole with a glass breaker.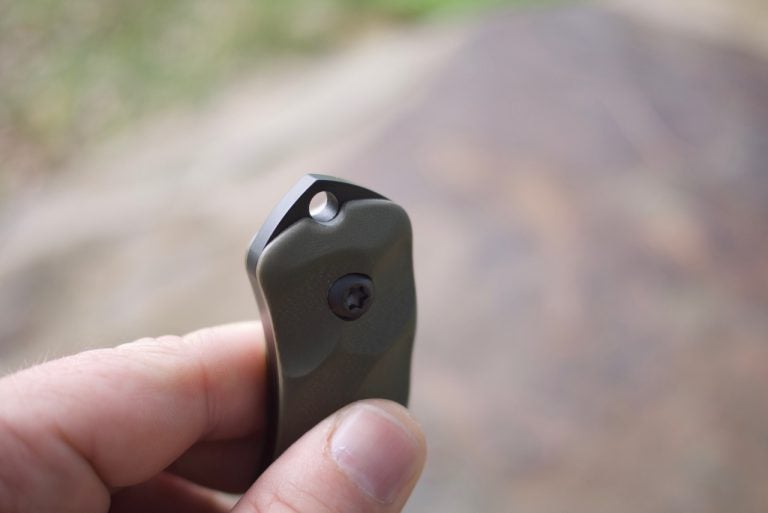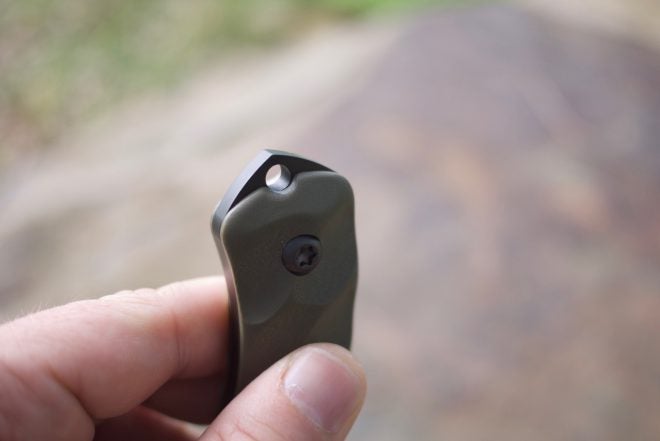 The Kydex sheath is a compact but extremely well-thought-out little piece. The belt clip is held on by two Chicago screws and can be removed and placed on the other side, so you can carry on either side with this sheath. You can also use the clip to rig up the sheath for horizontal carry.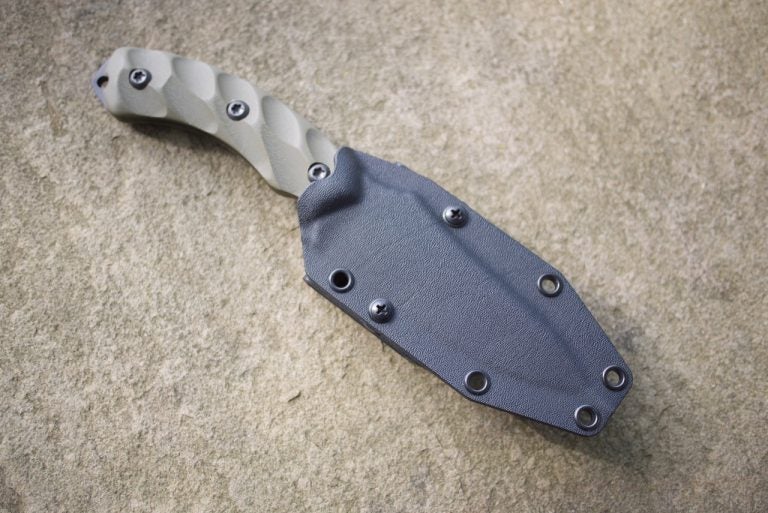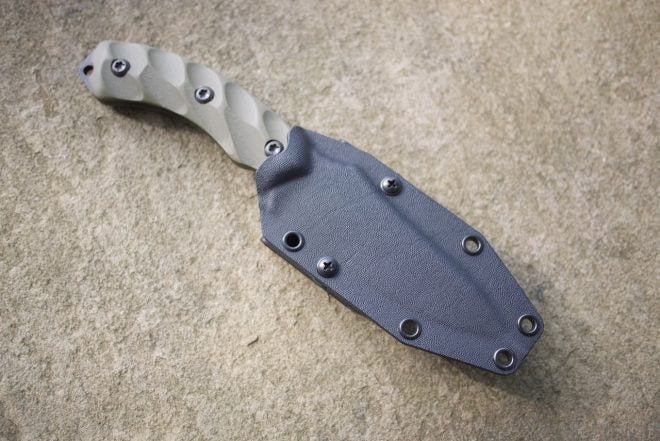 The sheath also sports a molded drain hole at the bottom, a nice touch that shows how much thought went into this.
SHOP NOW
The Jackal clicks securely into the sheath and stays there with no rattle.
The Jackal's packaging looks fantastic, and you can tell that Southern Grind took this part of the purchase experience seriously.
Field Test and Use
Like other knives its size, the Jackal is not a chopper. If you're looking for a chopper, buy a hatchet. (Really large knives are weapons that can also cut and chop, they're not 'choppers.' Hatchets are choppers.)
The Jackal can do wood processing, carving, making feather sticks, batoning, and the like. I found it competent for those tasks, and the superior ergos mean that you can just keep using it, and there are no hot spots on the handle and your hand doesn't get tired.
Where this blade really shines, though, is as a game knife. I used it on whole chickens and fish fresh from the pond, and it just does really well in this role. The blade is thin enough and has enough sweep for the kinds of strokes you do when fileting and skinning, and the steel is tough enough that you can go through bone without a hint of damage to an edge.
The handle retains a solid grip, even when covered in blood, slime, and water, and in general the knife just works extremely well for game.
Overall, the Jackal is the ideal length for a survival knife, and though it doesn't look like what you normally think of as a "survival knife," it's versatile enough to fill that role well. This really shines as a hunting knife. In fact, I think of it more as a hunting knife that can do double duty as a survival knife (vs. a knife like the Fallkniven F1, which is a survival knife that can work as a hunting knife).
The 8670M steel holds an edge well and sharpens without too much trouble. It's not as aggressive a cutter in wood as one of my CPM 3V knives, which makes me wish Southern Grind would offer a CPM 3V version, but I'm happy with the existing steel. The black PVD coating still looks fantastic even after use and abuse.
As you can see in the shot below, I can get my thumb up over the top of the ramp, which gives me a ton of control over the tip and the edge for carving.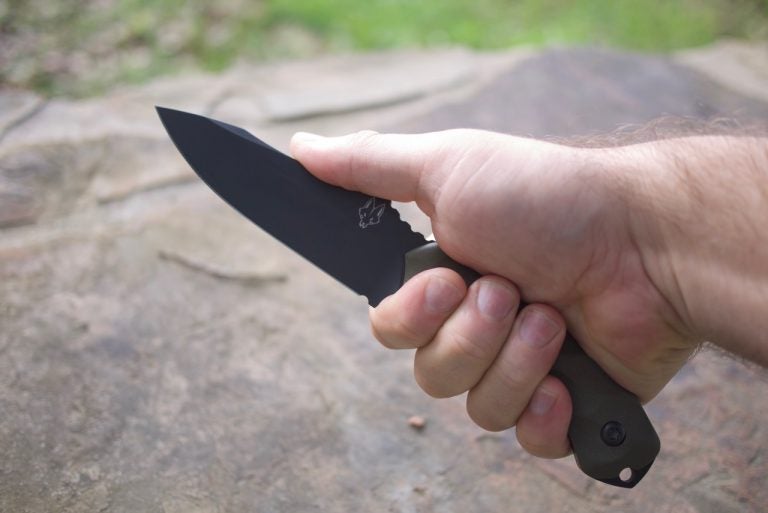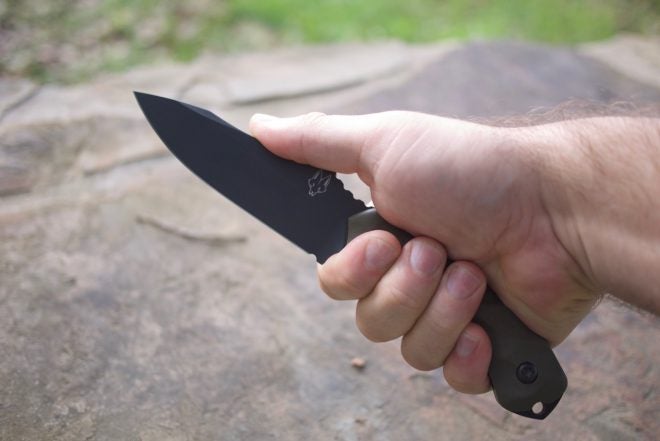 The jimping on the ramp is good without being too aggressive.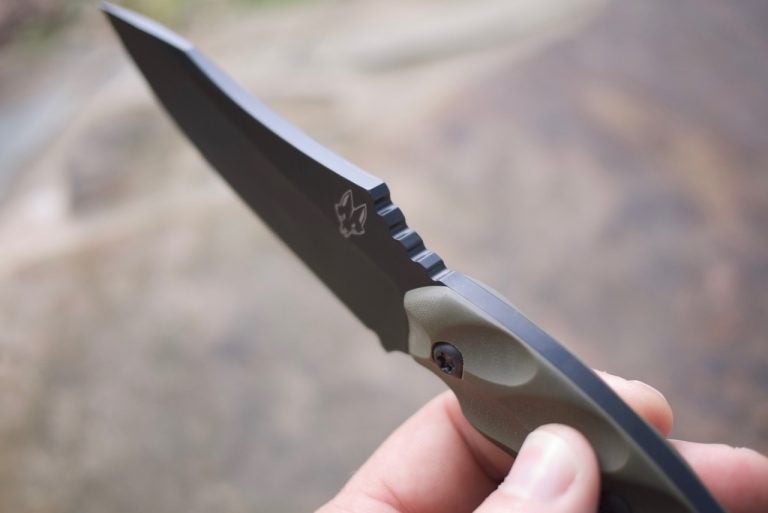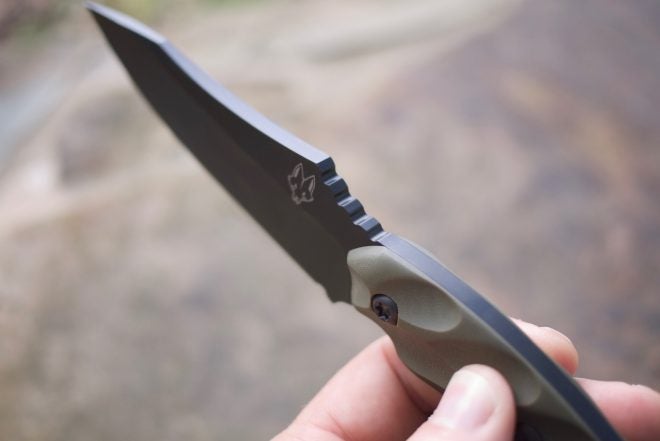 The grind on this knife is top-notch, especially for a production knife. There's a lot going on here, with a partial bevel at the top where a swedge would be. This is probably done mainly for aesthetics, and it does look really nice. But the partial nature of the "swedge," if you can call it that, also makes the knife stab a little better without actually giving up much tip strength.
The other thing about that top bevel not being a full-blown swedge is that all of the bushcraft types who are obsessed with batoning can baton away without the swedge chewing up their stick. (I don't get the batoning obsession, I honestly don't. I spent a big part of my youth in the woods and was a Life Scout, and never once heard of batoning until I started reading knife reviews online.)
I'm not big on the side-to-side tip testing, since no knife is designed to do that and it amounts to abuse. But I did do some digging in wood with the tip and it held up fine. I'm sure it would stand up to abuse.
As for the handle, again, the ergos are just fantastic. I can't say enough about how comfortable this knife is. The scalloped G10 is grippy enough, and the scallops are such that they function like finger grooves. My fingers fall right into the scallops when I grip the knife.
This fit between the scallops and my hand makes for a really unique feel that's hard to describe — it's like the knife is somehow custom fit for my hand. Of course, your mileage may vary, but the scallops are wide enough that they can account for a range of hand sizes. My dad tried the knife out and found it fit him really well, too, and his hands are smaller than mine.
As I mentioned above, there's a nice lanyard hole at the end of the blade, and with the way the metal goes to a point it appears to form a nice little glass breaker or skull crusher, probably by design.
Conclusions
The Jackal is currently my favorite, go-to blade for work around the property. The Jackal's "current favorite" status is partly because the new still hasn't worn off, but it's also due to the fact that I really enjoy working with it and I'm not afraid of busting it or breaking it. The 8670M is just not going to break, and if it does then the fact that this is a standard production knife with no customizations means that I can replace it with no wait.
Also, at $230 retail it's not going to break the bank if I have to replace it. I like that this is a widely available factory blade with a custom level of fit and finish and superior performance that's not priced in the stratosphere.
The replaceability factor has also made the Jackal my go-to knife for trips of any sort. If the blade gets lost or stolen, it's not going to ruin my week. I won't be happy, but I can always pick up another one exactly like it. So this is the knife I throw in my suitcase when traveling. It's like the Glock of my knife collection. It's a tool that does exactly what it's supposed to do, and it's tough as nails.
Now, the Jackal isn't the One Knife I'd grab if if I was headed into the unknown (that would probably be my Busse SARGE 7 LE), but if the Jackal were the knife I had on me in any kind of situation, I'd be perfectly comfortable and wouldn't feel underequipped.
From the packaging to the knife to the sheath, there are just so many little details that were thought out and perfectly executed. Everywhere you look, there's a feature or refinement that makes you smile. In all, it's a marvelous piece of industrial design. The team at Southern Grind really outdid themselves.
Southern Grind has a real winner on its hands with the Jackal. This should be on anyone's short list of all-purpose fixed blades.
SHOP NOW