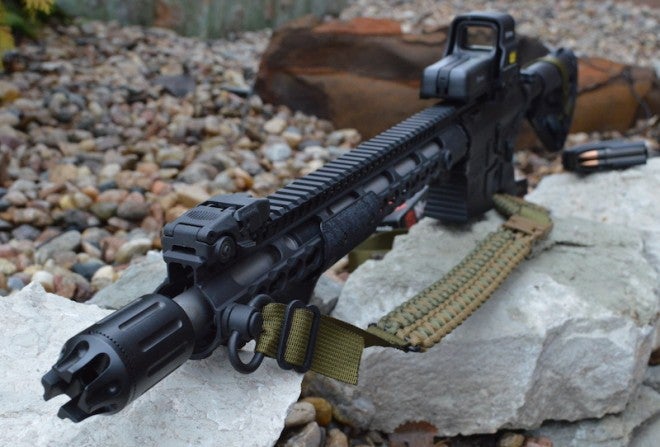 I liked the DPMS GII immediately after introduction, and as time went by I fell in love with some of its features. It feels like an AR15 in weight and size, and the recoil is a bit less than most 308 AR formats. Even the trigger is decent right from the factory and it has great out of the box accuracy. There is definitely a lot to love about this format.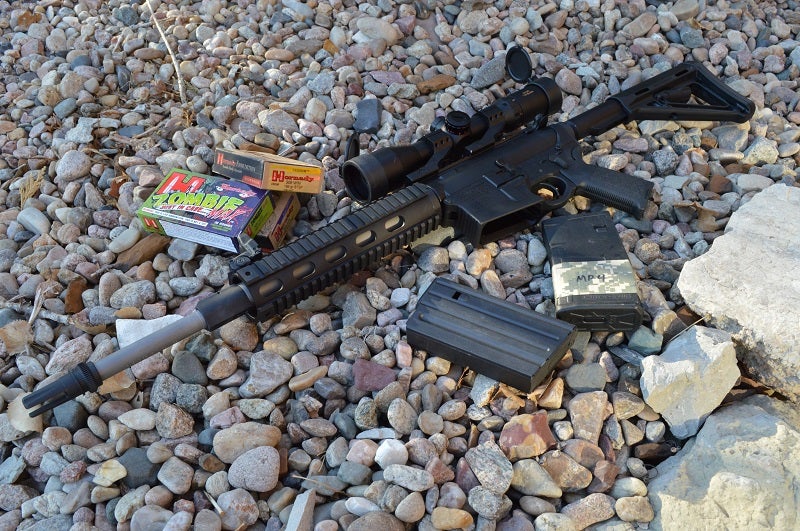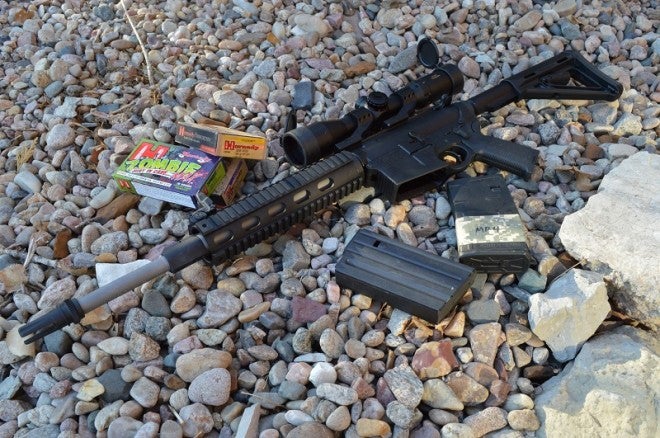 Those loves noted, I had some annoyances with the DPMS GII Recon. The GII is an awesome 308 packaged in an AR15-sized format, but I saw room for improvement.
Changing the Optic
Because I already had several long-range AR 308s, I decided to make this 308 GII thumper a shorter-range hunting and defensive firearm. The original Konus Pro optic was flexible, but not as fast as I would have liked in close quarters (25 yards or less). So I slipped on a Bushnell TRS-32 for a while, which delivered a great, inexpensive optic but lacked the faster circle-dot reticle I was wanting.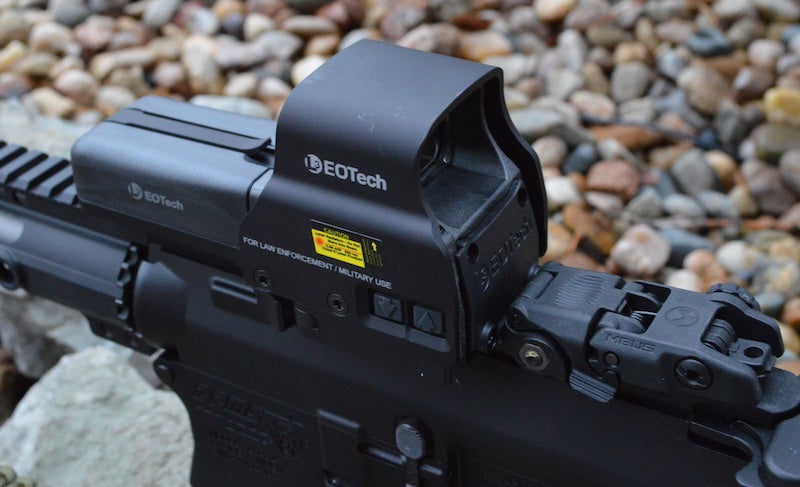 Once I saw the new Eotech 518 at the SHOT show, I knew that circle-dot AA-powered goodness was what I wanted on this build. The 518 has all the reliability of the old 512 including the auto off (4 or 8 hours) features, with the addition of a quick-release mount and side operation buttons. These two upgrades may seem minor to some, but they are what we had all been asking for, and asking for, and asking for.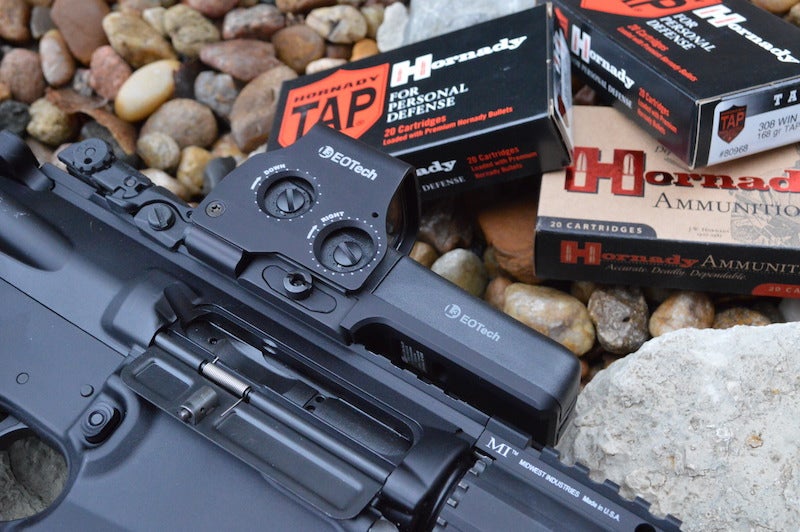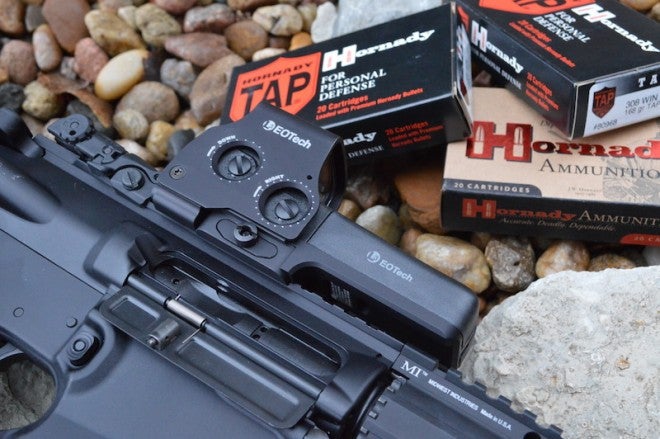 The quick-release option allows users to remove and install a high-powered optic as needed without losing zero. So if I did want to attach a scope for some precision shots, I could do so and just swap back quickly as the need dictates.
The side buttons are easily accessible even if you have a tripler or backup sight installed (unlike the Eotech 512's rear buttons). Most importantly, the famous Eotech Circle-Dot reticle is much faster on target for my eyes.
Changing the Stock
The stock-to-tube fit of the OEM Magpul MOE stock seemed to get worse as time went on–or at least it became more annoying. It wasn't necessarily the fault of the stock or the buffer tube; this was one of the first 100 GIIs to roll off the line, and it had a bit of a sloppy fit. I swapped the Magpul MOE out for the Rogers SuperStock, which I consider to be the best adjustable polymer AR stock on the market today.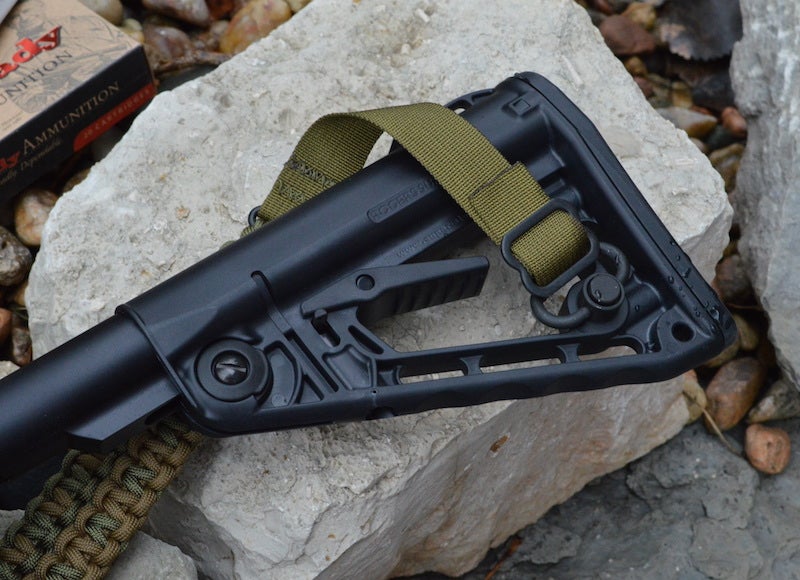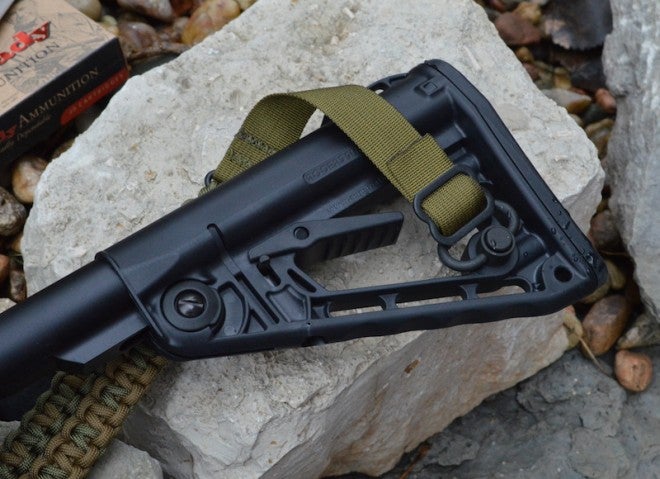 The Rogers SuperStock is the only stock that offers a perfect fit via a selection of included shims and a cam-lock system to eliminate slop between the buffer tube and stock. The SuperStock also adds two QD mounts and some extra web sling mounts. The shooter gets a rock-solid stock with no slop or rattle and smooth stock length adjustment.
Installation is as simple as slipping off the old stock and slipping on the new Rogers SuperStock. Once you try one of these after having a loose stock, you will never want anything else.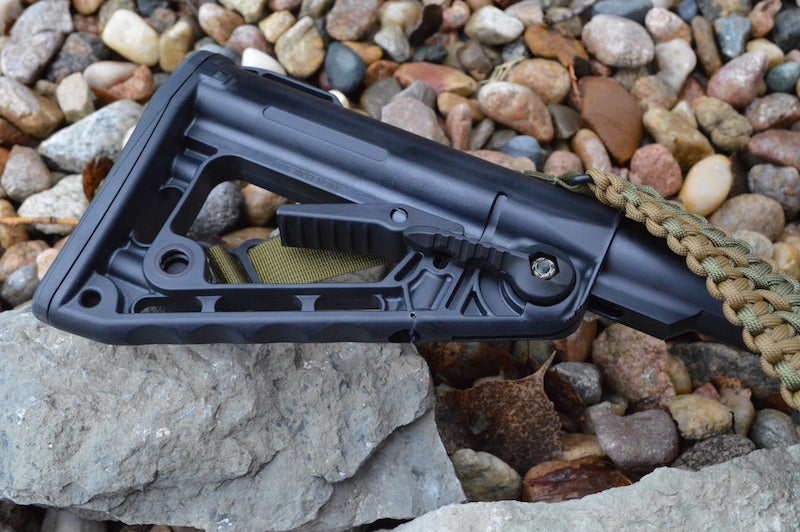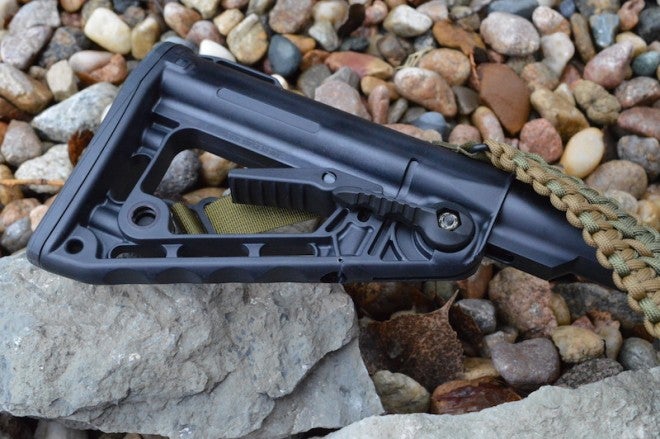 Gas Port Tuning
The first GII rifles to roll off the assembly line had gas port sizes that were a smidgen too small. This caused short-stroking issues with sticky steel cased ammo.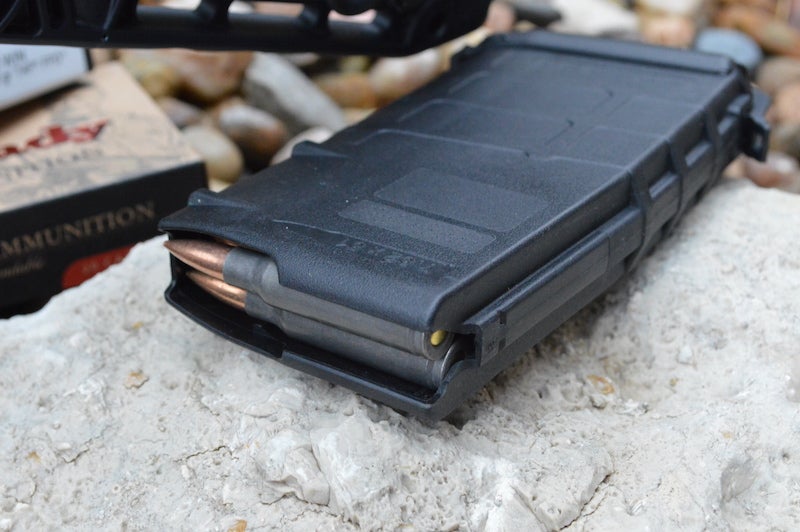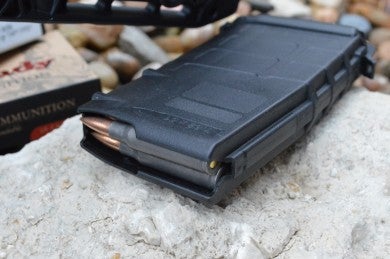 I noted in my initial review that some inexpensive steel cased ammo was unreliable in my DPMS GII. Quality brass ammo has always been reliable in it, but even after an extended break-in period and heavy lubing I was still having issues with cheap steel cased 308 ammo, which unfortunately is what I like to use most of the time at the range.
I decided to remove the gas block and ever so slightly increase the gas port size on the barrel. This was a simple task of slipping a dowel rod into the bore (to protect the rifling) and using a drill bit that was just marginally larger than the existing hole.
Once the gas port hole was opened up, I reassembled and tested the rifle. Joy! Even the cheap steel case ammo cycled the GII perfectly. DPMS has since made a tweak, and I don't recommend that you try this yourself unless your gun has had at least 500 rounds run through it. In most cases, these 308s need a little break-in to cycle cheap or low-powered 308 rounds. 

Brake/Comp Changes
As I write this I do not own a suppressor, so the inefficient recoil reduction and incredible loudness of the AAC suppressor-compatible tri-prong flash hider wasn't really doing it for me. After being impressed with the almost magical sound redirection capabilities of the Krink style PWS CQB brake on my AR15 pistols, I decided that would be a perfect option to push the boom away from me on this DPMS GII 308.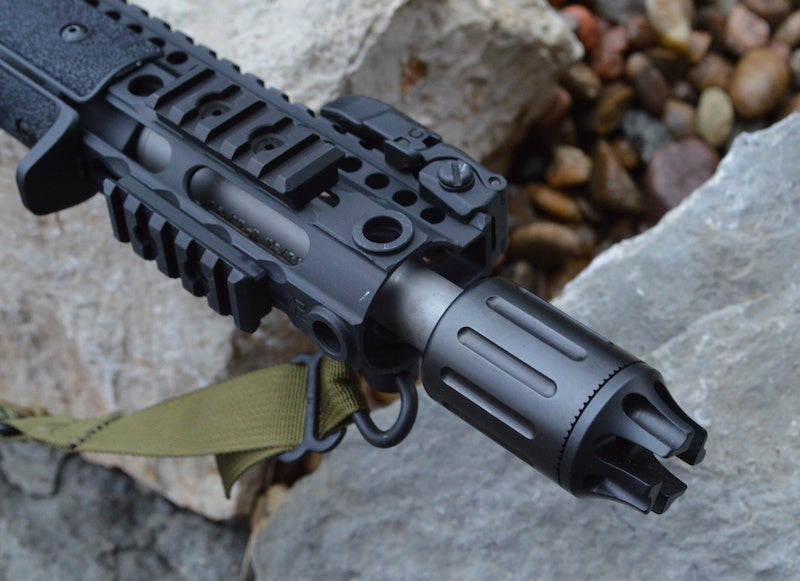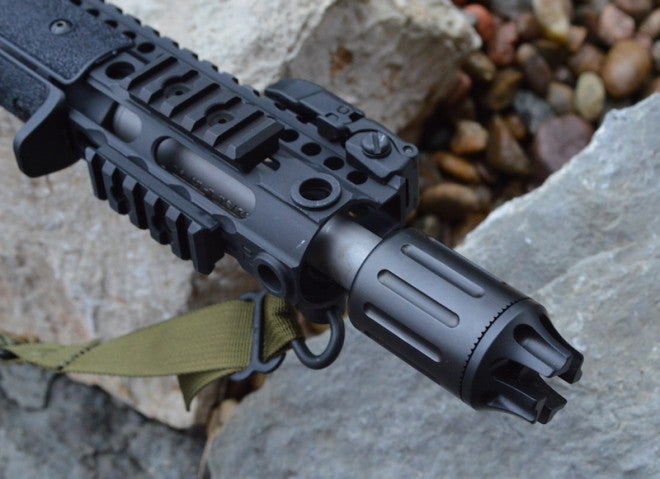 This doesn't make the rifle silent by any means, and it still requires hearing protection, though the worst of it is redirected away from the shooter. This makes the DPMS GII more fun to shoot in tight confined areas like blinds and indoors.
Handguard Update
The factory 1.05-pound heavyweight DPMS billet quadrail forend was a quality piece but not comfortable for me and way too heavy for its length. I like long handguards, but the Recon Quadrail was not really doing it for me. The problem is that this DPMS GII uses a proprietary barrel nut.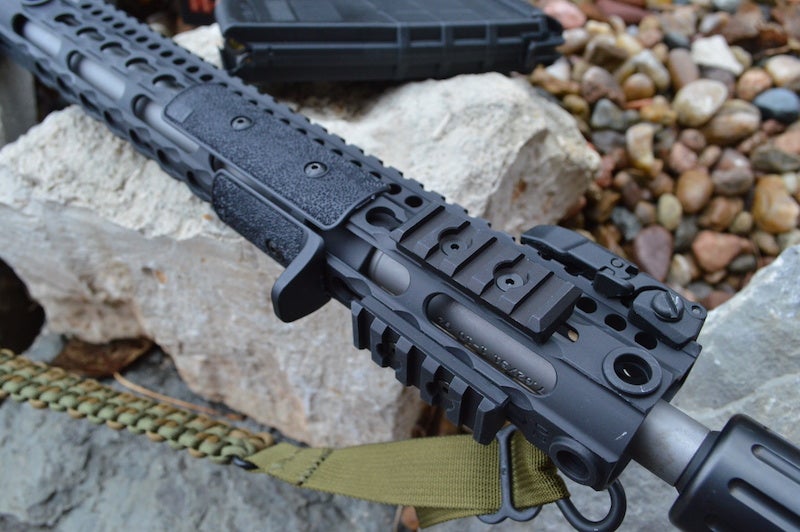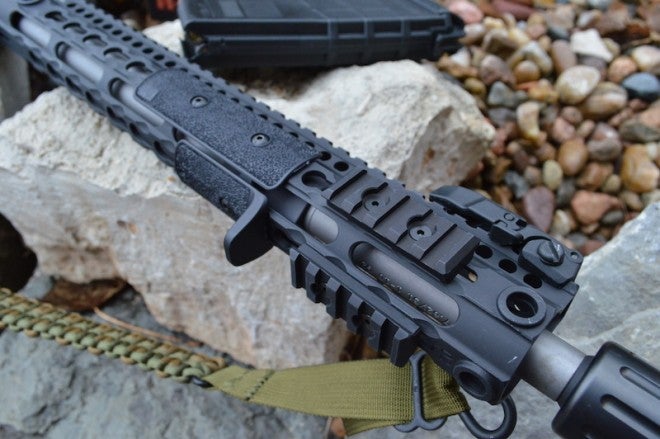 The GII barrel nut is somewhere dimensionally between a AR15 and a DPMS LR-308 barrel nut, and that makes finding a new handguard challenging. At the SHOT show, I saw that Midwest Industries was offering a few specific DPMS GII handguard options, including their slim SS and Keymod series complete with a compatible barrel nut.
I ordered a 15" free-float Keymod handguard, which comes complete with a GII spec barrel nut. The factory handguard and barrel nut was spun off and replaced with the MI Keymod handguard in about 10 minutes.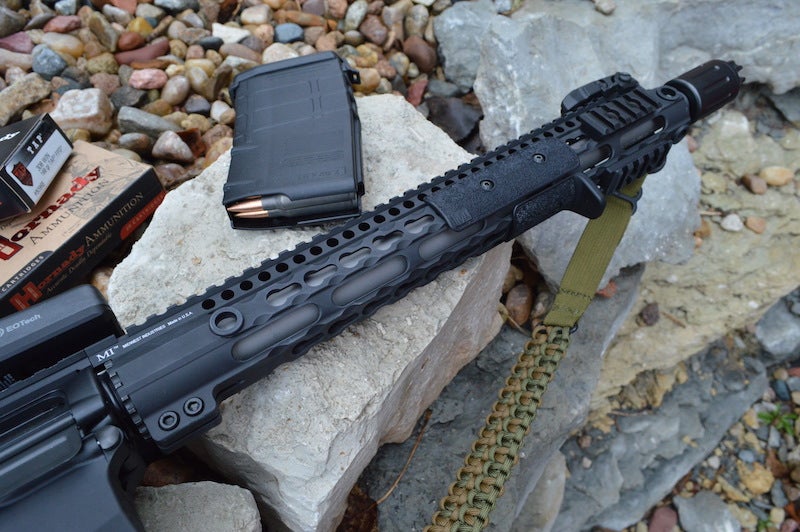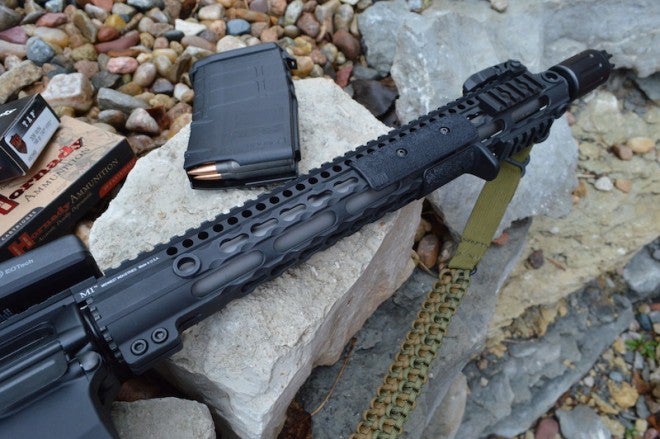 The handguard is covered with keymod mounting points as well as a couple QD-sling mounts, all in a slim profile. I did order two extra-short rail sections and a keymod handstop/panel kit. The 308s do heat up quickly, so my hope was that the panel kit would help provide a cooler handguard surface even when things heated up, and it does to a point.
The Midwest Industries Keymod handguard offers a significantly slimmer profile with a complete de-horned (rounded edges) design that is actually comfortable to hold.
Sling Addition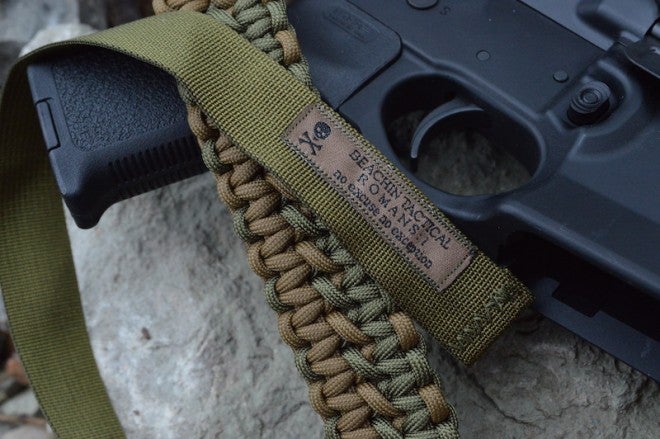 Any good rifle deserves a nice sling, and one that I have been playing around with lately is $45 paracord based Beachin Tactical sling. Hey, having a few extra yards of paracord never hurt, and these slings are made extremely well by Jacob Beach, a military Airborne Infantryman who was tired of complex sling systems. He designed a simple but beautiful paracord 2-point sling, which adds just the right amount of give with a centered buckle and length adjustment.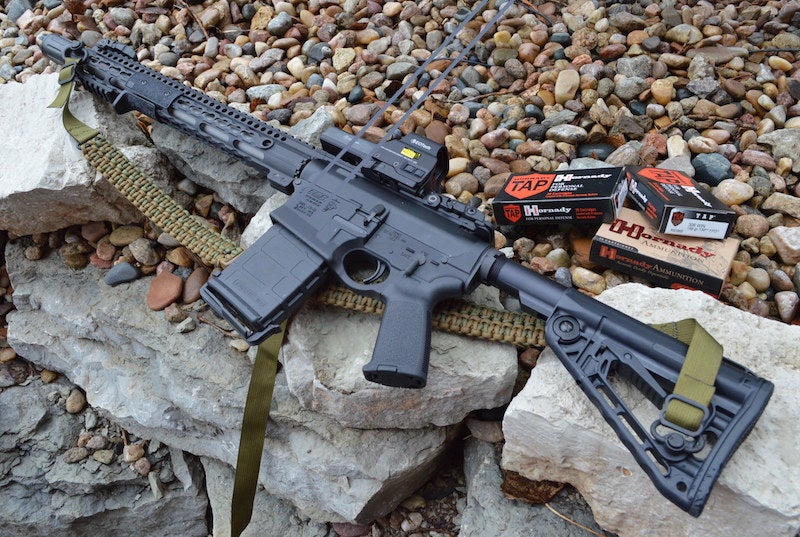 The Beachin Tactical sling is handmade in the USA using 100% US-made components and is backed by a lifetime warranty. Judging from the quality of the sling, I doubt it will ever fail. I added two QD sling mounts and can clip the sling in at various points on the stock and hand guard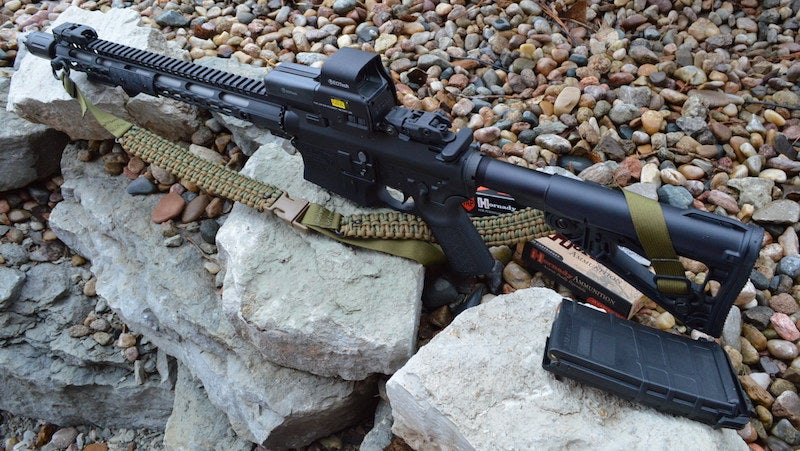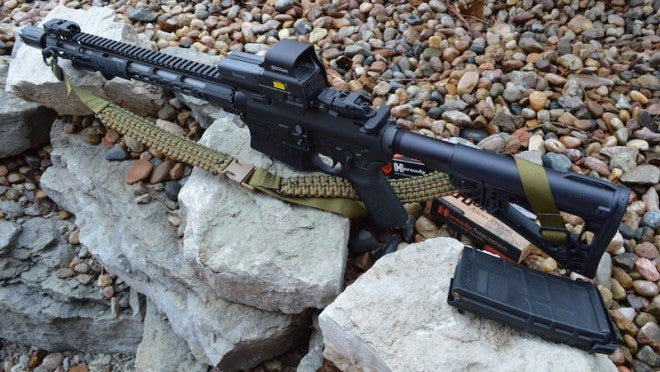 Final Thoughts
I love the DPMS GII format rifle design, size, and weight, and now it fits the way I shoot and is lighter, more comfortable, and even quieter for the shooter. For all practical purposes, it feels like a marginally heavier AR15, although it packs a 308 punch.
The best part is that every time I slip a full 308 magazine into the GII and light it up, it makes me feel all happy inside like the first time someone gave me a piece of chocolate double layer birthday cake.
Specs
See also: Review: DPMS GII Recon 308 AR-Style Rifle