Review: Armagon G12, an AR-Pattern Shotgun
Oleg Volk 10.18.16


Shotguns are great for close-range self-defense. Since almost all self-defense in America takes place at ranges under 25 yards, the 12 gauge scatterguns enjoy a well deserved popularity. They do, however, have one major disadvantage: the manual of arms.
Compared to a box-fed rifle, a tube-fed shotgun holds very little ammunition, and each reload takes much more time and dexterity. What if the shotgun manual of arms matched that of a common rifle?
The Agmagon G12 from Anatolia Mfg delivers a manual of arms similar to AR15 and Sig556 in a form similar to an AR15A3. G12 is an American-made development of Akdal MKA1919 introduced in Turkey back in 2007. Changes include easier take-down, greater durability and modularity.


While G12 looks a lot like an AR15, internally it is most similar to Remington 1100 converted to box magazines. The action is operated by a short stroke piston pushing on action bars dovetailed into the bolt. The charging handle is on the right, Sig style. The rest of the controls (magazine release, bolt release and safety) all mirror the AR15. The chrome-lined barrel is 19" in length, 20" if a rifled choke is used. The shotgun ships with three Winchester style internal chokes: cylinder, modified, and full.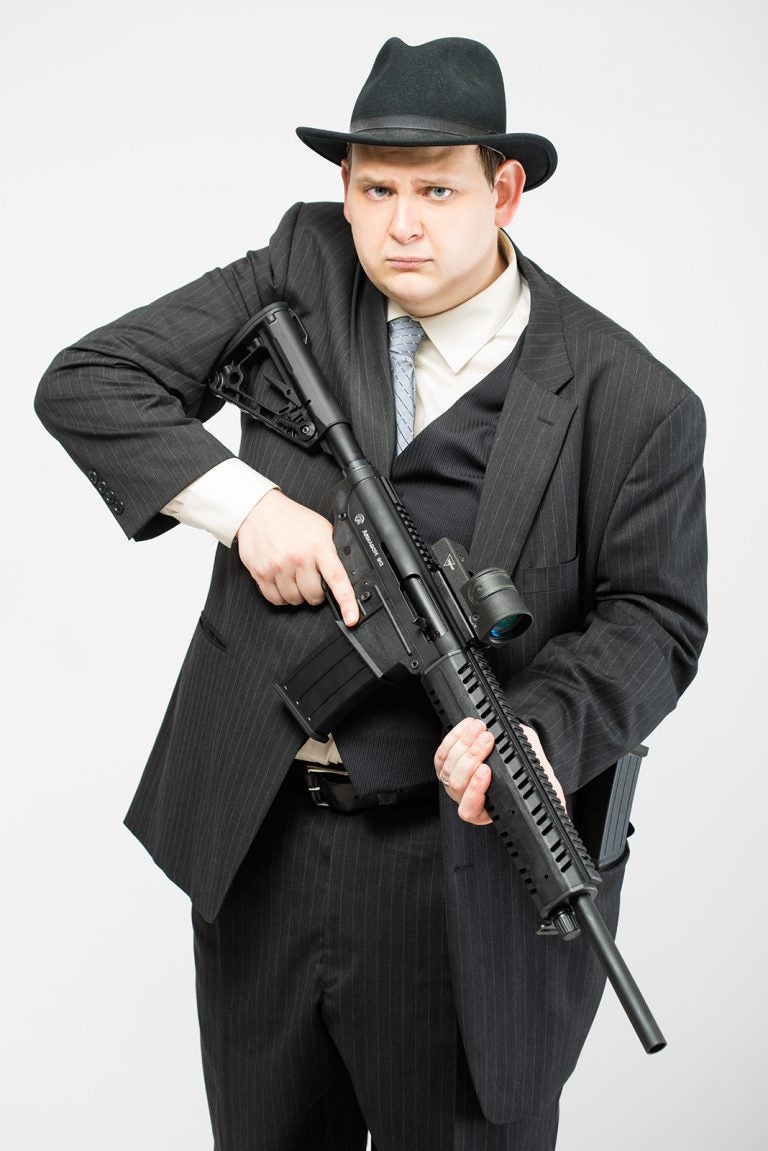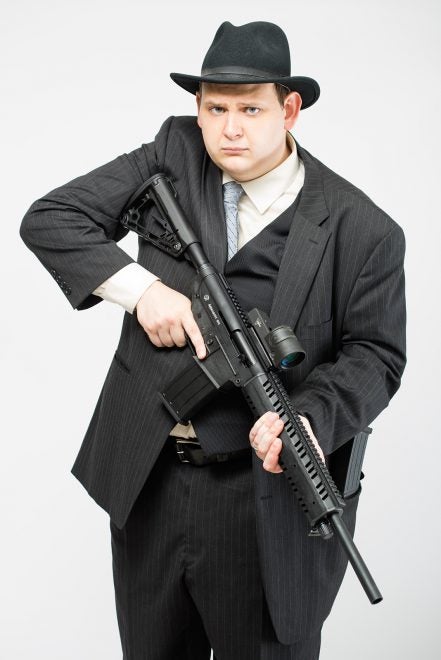 Standard single-row magazines hold 5 rounds and can be inserted easily with the closed bolt. 10-round magazines are also available. While quite long, they are easier to handle and reduce the time required for reloading. This fixes my main complaint about shotguns: slow and awkward loading. At every shotgun course, more attention is devoted to keeping tube magazines topped off than to situational awareness. There's a good reason why no military rifle used a tube magazine after the 1886 Lebel!
With box magazines, changing ammunition types is quick and reloading takes very little manual dexterity. The same magazine may be used for 2.75" and 3" shells. The entire shotgun weighs only 6.9 pounds, so it can be held on target with one hand during a reload.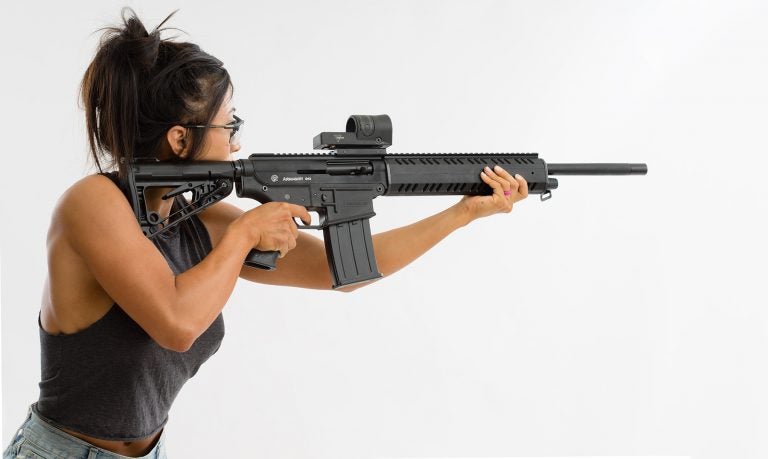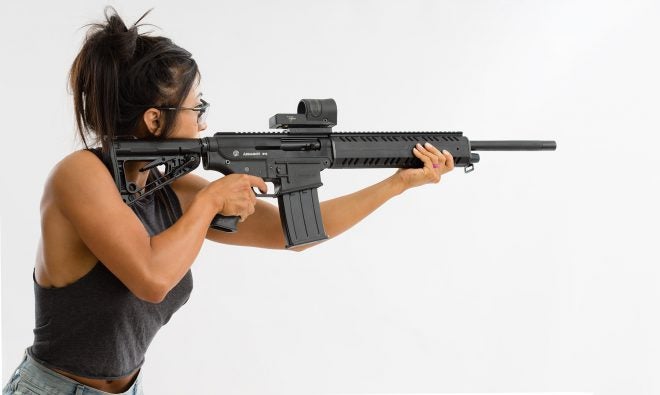 G12 doesn't come with sights. For wing-shooting, I'd recommend an EOTech, Trijicon Reflex or similar red dot with a wide field of view. Typical AR15 aperture sights work poorly for fast moving targets. Recommended set-up for defense would be a red dot or a 1x prismatic scope with a green laser on top of the railed forend as backup.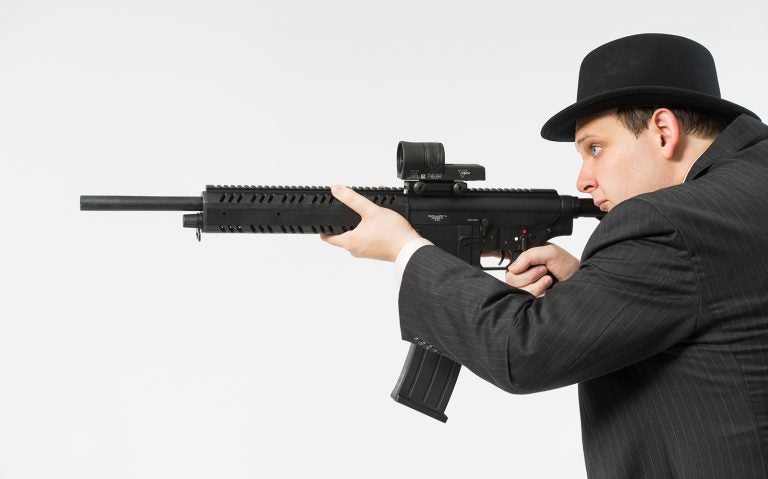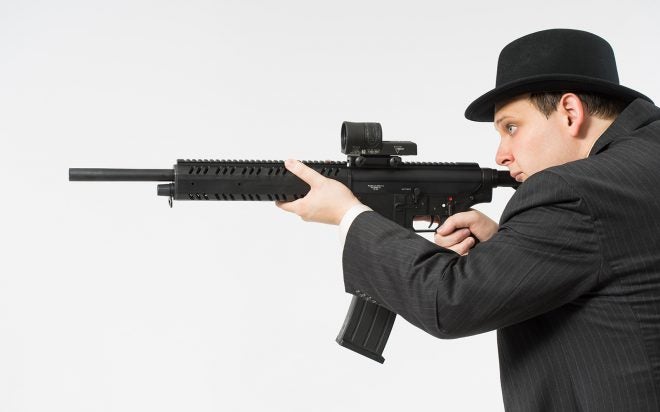 The aluminum upper receiver is the registered part. The polymer lower uses a standard AR15 tube to give the choice of buttstocks.
The supplied telescoping stock is quite comfortable. The pistol grip is likewise replaceable, and I would recommend a version without finger grooves.
With birdshot, recoil and muzzle rise are slight, but full power slugs definitely move the shooter. Fortunately, the recoil impulse is slow and doesn't bruise. AR stocks with wide, cushioned buttplates, like Hogue Overmolded or Troy Battle Ax, make it even more comfortable.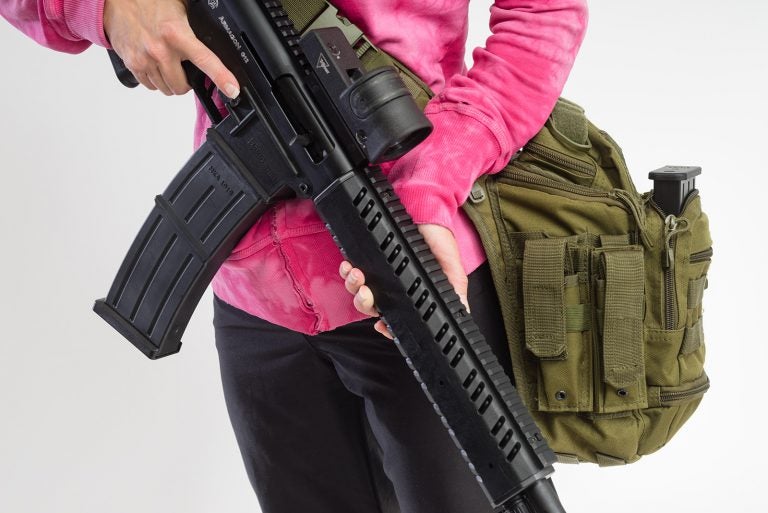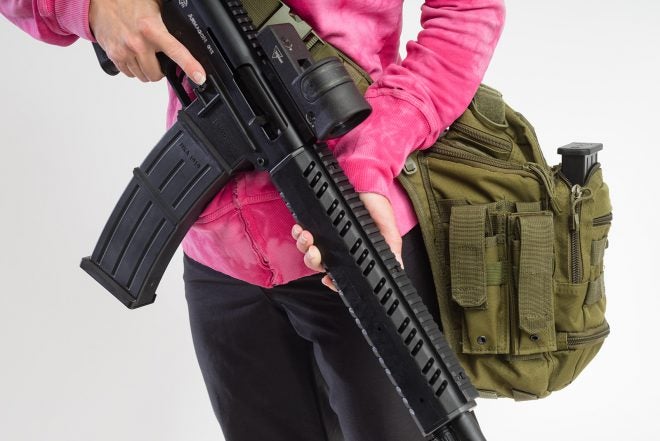 Typical 12ga payload is an ounce to an ounce-and-a-quarter of metal instead of only one-eighth as with 5.56mm. A loaded ten round magazine weighs about as much as an AR 30-rounder, but it is physically larger and required AR10 pouches. A typical loadout is one 10-rounder in the shotgun, five 5-rounders in pouches, for the total of 36 shots. 5-round magazines cost $34, 10-rounder $39, but the shotgun itself is only $699 MSRP. One 5-rounder comes with the gun. For bird hunters, 2-round magazines are also available.
G12 cycled a variety of low and high brass ammunition reliably. With slugs, it showed limited accuracy to sufficient for defense but not for hunting. Depending on the brand, groups ranged from 2" to 4" at 25 yards. Brenneke-style ammunition worked the best. Once the rifled choke was installed, groups shrank to less than 1" for all compatible projectiles.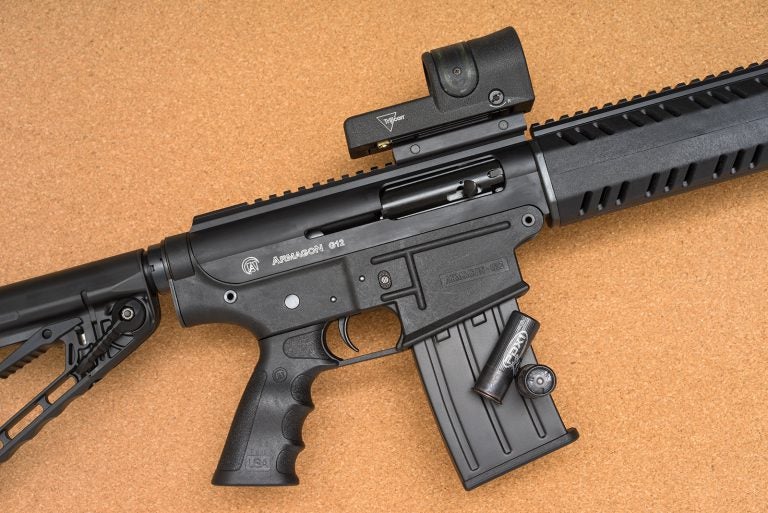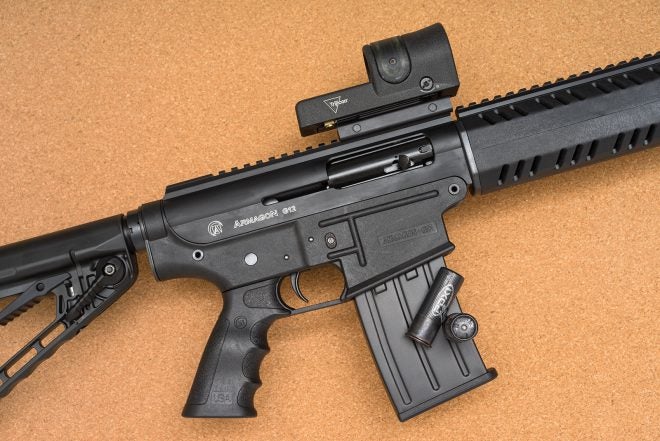 Takedown is quite simple: G12 opens up much like an AR15. Two pins hold the upper to the lower. The gas system comes apart in a typical gas shotgun manner. Due to the large volume of gas vented under the forend, holding the thumb over it up front exposes the shooter to it. While the gas was lukewarm by the time it vented out, it deposited quite a bit of carbon on my thumb before I moved the hand. Since G12 is being incrementally upgraded, that will likely be corrected in the next batch.
The original Turkish MKA1919 had rhinestones marking fire selector position, was easy to damage during re-assembly, and was advertised as having endurance of "over 5,000 shots." G12, while superficially similar and using compatible magazines, is far more robust, has more durable finish, and generally showcases three generations of engineering and production refinements. Domestic provenance allows extensive customization with no worries about 922r compliance.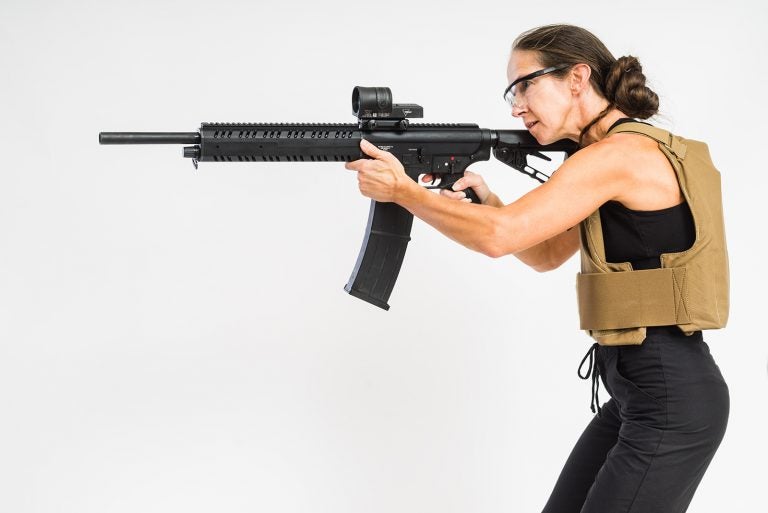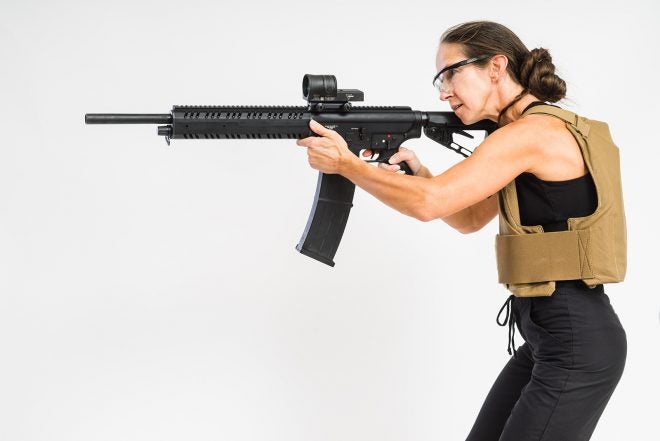 Ergonomically, the telescoping stock and the neutral balance make it a viable choice even for the smallest shooters. One of my friends stands five foot even, and even she could operate G12 easily. With the stock fully collapsed, she could adopt a square fighting stance that presented armor plate to the foe and also kept her from being turned off course by the recoil during rapid fire. With a tube-fed shotgun, the weight of the extended magazine tube and ammunition within would have made it harder to handle. For the big and tall users, the leisurely cycling of the action means no bruising even when firing buckshot or magnum slugs. Especially for shooters who already have a familiarity with AR or Sig manual of arms, G12 is a very good choice.