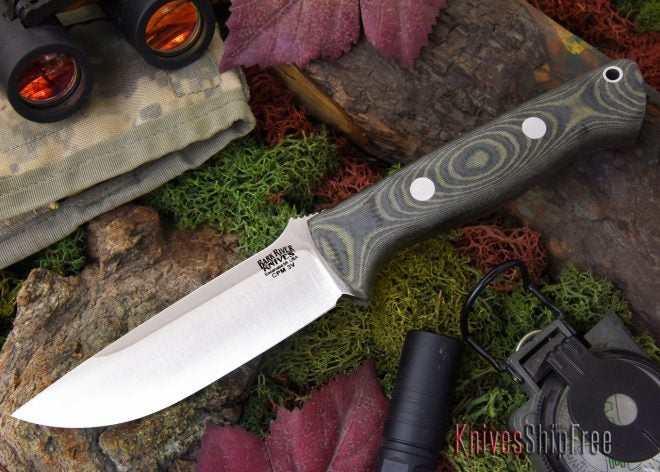 This is the final article in the Recommendation Series for 2016, and it is basically that desk drawer labeled "miscellaneous." There are a lot of great things in the gear world I couldn't mention given the format.
I love my Gransfors Bruks axe as if I made it myself, but it is not exactly an EDC item for most people.  I also love my Maxpedition Pygmy Falcon II backpack, but it also doesn't really fit all that neatly into the article format.  And I have developed an affinity for portable chargers, but I don't know enough to talk about them meaningfully yet.
But just because stuff doesn't fit, that doesn't mean it isn't awesome. Everything on this list is certified kick-ass stuff. The stuff I haven't reviewed I have used or handled or reviewed an earlier model of, so I feel confident in recommending each and every one of the items on this list. All of this stuff is awesome, but none of it fit in any of the other articles.
All-Around Great Fixed Blade: Bark River Knives Bravo 1 LT
You don't want a chopper and you need something more than an EDC fixed blade. What do you do? The Bravo 1 is probably one of the best selling knives of the last ten years–remarkable given that they are essentially handmade and cost well over $200. But if you are looking for the best of the Bravo series, I think you have to settle on the Bravo 1 LT. Built with all of the gloss and polish of other Bark Rivers, but with 3V or Elmax steel and a thinner than normal stock. This reduced size makes the knife truly broad use–it can slice yet still has enough meat to do some chopping. Bravo 1 perfected?
A Knife for Those with Legal Restrictions: Spyderco Roadie
Let's be clear–local knife laws are mess. In many states, things are getting less restrictive. In others, more. In some states it's blade length that is the issue. In others it is deployment. And still others it is a mix. The reality is if you need a knife and don't know what you can buy, go ask local law enforcement. In the end, they know better than almost anyone.
The Roadie might just be the knife for you in this scenario. It has no lock, requires two hands to open, and has a blade at or just under 2 inches. For all its missing features though, it does one thing exceptionally well: cut. Good thing it's a knife and not someone waiting in line. Even when I can carry quite a range of stuff, the Roadie cuts so well I regularly carry it.
A Great Small Fixie: Jarosz JFS
Want something simple with an amazing edge? The JFS just works. This is a custom knife made by Jesse Jarosz, and while the availability isn't quite as good as a production knife, the price (around $130) and the performance make it worth waiting for, even now that Jesse no longer has a book. Watch his site, watch his Instagram, and if you are lucky you will land this gem.
An Awesome Traditional: GEC Small Jack #25
If the Dragonfly II was made by GEC it would be the Small Jack #25. The size is perfect, the blade is perfectly ground (as all GECs are) and the right shape, and the bullet feel in the hand is wonderful. The walk and talk is a little stiffer than I am used to on a GEC, but it is nothing horrible.  For a round, river rock-like EDC with a classic steel like 1095, you could do a whole lot worse than the #25.
A Big Chopper: Becker Ka-Bar BK9
Me Grok. Me kill trees. Me like BK9. It BIG chop. Cut down limb with swing. Bigger than T-Rex tooth. BK9 has nice handle. BK9 good blade shape. BK9 covered in bumpies. BK9 have terrible sock sheath. BK9 not that much money. Me Grok. Grok happy. Grok like BK9.
In all seriousness, Grok got a lot right. This is a crude, crushing, chopping piece of wonderment. You can beat and bash with zero concern. Even the edge, which I found a bit chippy, isn't something that needs to be fussed over. Nope, go ahead and field sharpen it with some sandstone. I do it all of the time and it is fine. Mine looks like Boba Fett's armor, but that actually is a good thing in my eyes. Oh, and the handle–it's a Becker masterpiece, probably the best fixed blade handle on the market.
The Best Looking Light Ever: McGizmo Haiku
Love, my friends, is not a Subaru. It's a McGizmo sliding from its shipping package like the gleaming hilt of a lightsaber. This is an exquisitely designed light with a beautiful titanium finish. The modes are all sensibly spaced, the output is clean, and the beam pattern is amazing.  How amazing? This is the light that made me focus on the beam pattern of lights for the first time. It was so clean and so useful that it was like finding a whole number between 4 and 5–so unexpected that it was kind of shocking. It may not be the brightest anymore, but what it lacks in lumens it makes up for in, well, everything else.
A Great Keychain Light: Fenix E05 2014 Edition
Geez, people love keychain tool kits.  I don't understand the desire to have a janitor's keychain on you all of the time, but if you want a keychain light, go simple. The Fenix E05 is just that. It can be bright, around 80 lumens, but it also has a medium and low that are useful. You don't need a clip in this application and the E05 doesn't bother with one.
Finally, because it is on your keys it is going to be beaten senseless. Don't think your jewel-like titanium light will hold up. It won't. And don't bother with expensive stuff. It, too, will succumb to the daily beatings. The price, size, and performance of the E05 are just right. Make sure that you get one made after 2014. They upgraded the emitter and reflector (it is now a TIR) and it makes a huge difference.