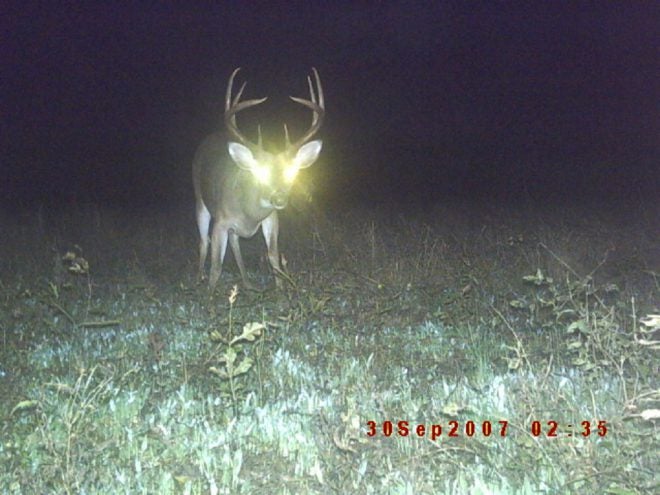 Now is about the time to start planning trail camera strategies. White-tailed bucks are putting on antler mass pretty quickly now. It is a perfect time to start targeting their early season movement patterns. If you had planted spring food plots, then the deer should still be hitting them. Natural browse will be coming on strong, too, if your area has been getting any rain.
It is also the time to put up trail cameras for their No.1 purpose: to survey the bucks in your localized herd. Some people even name them, which seems kind of peculiar, but whatever rings the bell. I get a kick out of watching the TV hunting shows where a hunter says "Today we're going after Ole Bud, or Slim, or Hunk, or some such nonsense." Most of us already know the TV deer are actively hunted over bait and a host of other attractants to make them an easier target for the camera. That is a story for another day.
Place your cameras in places where you would naturally expect to find deer hanging out or traveling by on a regular basis. This is not so much designed to nail down the consistent whereabouts of a certain buck as it is to just get an overall idea of the buck potential in your hunting areas. How many bucks are you seeing and are there any really good "shooters" in the bunch? Note any specific antler characteristics that will allow you to identify that deer again come hunting season.
As fall seasons approach, hunters can fine tune their camera work to pinpoint a particular buck they want to target for a serious attempt at harvesting. This is when the camera work will really pay off.
Obviously you need to gather up your trail cameras and support gear to get it all ready. Dust them off and clean up the lenses. Start out with all fresh batteries and test every camera for full function. Make sure each one has a blank SD card installed. Get your straps together and untangled from last year. Consider taking along some steel fence posts and a sledgehammer in case you want a camera placed where there is no tree nearby. If you have a feeder out, this is a good place for a camera. Get started now.