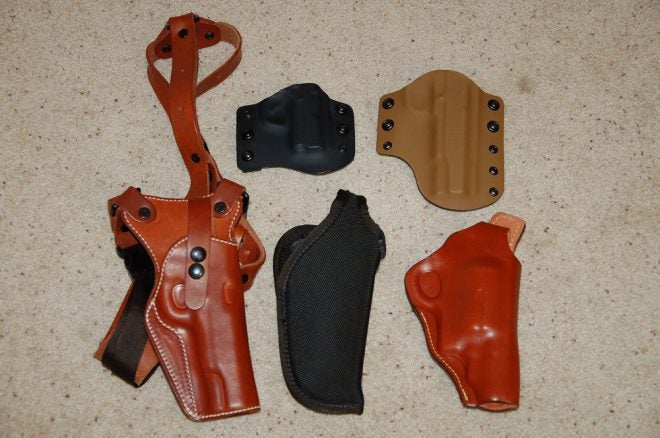 Holsters are designed to carry a handgun. Unfortunately, that's where the simplicity stops. Most shooters of all kinds of handguns, revolvers, or pistols probably own several boxes of various brands and types of holsters in a host of configurations and materials. Some are still searching for that one perfect holster for a favorite carry gun, but I suspect it may not exist.
First handgun carriers have to decide why they are carrying and how they want to do it. Will the gun be concealed or open carry? Will it be a strong side draw, grip forward, grip back, cross draw, off hand, inside the waistband, outside the waistband, or even a shoulder carry? See, there are lots of options. The primary holster you use should be mission specific.
Users may chose a variety of ways to carry depending on the mission or the intent of the day, weather, temperature, audience, etc. In theory you might have 2-3 or more holsters for the same handgun to give yourself a variety of carry options. There is certainly nothing wrong with that.
Buying a holster for a specific gun begins with picking a brand/model that is supposedly designed for your gun model to fit. This needs to be verified by inserting your gun into the holster, then trying out the carry around the store before buying it.
Many holsters are designed to adjust the tension on the handgun by tightening or loosening a screw adjustment built into the holster. Other models just offer one fit, and your hope is that the holster holds your weapon without releasing it unduly while in action. As you fit your gun into a holster, be comfortable and secure in its fit. Make sure you can extract the handgun with relative ease and without undue drag. Turn it upside down. If your gun falls out, then pass.
Holsters today come in a variety of materials with the majority being leather, nylon, or thermoplastic. Each has its own advantages and downsides. The thermoplastic does not wear out and seldom breaks. Nylon holsters can show wear, and leather stretches over time. Any holster has to be maintained even if it is just wiped down with a clean, damp cloth. Leather should be treated with proper care for longevity. Get the proper mode for carry and the right fit for your gun.