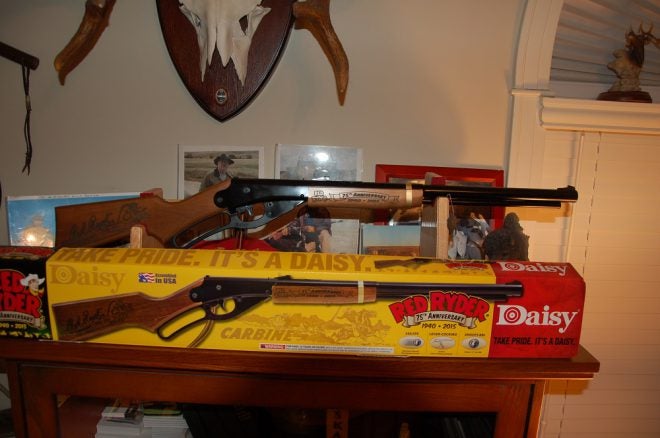 How many kids have lived out the Christmas Story saga in real life? Many a kid in America started out their shooting careers with a Daisy BB gun. What better way to learn the basics of shooting safety, gun handling, target acquisition, trigger control, sighting, loading, and how to maintain a real live shooting gun?
If you have young children now old enough and responsible enough to handle a BB gun, then this is one avenue to begin the process. There are several models of Daisy brand BB guns available, of course, but the real classic model is the lever action version Red Ryder character edition. It simply does not get any more nostalgic than this.
The Red Ryder model has the blue steel finish with the walnut stained hardwood stock and forearm. This signature model has the saddle ring loop with leather tie attached on the side. The open sights can be ramp adjusted for elevation. The BBs are loaded down the tube via the muzzle end of the BB gun by turning the muzzle cap to let the copper coated balls of peril roll into the tube. Remember the scene from the movie on Christmas morning?
The Daisy Red Ryder is cocked by rotating the rifle lever under the action of the BB gun down until it is fully cocked. This compresses the spring in the action that delivers the pressure to send the BB down the barrel.
Believe it or not these BBs come out of the muzzle with a fair blast of power, though I have no idea of the FPS velocity. I know plenty about the impact these copper balls can have on a wide variety of targets. The rifle itself should come with a packet of paper bullseye targets to tape or staple to a safe backdrop. But most kids including myself were well known to seek out multiple targets of opportunity.
There are all types of commercial BB targets that can be bought, but creative shooters can devise plenty of their own. I used to line up tin cans from the kitchen. Today though it would be aluminum soda cans. Never shoot glass bottles with any gun, but plastic bottles should be fair game.
As you teach a kid to shoot a BB gun for the first time, emphasize safe use, safe muzzle pointing, and knowing the target just like the bigger, more powerful guns they will graduate to later on.