Review: Magnum Research Desert Eagle Caliber Swap
Major Pandemic 11.03.16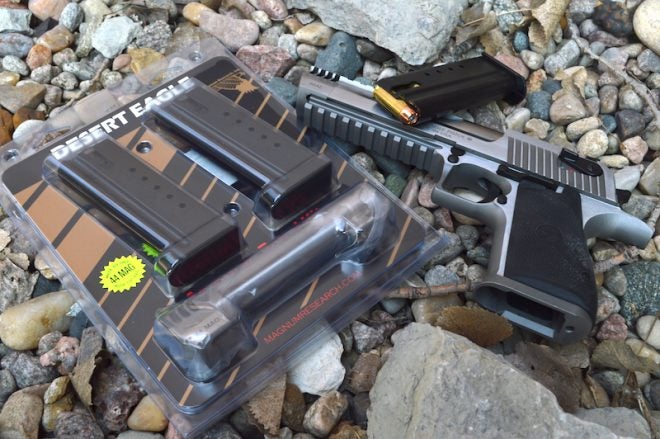 The Desert Eagle from Magnum Research is the quintessential diva of the firearms industry with its Sasquatch-sized proportions, limited runs of premium finishes, $1200+ price tags, poor ergonomics, the need for extremely hot premium ammo for reliable operation, and of course the $50 magazines. The gun is not cheap to purchase, own, or operate by any stretch of the imagination, but we all want one.
Those who are owners kinda want another one, or at least the ability to shoot something other than the 357 magnum, 44 magnum, or 50AE caliber of their individual gun. Turns out, the Desert Eagle is one of the most awesome caliber-swapping guns in existence.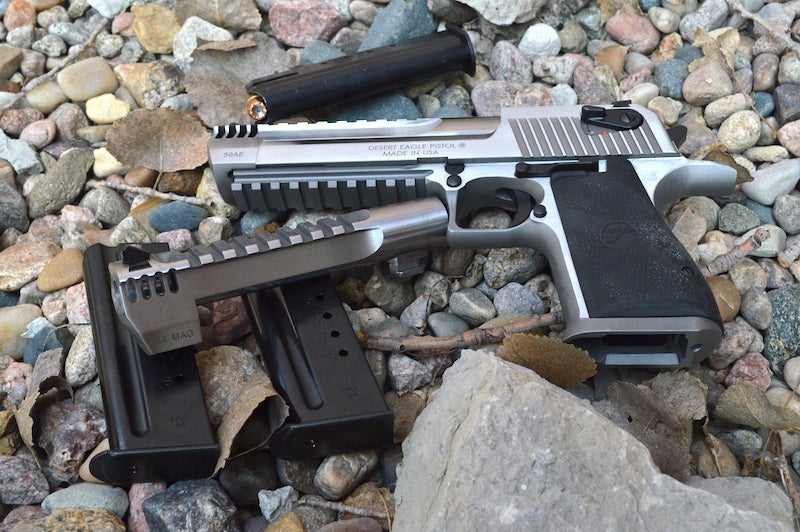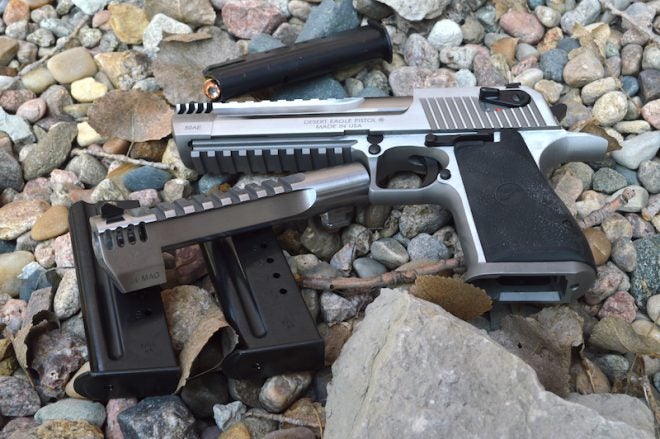 Cool fact: the Desert Eagle XIX is designed to allow the shooter to swap optional barrels nearly instantly from a 6″ to 8″ to 10′ and back again.
Have a gun fashion crisis which requires your all-gold pistol be toned down with a black barrel? Or maybe that deer just trotted out of range of your 6″ barrel and you need your 10″ barrel with the scope? No problem. Hit the takedown button on the left side of the frame, flip down the barrel release switch, lift off the barrel and drop in the other barrel, flip the switch, charge, and shoot.
In spite of suffering from poor ergonomic design, this gun's barrel swap feature is slick as hell and crazy fast. And the calibers swap just as easily.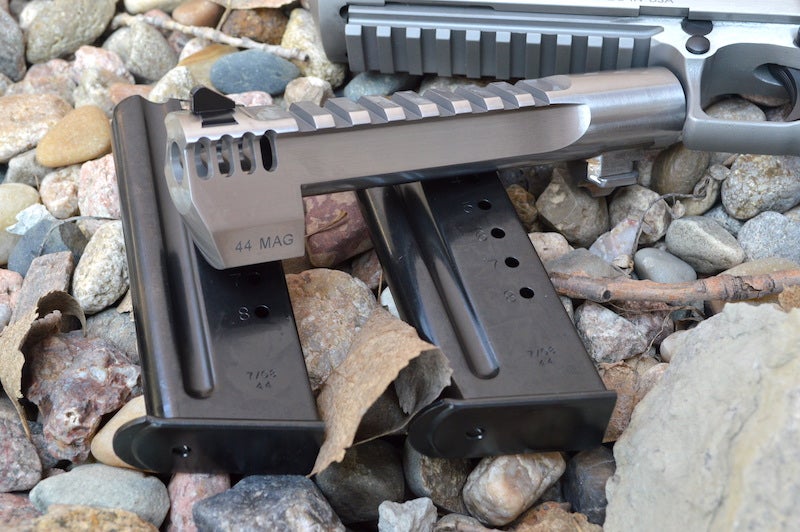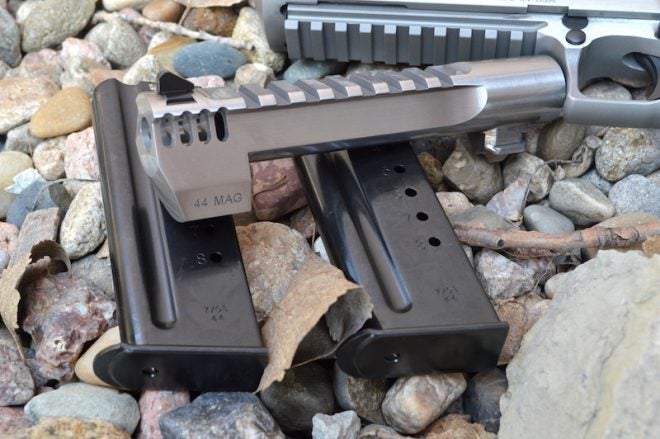 The 50AE cartridge features the same rim dimensions as the 44 Magnum, so it can be converted to shoot .4 Magnum by swapping the barrel and magazine. If you have a 357 Magnum model and want to go up to the 44 Magnum and/or 50 AE, you'll need a few extra minutes to swap out the bolt in addition to the magazine and barrel.
Buy one Desert Eagle XIX and the optional components, and you have the ability to convert and shoot any of the three offered calibers.
Barrel and magazine conversion kits run around $550-$650 depending on barrel options, and an extra bolt for the 357 to 44 Mag rim size swap is $275. The compensated 44 Magnum 6" barrel I used here was right at around $625 MSRP.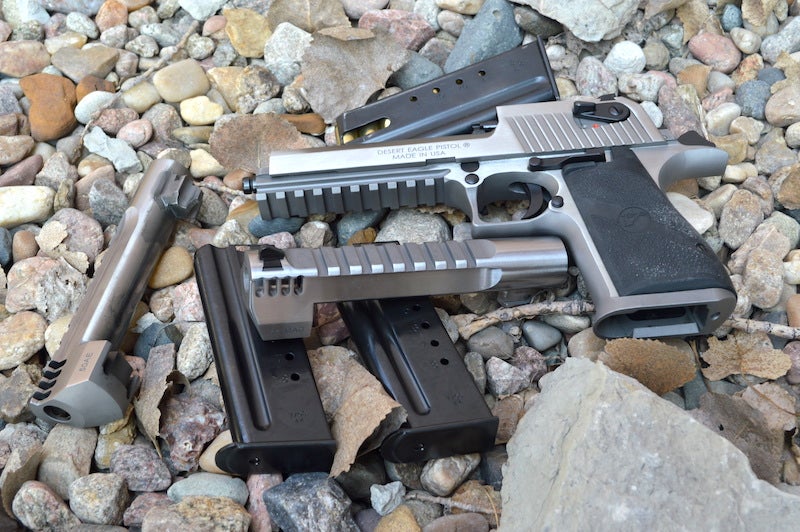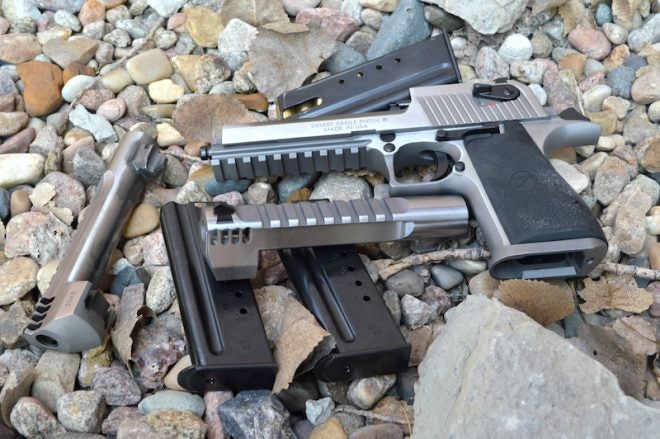 The incredible thing about the Desert Eagle is the accuracy, which is far better than what most folks expect considering you can swap from 44 Magnum to 50AE and back again in such a short time. And If you have a hard-recoiling Desert Eagle in 50AE, a tamer and less-expensive caliber is just a barrel swap away.
MSRP is around $625 for the 44 Magnum Kit.