Bass boats are the dream machines for many anglers across North America. With their substantial raised casting decks, tackle storage capacity, and ability to negotiate the shallow weedy waters where big bass thrive, it's easy to understand their appeal.
What's a bit harder to swallow are the price tags that often go along with top-of-the-line, tournament ready boats. For many anglers, the heady asking price is just too much.
But bass boats don't have to break the bank. If you're willing to concede a few luxurious amenities and go with a smaller engine, it's possible to get out on the water for a lot less than you might expect. Here are five bass boats with price tags under $20,000.
Crestliner TC 18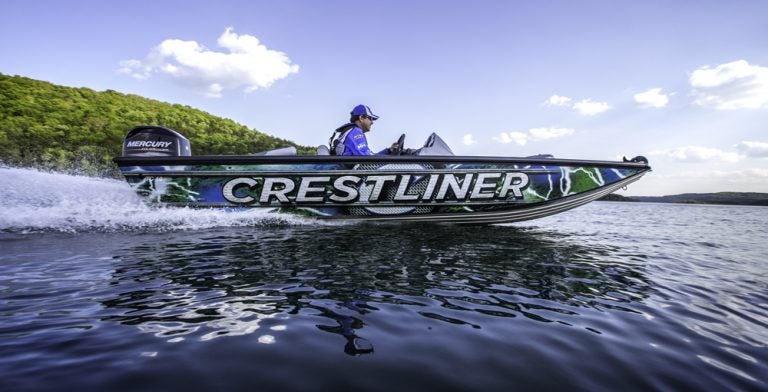 With its massive raised casting decks, 18-gallon live well in the bow, and 22 gallon live well in the stern, Crestliner's TC 18 is sold as a bass and crappie boat that accepts outboards of up to 115 horsepower. With the standard Mercury 40, fish finder, and MotorGuide trolling motor, you're on the water for under 20 grand, and that even includes a trailer.
Length: 18' 3"
Beam: 92.3"
Dry weight: 1,126 lbs
Hull: Aluminum
Standard power: 40 hp
Maximum power: 115 hp
MSRP: $16,277
Lowe Stinger 178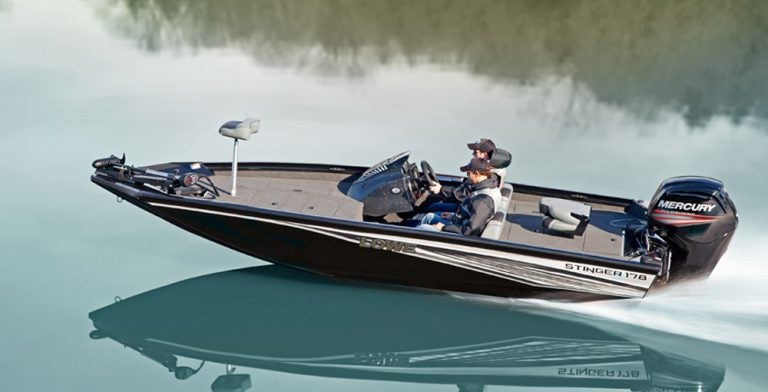 With dual live wells of 24 gallons each in the bow and stern, large raised casting decks, plenty of rod storage, a standard MotorGuide bow-mount electric trolling motor, a Lowrance Hook 3x fish finder, and a trailer, Lowe's Stinger 178 delivers a lot of boat for your money. A long option list lets you personalize the boat with a variety of custom touches.
Length: 17' 8"
Beam: 94"
Dry weight: 1,199 lbs.
Hull: Aluminum
Standard Power: 50 hp
Maximum power: 90 hp
MSRP: $19,138
Ranger Tournament RT178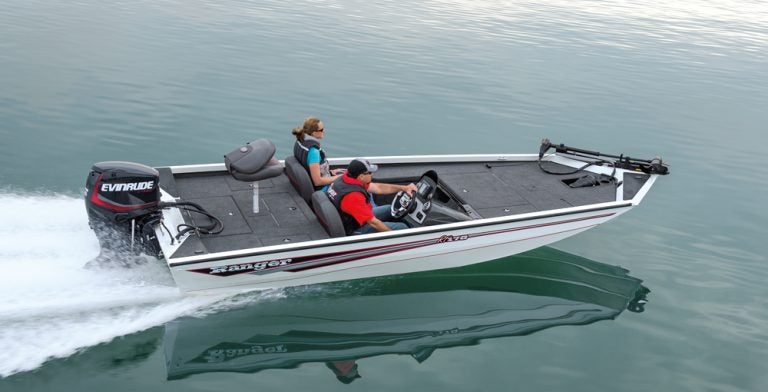 For decades Ranger has been known as the Cadillac of freshwater fishing boats, and for good reason. But not many anglers realize that boats in the RT series start at under $15,000. The Ranger Tournament RT178 includes a Lowrance Elite 3x fish finder, a Minn Kota bow-mount electric trolling motor, a live well, lots of storage, an on-board dual pro battery charger, a custom trailer, and more. And it's a Ranger.
Length: 17' 8"
Beam: 92"
Dry weight: 1,075 lbs
Hull: Aluminum
Standard Power: 20 hp
Maximum power: 75 hp
MSRP: $16,595
Stratos VLO 176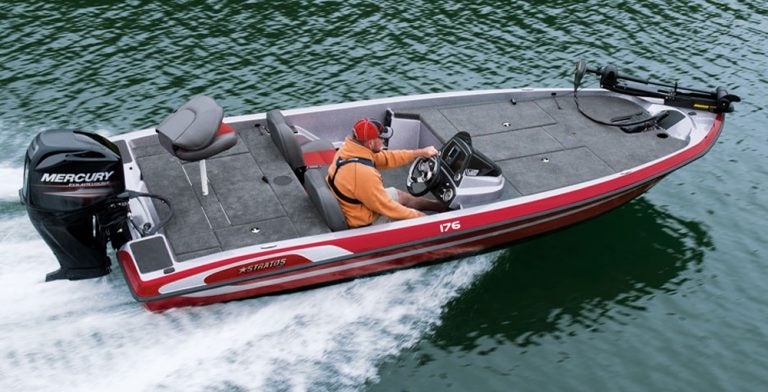 For some anglers, a bass boat isn't a bass boat unless it rides on a fiberglass hull. Those folks will be thrilled to learn that the Stratos VLO 176 still fits under our $25,000 price point with room for upgrades. Standard features include a Lowrance Hook 3x fish finder, Minn Kota bow-mount trolling motor, a matching trailer and a 60 hp outboard.
Length: 17' 6"
Beam: 85.5"
Dry weight: 1,200 lbs
Hull: Fiberglass
Standard Power: 60 hp
Maximum power: 75 hp
MSRP: $16,095
Tracker Pro Team 175 TXW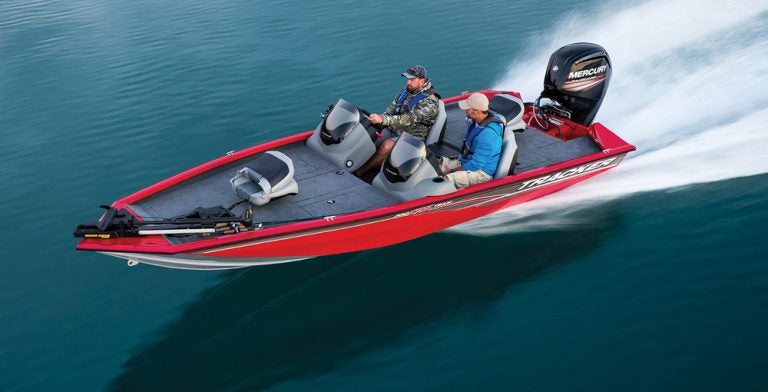 The stern casting deck on Tracker's pro Team 175 TXW is big, but it's dwarfed by the massive 32-square-foot elevated front deck. Centerline rod storage that accepts poles to eight feet, a 16-gallon live well, four large storage compartments, a Minn Kota electric motor, Lowrance fish finder, and custom trailer are all standard on this model, plus there's a long option list with other goodies to choose from.
Length: 17' 7"
Beam: 89"
Dry weight: 1,009 lbs.
Hull: Aluminum
Standard Power: 60 hp
Maximum power: 75 hp
MSRP: $12,695