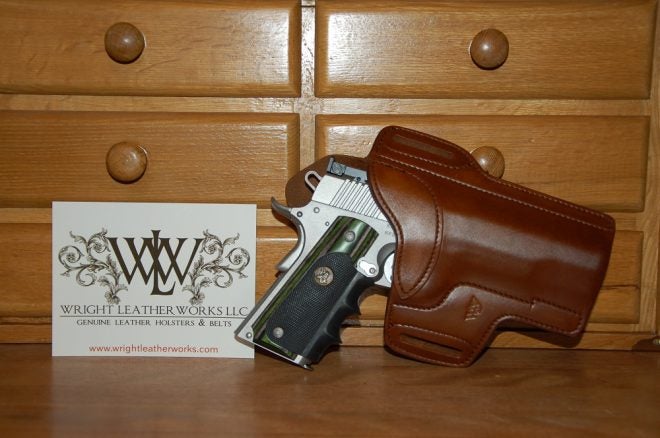 Leather holsters are not all created equal. When you open a package from Wright Leather Works, ironically or not, the first impression is the smell. I love the smell of good leather, whether is it a pair of boots, a quality belt, or a handgun holster. The Wright Leather Works holster I received just flat out smells great and looks better.
Next, you read the owner's manual (an owner's manual for a leather holster?) and the first thing I noted was the statement on the cover as well as their business card and care instructions. It reads "Genuine leather holsters and belts." It was the word genuine that caught my attention. I mean, don't we just assume a leather holster is actually genuine leather? Well, not in all cases.
Everything about this company exudes quality, including simple things like the card stock of their business cards and printed materials. A small thing? I think not. Then you pull the fine leather holster out of the protective cover and waft in the scent. Run your fingers over the leather to inspect the quality. Look closely at the detailed stitching, especially around the corners and down each seam. It's perfect.
The Wright Leather holster I ordered was for a standard 1911 pistol with a 5-inch slide. Upon close inspection, what did I find? Well, inside the holster in plain view is a clear impression of a 1911 slide, the finger grip serrations cut into most every 1911 to retract the slide. This immediately tells me that this holster has been custom made and actually fitted with a real 1911 pistol.
Wright says that "All of our leather holsters are custom made to fit each specific firearm. They are hand cut, sewn, and molded from the highest quality full grain domestic leather hides and materials available."
This holster is for concealed carry. As Wright states, "Concealed Carry, Confident and Comfortable." This one is their Predator model for outside the waist band or OWB carry. It is a pancake design to be worn at 3-5 o'clock position, tight to the body. This creates a minimal "print" and is designed for everyday carry.
The Predator comes with 1-3/4 inch belt slots and is created with a 15 degree cant, ideal for a quick purchase with the drawing hand. One of the best features of the Wright holsters is an extra piece of leather sewn over the upper edge of the holster where the gun bears against the top. This adds strength and a durability factor as well.
Wright Leather Works also makes several holster models available in different colors, belts, magazine holders that snap or clip over a belt, as well as a double magazine pancake style holder. Their holster care card is very detailed, informing the owner how to properly break the holster in and how to "block" it for a perfect pistol fit as well as a list of holster care do's and don'ts. I have never seen this with any holster I have ever received.
Inserting one of several 1911s into the Predator, the initial fit was tight as expected, but for me, just ideal. I want my pistols to be "held" by the holster I carry it in. I live in fear of a prized pistol slipping out of a holster while getting in or out of my truck or swinging my leg over the seat of my Honda ATV. This will not happen with the Wright holster. Though the initial new fit is tight, the pistol was easily drawn without issue or hesitancy.
Holsters such as the Wright Predator demand the use of a heavier, thick belt for proper fit at the waist with no slouch. Admittedly, I go across the grain often when wearing a concealed weapon holster. Most of the time my concern is not concealment, but comfort. I simply don't like to wear a heavy pistol in a concealed holster when wearing dress pants. I use pocket carry then.
I do like concealed carry when I don jeans, work trousers, or hunting pants. Sometimes, though, I just loop the holster onto a good belt and wear it around the waist separate from the pants belt. That way I can move the holster forward or back depending on what I am doing at the time. This works best with a thick, stiff belt.
For sure not all holsters are made equal for quality, assembly, wear and tear, or over all function. So far, my wear-ability tests on the Wright Leather Works Predator are proving this holster is among the elite ones made.