I don't want to completely rehash the ridiculousness of the Guinness folks not recognizing the fantastic achievement of the 1000 Man Shoot, but I will say the NRA keeps its own records so it doesn't really matter. However, I would like to put up a short list the NRA had in their criticism of Guinness.
Biggest barf bag collection; largest dog wedding ceremony; most nationalities in a sauna; fastest toilet.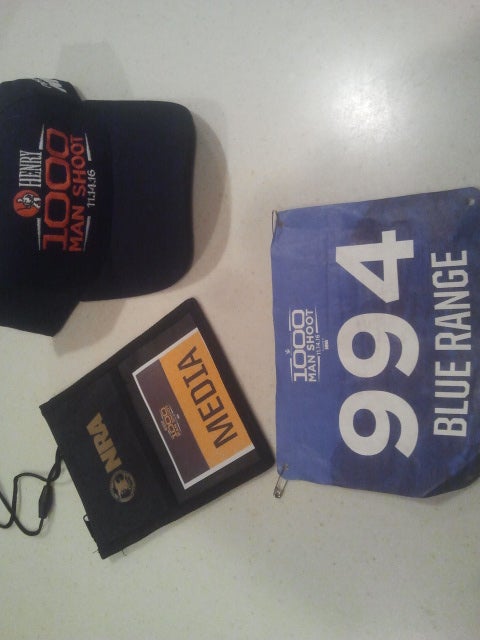 Yeah, anyway the sunny Monday morning of November the 14th I brilliantly forgot to charge my phone. So, I have no event pictures sadly. I did get a few things out of it; commemorative attire, a tag telling everyone I was at the end of the line and a lanyard recognizing me as a guy that pontificates online.
I'm poking fun here because events like this are not about the items you come home with. It's the experience that truly matters. And boy what an experience! I got to fanboy over YouTubers, shake Anthony Imperato's hand and meet the guys that operate the NRA Museum the Gun Gurus. It was awesome!
Sadly, I was in the blue section and most of the other media guys were in the white section. So I'm not in the footage, but the thing I want to highlight in this video is a little sound between time stamp 4:37 – 4:43. The sound here made me wish I had a microphone set up behind the berm. I'm not talking about the shot, no. That sounded kind of like wringing a roll of bubble wrap. The sound was that rolling thunder echoing off of the small mountain behind the berm. It doesn't sound like much on the video and I hope someone comes out with a better recording from a distance, perhaps from the drones hovering around.
But let me put this into perspective as to why this sound effected me so much. Put yourself in my place. You drove over an hour early in the morning. You're tired, hungry, you walked a lot, and you've spent hours waiting for a really big moment in your life. To take part in history. You step up to the line, pick up the rifle and level it. You're exhausted, the front sight is wobbling around, and this thought is running through your head. "What if I mess up?" Then the call comes out.
"Fire!"
You pull the trigger the moment you hear Fi— and the whole range erupts in crackling and 1000 microscopic puffs of smoke. Then in the relief of the moment, your ears half deafened by big read earmuffs, you hear something powerful. It's a sound akin to the culmination of distant thunder and the predatory growl of a low stalking lion rolling off the face of a desert mountainside. That awe inspiring moment will stay with me for the rest of my days.