Review: Saddleback Leather Rifle Case
Jon Stokes 11.28.16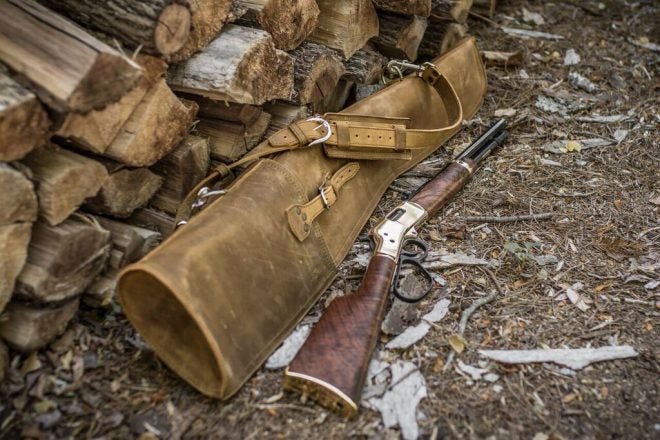 Dave Munson's Saddleback Leather needs no introduction. If you don't already know Saddleback, then you probably haven't been in an airport or at a conference in the past five years. Everywhere I go I see Dave's leather, and that's saying something because none of his stuff is cheap. I own a few pieces myself, and I've reviewed them over the years, from the very first version of the Saddleback briefcase that was sent to my by Dave himself up through the more recent water bag.
So I was delighted recently to find out that Saddleback is branching out into gun cases, a fact that I learned when editing our very own review of the Saddleback pistol case. I'll admit that the pistol case isn't really my thing, probably because all of my pistols are polymer-framed "appliance guns." If I had a high-end 1911 or a Major Pandemic-styled gold-plated Desert Eagle to tote to the range, maybe I'd be feeling the Saddleback pistol case, but I'm strictly function over form when it comes to handguns. Not so with long guns, however.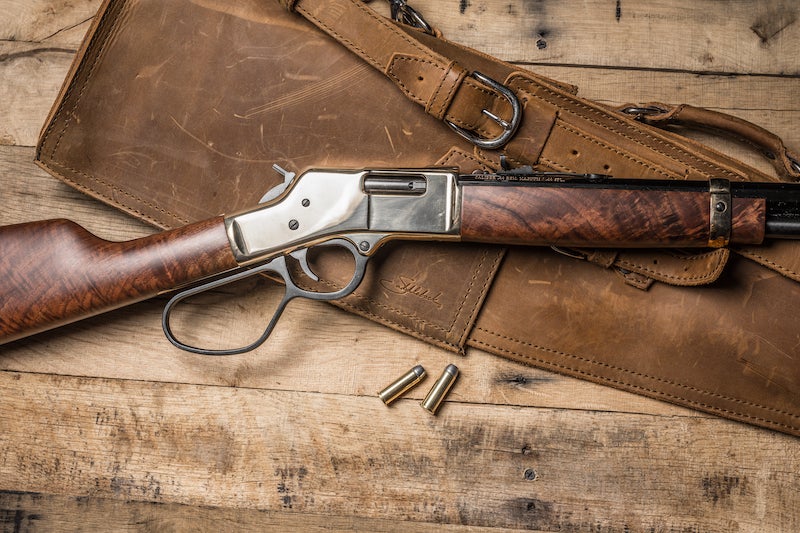 In addition to my ARs, I have two more traditional, cherished long guns that are a great fit for Saddleback's rifle case: my recently departed grandpa's Winchester Centennial '66 Model 94 lever gun and my own 12 gauge Pioneer Arms coach gun. So when Saddleback offered to send over a review sample, I couldn't say no.
Note: The images in this review are from Saddleback. I tried photographing this thing and couldn't do it justice, so I'm just using their photos.
Features and Functions
The sleeve weighs in at a hefty 5.2 lbs, but it doesn't actually feel as heavy at it is. The weight is due to the fact that, like all of Dave's gear, the gun sleeve is massively overbuilt, with double-stitched seams and reinforcements in any place that might tear or stretch.
The leather itself is actually two layers: an outer later of full-grain leather and an inner layer of pigskin. (Again, this is standard on many of Dave's items now.) There's a third, removable inner layer of shearling that is super nice. This furry sheepskin inner liner gently cradles the firearm, providing extra protection from bumps, drops, and scrapes.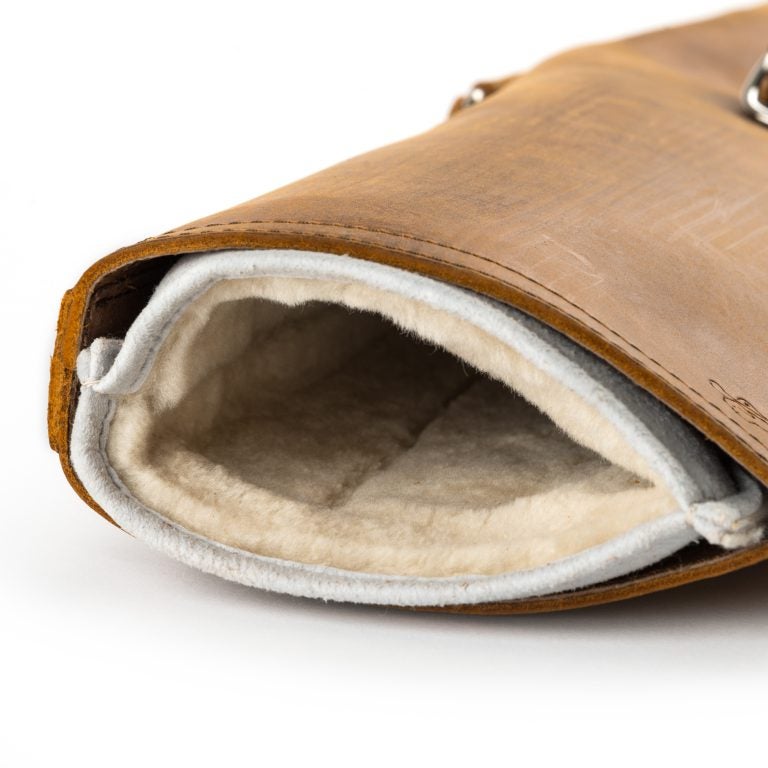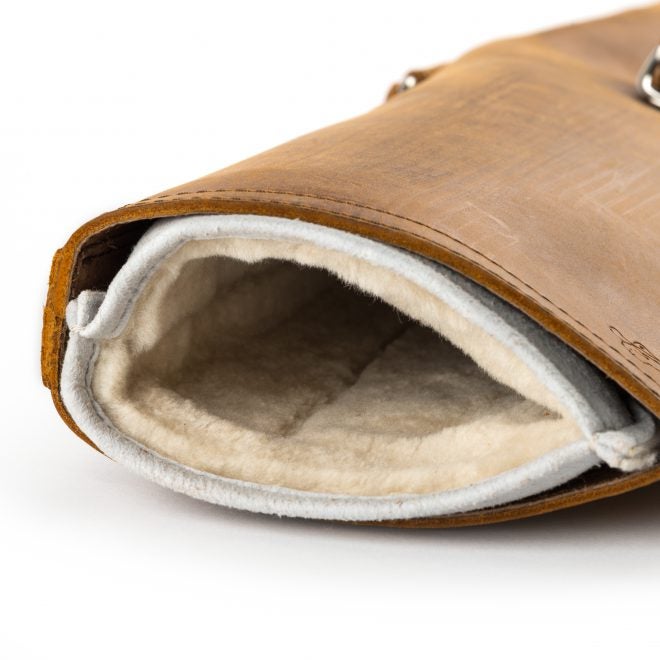 Because of the extra loop on the top, I was able to reconfigure the gun as a scabbard. I love this because I've always wanted a leather shotgun scabbard (for no other reason than that they're cool) but couldn't justify the expense. Because the gun sleeve actually works as a full-blown case, it's basically like buying a case and getting a scabbard for free.
The sleeve was probably designed with a rifle or over-under shotgun in mind, but it fits a side-by-side shotgun quite easily. My Pioneer Arms Coach Gun is a wide beast of a firearm, and it stuffs into the scabbard without any problems.
The gun also fits the Winchester rifle perfectly, but despite the fact that it looks tailor made to tote a classic rifle, I suspect that most of these sleeves are going to end up holding shotguns. Why? Because of the sleeve's one major downside: it's iron-sights-only.
If you've got an optic on your long gun, you'd have to take the optic off and carry it separately if you want to use the sleeve. This is a pretty major drawback, and in my mind it basically restricts this sleeve to shotguns, because most rifles these days have an optic of some sort on them.
I actually think it's probably a better fit for the shotgun crowd, anyway. Between the sleeve's $450 price and its swanky looks, its primary appeal is going to be for the well-heeled professional set, the kind of person who belongs to the Roughed Grouse Society, shoots traps instead of playing golf, and spends north of five or six grand a year on upland bird hunting. In short, this is a product aimed squarely at the Filson set, which is by and large a shotgunning crowd.


Conclusions
I love the Saddleback gun sleeve's light weight and pared-down, old-school styling. It feels every bit as indestructible as the rest of Dave's overbuilt line, and the quality is just outstanding. It gets you into custom gun leather territory, but without the custom prices.
But as great as this sleeve is, it has a fairly narrow set of use cases. It's not really luggage. If you're going to check your long gun, it's better to do it in a hard case. So it's basically a range sleeve or a car trip sleeve, and then only for a long gun with no optics.
Given the sleeve's limited spectrum of uses, $450 is a lot to pay; it's the price of a good optic. But, again, it's cheaper than a custom gun sleeve, and the quality is so high that the only way I can imagine a custom piece's quality being any better is if it has some sort of fancy tooling on it.
So if you're a shotgunning Saddleback lover, then you basically have to buy this. It's in your future and you know it. But if all of your rifles have optics mounted on them, then you're going to have to look elsewhere to scratch the high-end gun sleeve itch.