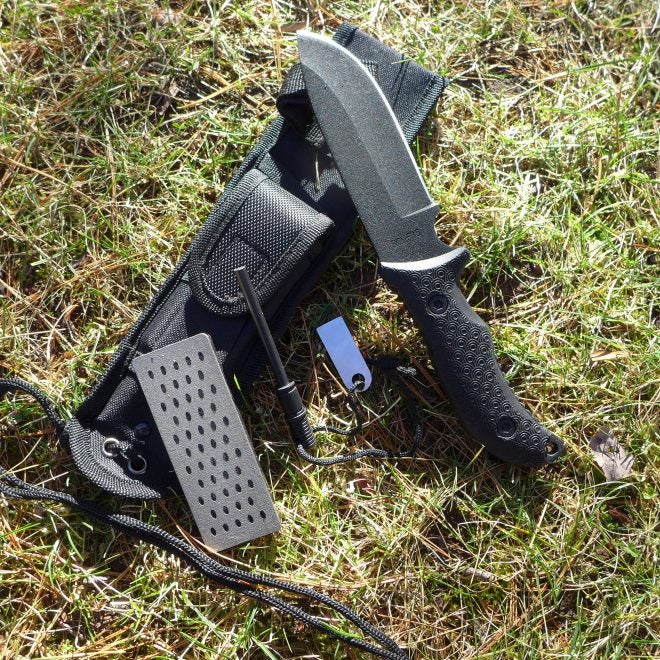 Well, it is full-on gift buying season. Your mailbox is crammed to the gills with catalogs of happy, good looking people full of yule time cheer, and your email inbox is assaulted on a half hour basis by blasts from retailers (and for some reason that unsubscribe link gives you an error message). Christmas shopping on like Donkey Kong.
Schrade SCH36
This is a perfect gift for that super dependable friend–the person that picks you up at the mechanic's when your car is being fixed or the chap that loans you their Super MAX diesel truck when your vehicle won't cut it. Tough, ready, and always there–this person deserves a similar gift.
The perfect gear gift for this person is the Shrade SCH36. This is an overseas made 1095 steel fixed blade. It is "camp knife" or "jack of all trades" sized with a 4 inch-ish blade and a 5 inch-ish handle. The knife it self is a surprisingly solid design from a company that until about two years ago was the burning-oil-platform symbol for great American brand bought out and shipped overseas. Now, thanks to some progress attitudes towards product designs, Schrade has been killing it, especially with their fixed blades.
The SCH36 is the result of careful scrutiny of the market AND listening to folks online that know what they are talking about when it comes to knives (folks other than me, really). There is some serious gill-packing going on here. As you can see from above, this is a full kit of stuff: a sharpening stone, a ferro rod, a striker, the knife, and a surprisingly not terrible sheath.
The SCH36 is clearly a shot across KaBar's bow, as this knife is a direct competitor in almost every way to the KaBar Becker BK2. Same steel (1095), same role (general use), same coating (cake frosting thick powder coat), same sheath (nylon with insert).
The two big differences here the handle and the price.
The Becker handle is the best handle design for a fixed blade anywhere. I have tried a lot–Fiddleback Forge, Bark River, Spyderco–and none have made me happier than the Becker handle. Including the SCH36. This handle is just too busy. It's not bad, it's just, when compared the greatest, it falls short.
But that less polished pedigree comes with a savings of about $50. I picked up my SCH36 locally for around $30. The BK2 clocks in at about $80. And in all honesty, your friend, the rough and ready type that he or she is, probably won't notice $50 difference. Hell, we gear geeks might have a hard time doing that.
And if you think they want a bigger blade or a nicer one, Schrade has you covered with a bunch of other blades in this line. In use the SCH36 has proven, beyond any doubt, that there is still life in that old brand, that Schrade is not hopelessly moving towards the world of M-Tech bullshit (though it clearly has a few knives that belong in gas stations in its line up). The SCH36 also proves to me that paying attention to the market and to the enthusiasts can result in better products.


SHOP NOW