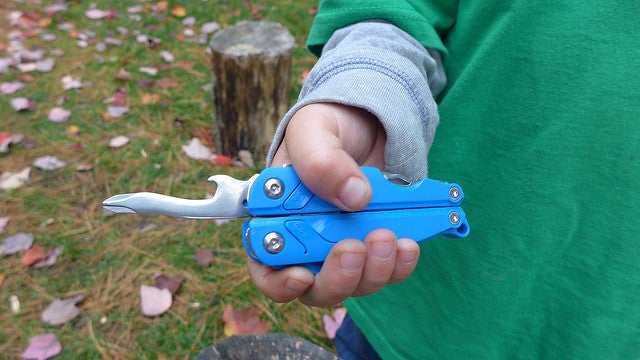 Kids aren't hard to buy for if don't mind heaps of plastic. 10,000 years after humanity has been wiped out and bugs are all that remain living on Earth there will be, somewhere in the rubble there will be a completely intact and functional Cozy Coup. Other than picking up odors, that plastic is immutable.
But if you don't want to add to the tidal wave of polymers already in your house if you share it with little ones, think about getting a kid a tool. Yes, I know all of the helicopter parents in the neighborhood will think you are crazy and that it was you that lit off fireworks at 3 AM on the 4th of July. But hey, your kid won't grow up being afraid of escalators, revolving doors, drill presses, and other inanimate objects.
Leatherman Leap
As you can imagine, this is a great gift for your little buddy, the person that things you are amazing at everything and follows you around asking three questions per breath.
The Leap is a Leatherman multitool designed specifically for kids. The knife blade is user-installed, so that out of the box they have only a saw and scissors to reek havoc (which is plenty, trust me). My son has had one since he was four, though, to be fair, he was one of the product testers, as Leatherman sent me an early production model for review. With a bit of careful oversight and some teaching, young kids can use the Leap, even if it is recommended for 9 and up.
One particularly nice feature for kids (and adults) is the locking mechanisms. All of them are triggered without having to put fingers in the blade path. The tool's shape is also pleasing, regardless of age. With a tapered handle it is inviting to tiny hands and with a chunky feel at the top, it still works with full-sized mitts.
In particular the pliers struck me as very good, better by leaps than those found on the Leatherman Skeletool, for example. The screw driver is also pretty hard to beat, even compared to the bit holder versions found on stuff like the Wave and the Charge.
I would be wary of the saw. It is really sharp and cuts aggressively. One particular testing sessions resulted in my son cutting down a substantial part of a rhododendron in our backyard in a matter of seconds, so don't think this is like a Nerf knife. They can get hurt, and they can do damage.
The knife blade installs easily and still locks in tight. I didn't like the opening hole all that much, but it is clearly designed for two-handed opening by folks with less dexterity–like, you know, kids. The 420HC steel is actually an ideal choice. My son left this in the backyard for a day or two before I found it and it was still 100% rust free.
The most awesome part of the Leap though is this: even after they have grown up, this is still a 100% legit mutlitool. It's quite compact and light compared to, say, the Rebar or the Charge. And your little buddy will definitely know that they got a "real tool," one that is "just like Daddy's."


SHOP NOW