Review: the Alpha Dog 9 Suppressor with Picatinny Rail
Doc Rader 12.05.16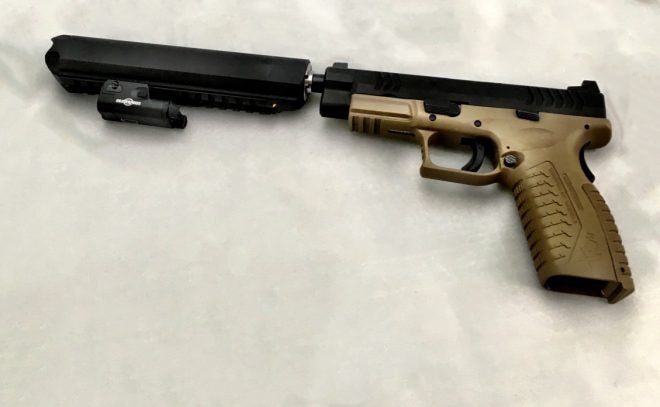 Reviewing a suppressor is always a hassle. Since they are NFA items, a suppressor review presents a slight logistical challenge to receive the item in a timely fashion. The easiest way is to have a relationship with a shop that already has the appropriate credentials and blessings.
When I was approached about reviewing the Alpha Dog Silencer, I was fortunate enough to have a local shop that would work with me: BMC Tactical (who I want to thank for handling all of the necessary transfer details and for chaperoning the shoot).
It took a few weeks to get everything lined up, but certainly not the months that would take to go through the commercial NFA process.
Construction
The Alpha Dog Silencer comes in three calibers, with the capability to accommodate smaller calibers by the larger cans: the Alpha 45, Alpha 40, and Alpha 9. You can get pistons for the thread pitches found on common threaded barrels in .45, .40, 9mm, and .22.
The suppressors are rated for semi-auto pistol only.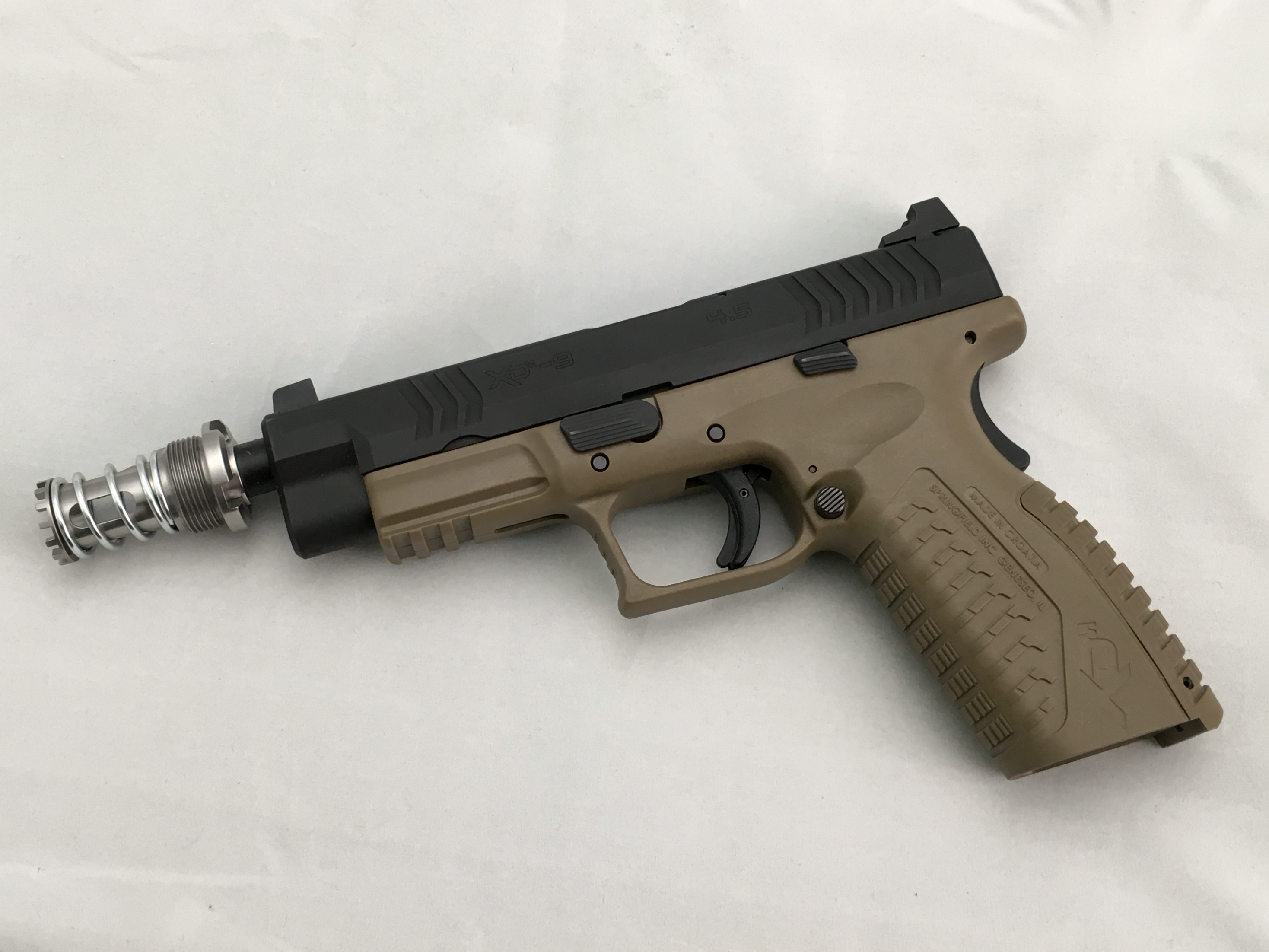 You can rotate the can while attached because of its spring and piston assembly: pull the can away from the pistol, rotate it, and release. Each "click" will let it rotate 30 degrees for 12 different positions.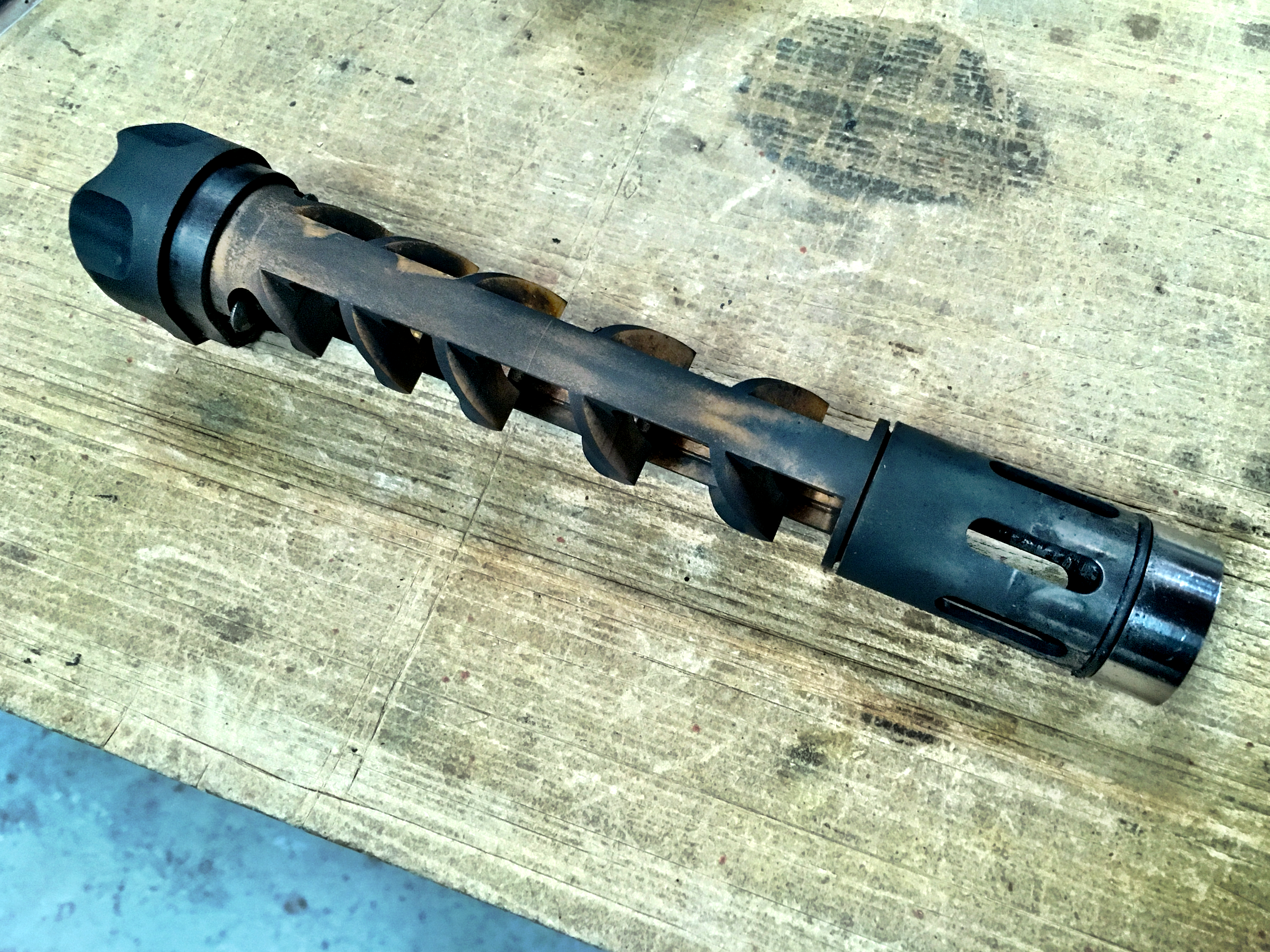 Tech Specs:
Width: 1.25″
Height: 1.65″
Length: 7.5″
Weight: 10.2 oz
Finish (EXTERIOR): MIL-A-8625F TYPE III CLASS III – Black (Hard Coat Annodizing) over bead blast + Teflon coating
Finish (INTERIOR): MIL-A-8625F TYPE II CLASS II – Yellow (Annodizing) + Teflon coating
End Caps: 6061-T6 Aluminum
Body Extrusion: 6005-T6 Aluminum
Baffle: 7075-T6 Aluminum
Blast Baffle/Index washer/Piston/Spring retainer: 17-4ph Stainless steel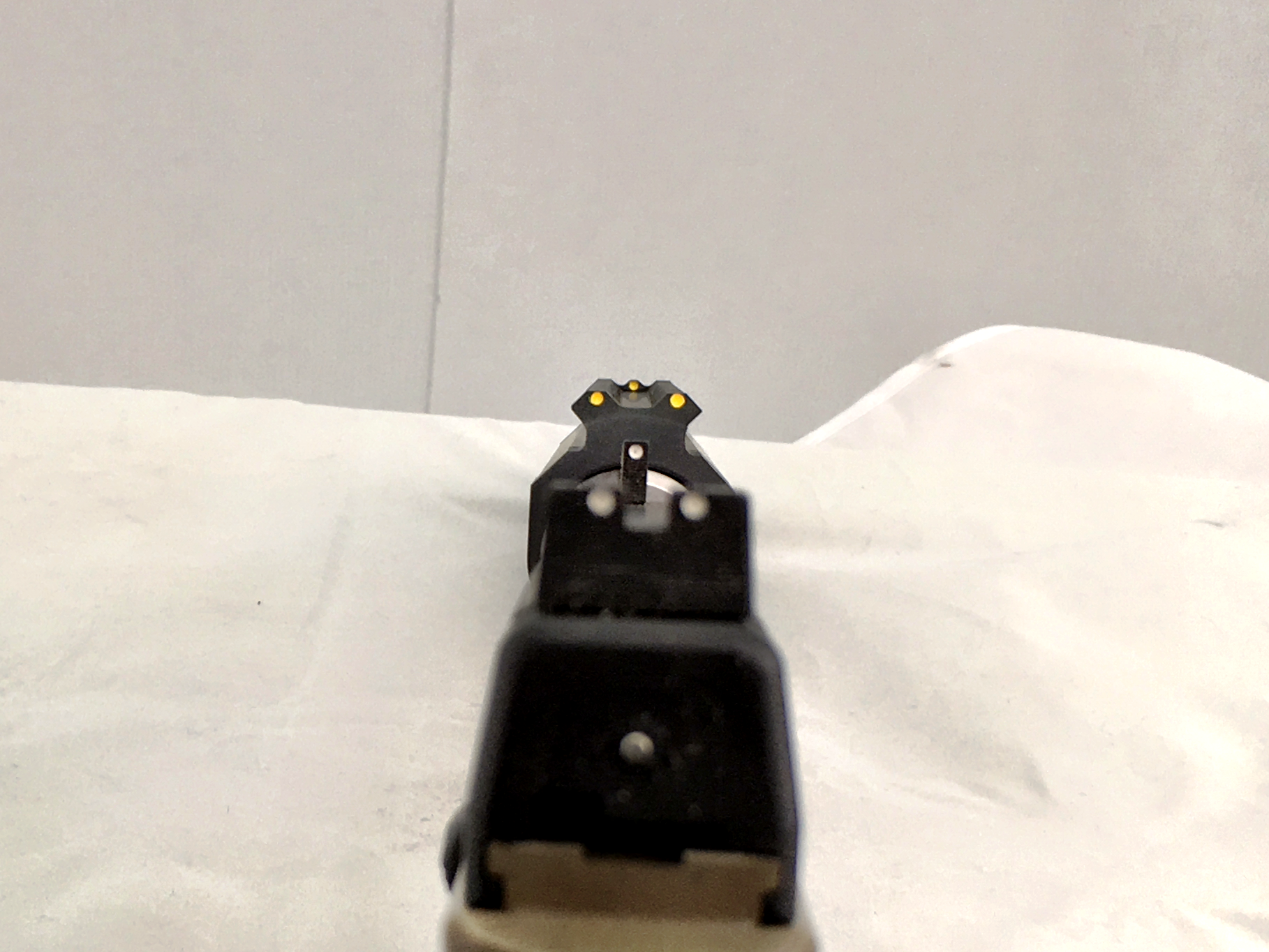 Observations
I do want to prefix that this was in no way a scientific evaluation. It was purely subjective. We didn't have access to a legit sound level meter, but we did have access to a number of other top selling suppressors, which we used for comparison. We compared to a Silencerco Osprey 45, a Silencerco Omega-9K, and a Gemtech GM-9.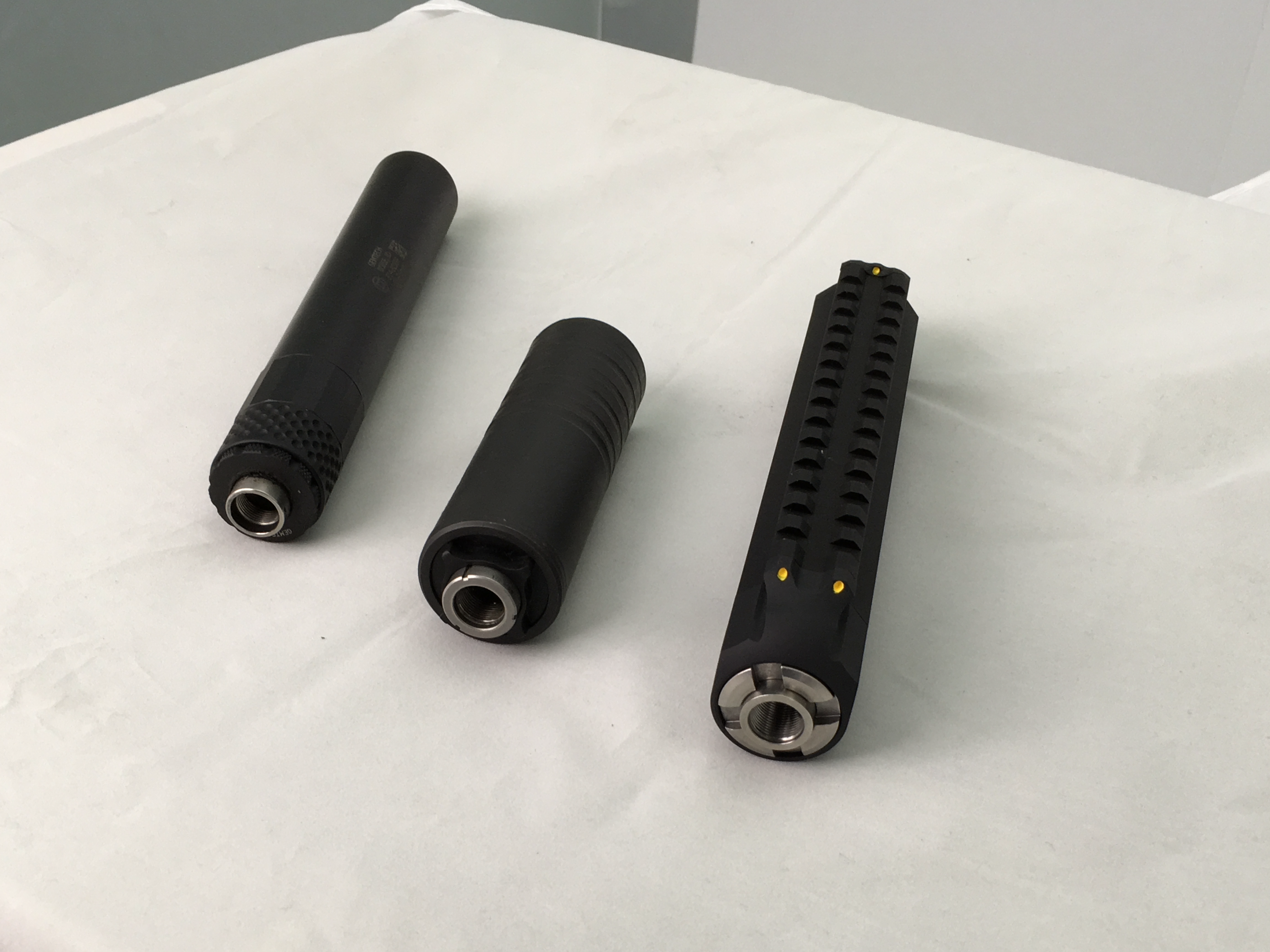 I'll admit, my first reaction to seeing the Alpha Dog was, "Sigh, what is the fetish with the Picatinny?" I do think the gun industry is plagued with ideas that are implemented solely for the sake of being cool within the purchasing base. AddingPicatinny and PALS webbing to nearly everything is one of those things. They have utility but are overdone to excite purchasers who just don't know better (or are aiming for that "operator" look).
That said, I do see the utility with the Alpha Dog, assuming you don't get too crazy with it. They discuss all of the different things you can attach, from lights and lasers to reflex sights (just don't attach a fore grip unless you have an approved AOW stamp). The utility I see is for a small light–really nothing bigger than a Surefire XC1. In this configuration I think it would make for a decent bedside "home-defense" weapon. With a suppressor and light, you could hop out of bed and not worry about ear pro or a separate light. The thing to watch out for is putting too much weight at the end of the can and changing the dynamics of the action cycle. You could turn your semi-auto into a single shot. Add what you want but make sure you test it out. Your mileage may vary.
We fired mixed Fiocchi 147 grain and Tula 147 grain through my Springfield XDM. Really the first 4 magazines were going to tell us what we wanted to know.
The Alpha Dog was quiet. The quietest of the group, actually. From quietest to loudest: Alpha Dog, Omega-9k, Osprey 45, and Gemtech GM-9. Previously, the Osprey 45 was the quietest I've ever used. The Alpha Dog definitely beat it.
We fired a few magazines through the Alpha Dog, then some through each of the others, and then another through the Alpha Dog. We also added Dog Slobber to each of the cans after running each dry.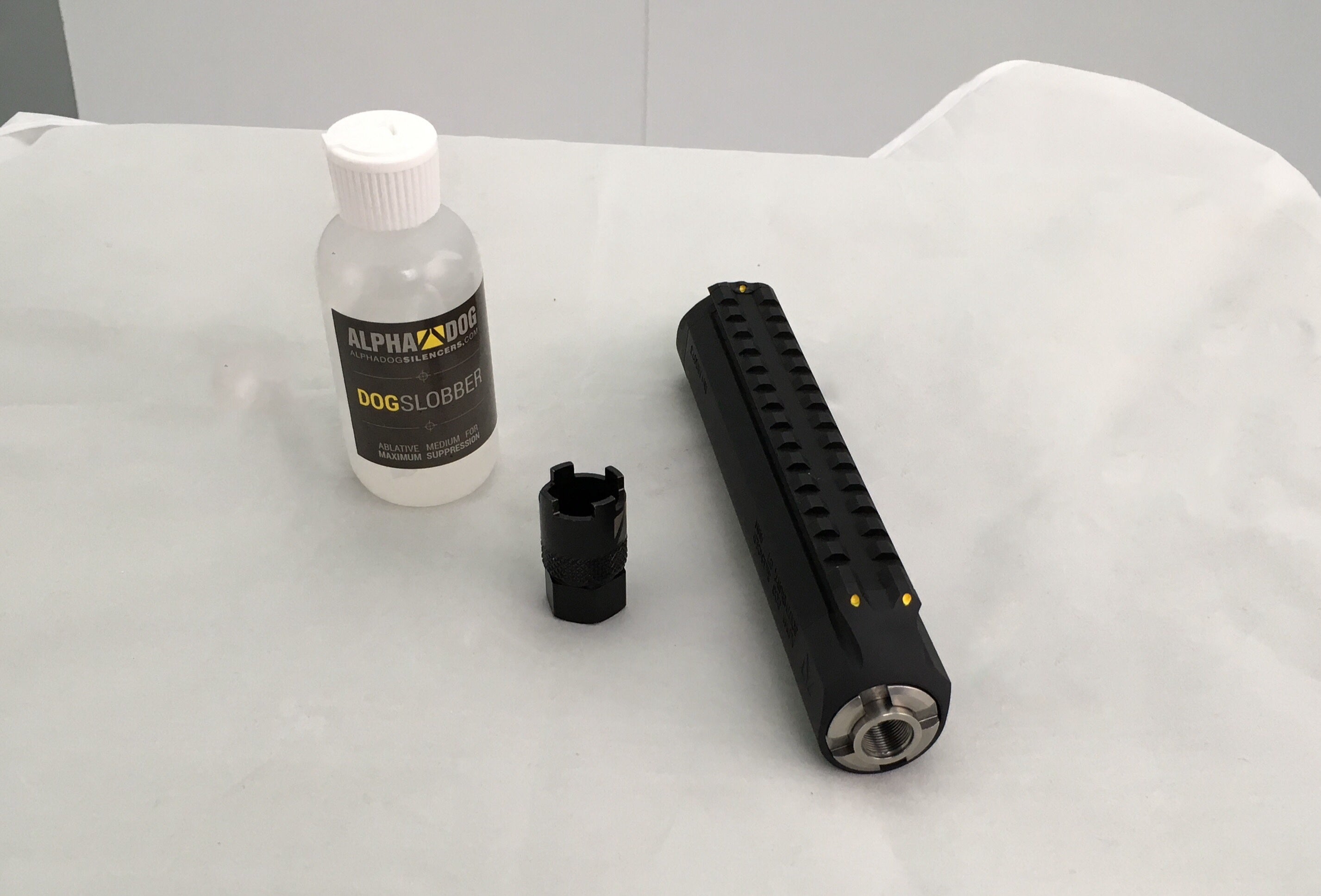 The Dog Slobber (Ablative Medium) is a thick viscous gel that came in a squeeze bottle. We first shot the Alpha Dog without it, and then later added a healthy squirt inside the suppressor. It did make a difference. Not a huge difference with the Alpha Dog, but it was still noticeable. However, we squirted some into each of the other cans, and it seemed to make more a difference there, especially in the Gemtech. Initially the Gemtech was right on the borderline of being annoying; there was a still a slight "crack." With the addition of the Dog Slobber, it reduced to about the level of the unlubed Omega-9k.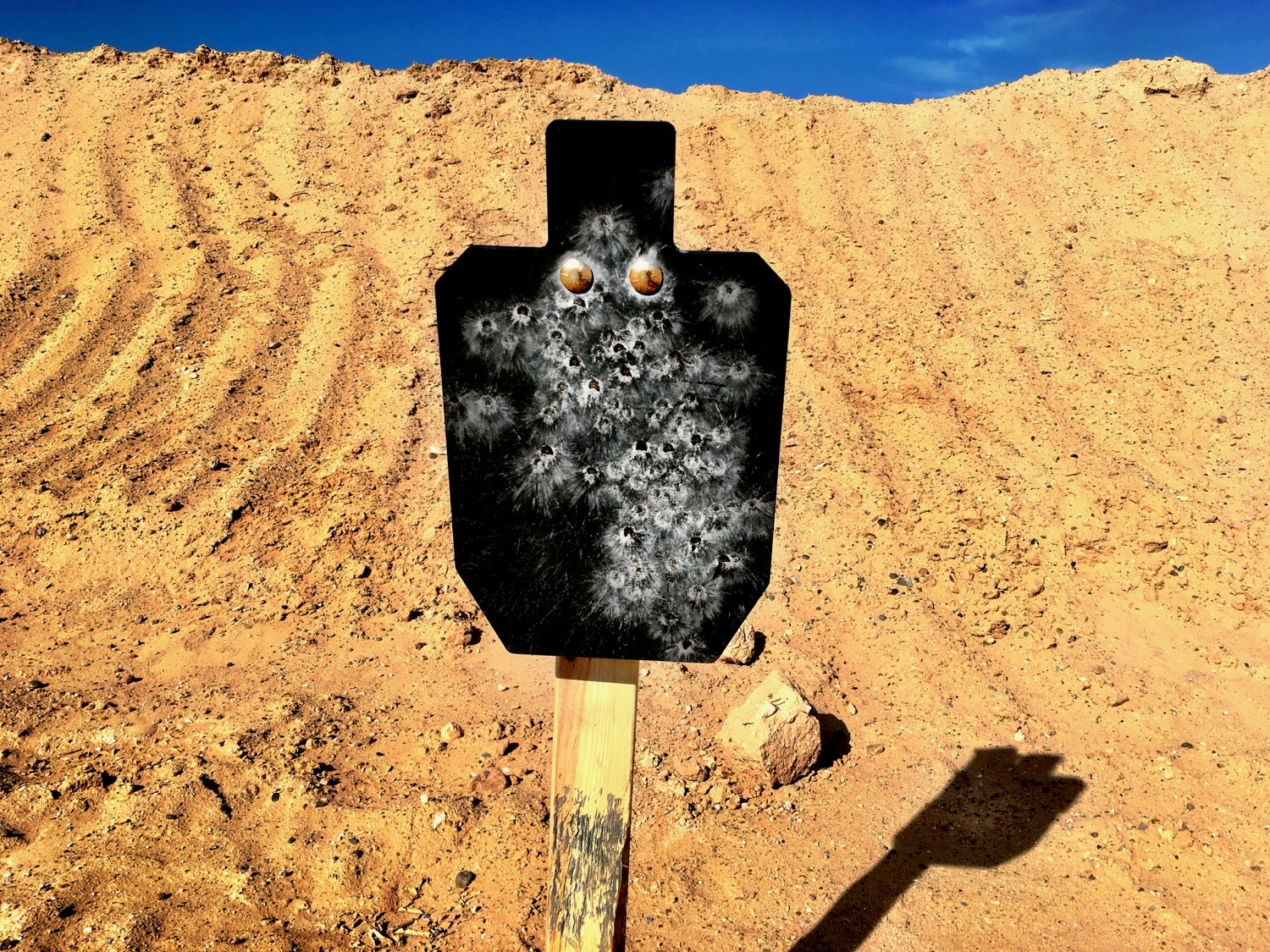 I did notice that my rounds were hitting low and right–just a reminder that you need to practice with your equipment and learn what it does. It did this throughout all of the shots, and as the can heated there were no notable changes.
I fired through the can with the rail both on top and bottom (which is one of the nifty features. You can rotate the can through 12 positions while it is attached). There was no difference in point of impact. It was, however, nice to have the integral sights on the can itself (which are part of the rail). For what it is worth, the other cans all had different points of impact (though consistent to the can).
The Alpha Dog also had great heat dissipation. It remained cool enough to handle with bare skin after a few full magazines. The other cans required gloves.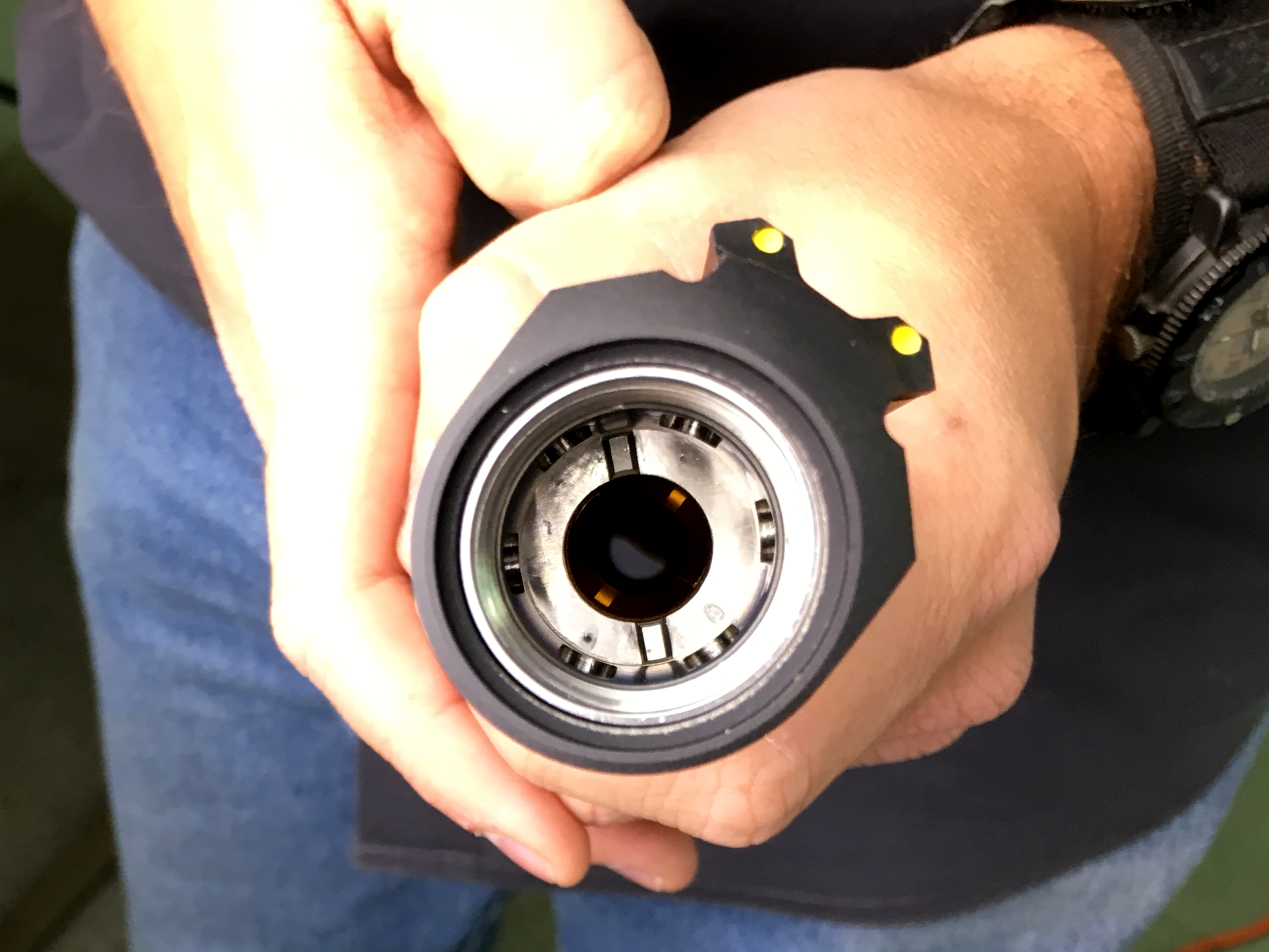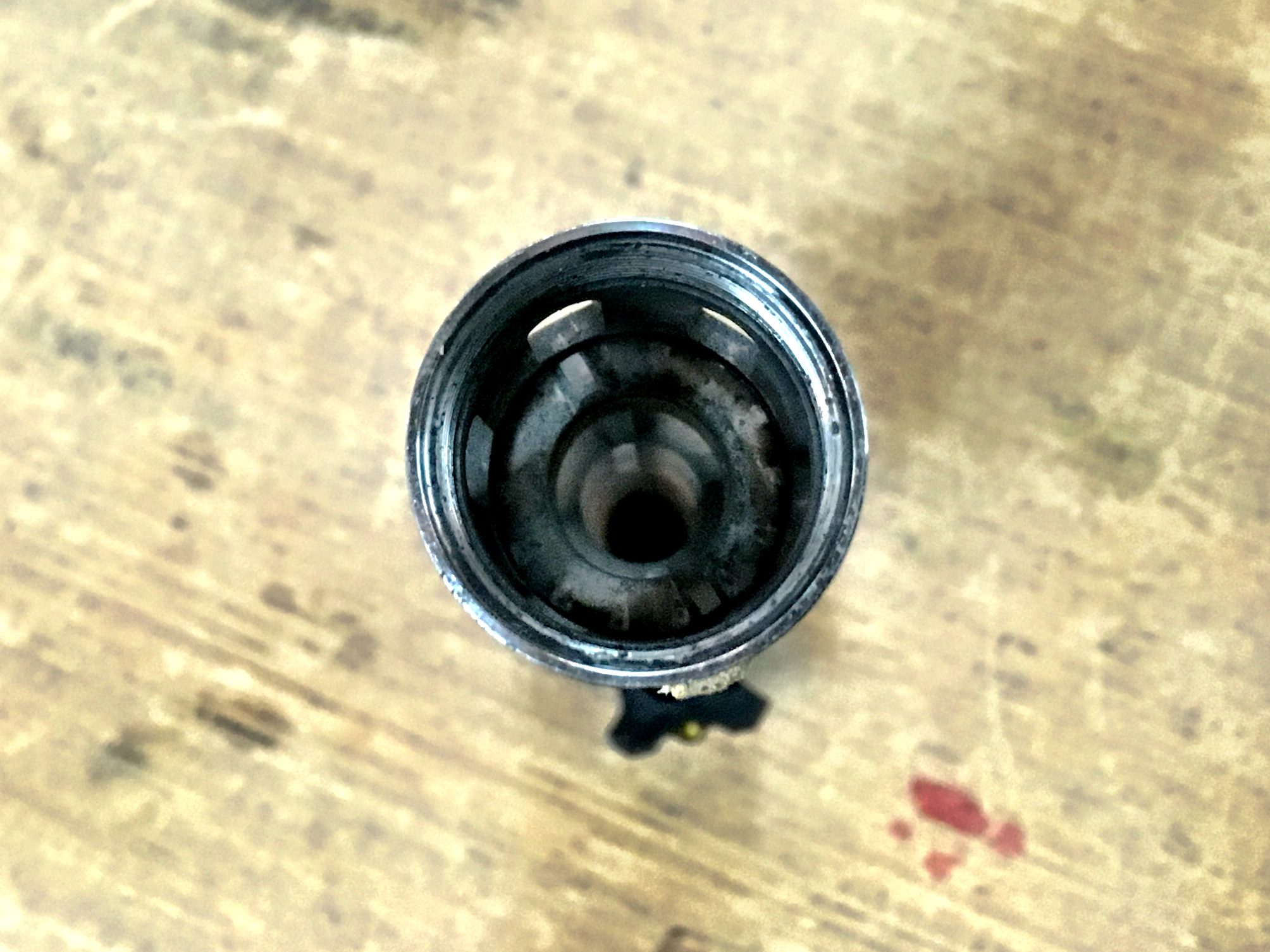 Conclusions
Despite my initial dislike by the inclusion of the Picatinny rail, I can wholeheartedly recommend the Alpha Dog Silencer. It is the quietest suppressor I have ever used. And I mean ever (and I have handled a lot). It also remained cool enough to handle even after dumping four magazines through it. Honestly, if I had the option back when I bought my Osprey, I probably would have gone with the Alpha Dog. I was that impressed. When I am in the market for a new suppressor, I'm thinking it is going to be one of these.
And the Dog Slobber Ablative is great! If you already have an investment in cans, grab a bottle and give it a try. You'll be surprised. We were.
MSRP is $775 with piston.


SHOP NOW