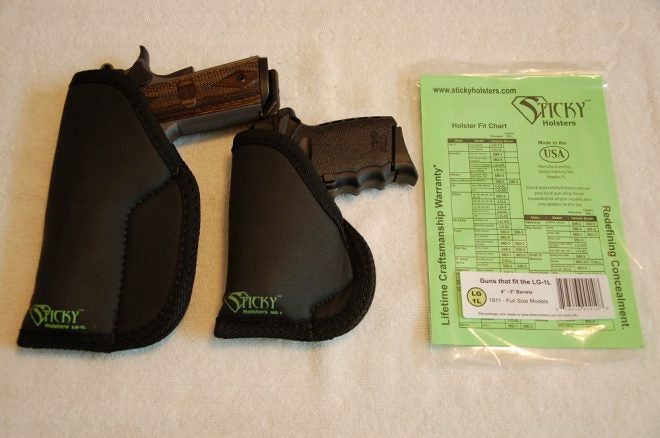 For many concealed carry permit holders, the immediate question or issue that comes to mind is how to best carry a concealed gun. The issue comes up for several reasons, including naturally full, legal concealment, but also comfort of carry, ease of access, and overall portability during daily carry and regular activities.
Many CCW carriers will opt to carry a gun in an OWB or Outside the Waist Band holster carry or even maybe a shoulder holster if a jacket is worn. This will work for some, but with an OWB you have to wear a large over shirt, suit coat, or other jacket to completely cover the weapon carried on a belt outside the pants. There are other options to consider.
One of the main options is to use an Inside the Waist Band or IWB holster. These typically clip on the inside of the pants with a holder mechanism fitted over the pants belt but worn inside the pants. The IWB holster must be adjusted in a carry position that allows the grip of the pistol to be easily grabbed or gripped.
I personally do not find an IWB holster a comfortable carry. It rubs against the skin, and daily carry is not pleasant for me. Also, this carry does need a shirt to be worn outside the pants to completely cover the pistol's grip. This condition requires some specific training for how to retrieve a handgun when holstered in this manner. Sweeping back a shirt or jacket is much easier said than done.
Another option that appeals to many is the use of a small holster that fits inside the front or perhaps the rear pocket of pants or jeans. A Sticky ® holster type pocket carry comes to mind. Certainly this may limit the overall size of the pistol to be carried this way, but the concealment and retrieval features make this type of carry option very popular with many gun carriers.
The idea behind a "sticky" pocket holster is that the encasement material grabs to the pants material to hold the rig in place. Upon drawing the firearm, either the entire slip holster comes out with it or the holster is held in place by the sticky type material as the gun is withdrawn.
If you carry concealed, then check out these additional options to find what works best for you. Then practice using that option.