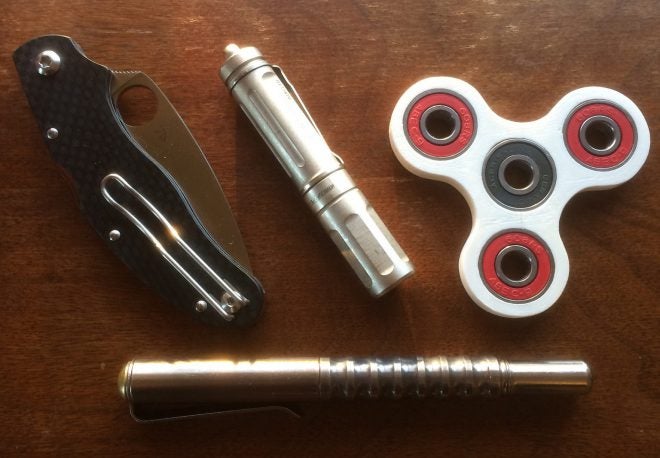 When my Dad was little, his parents had just escaped the Great Depression. They had four children and they were not rich. Christmas usually consisted of opening up "presents" that were merely wrapped boxed full of necessities–socks, underwear, and the like. But my grandmother was unwilling to succumb to financial realities beyond her control. While they never got anything extravagant, if the main presents were unexciting, the stockings were true delights–fun things that my Dad and his siblings never asked for or even knew about. They all got an orange and then one other thing. My Dad occasionally got a pack or two of baseball cards, or, as he and his brothers thought of them–gum with cardboard stock that could be rammed into the spokes of your bike. (EGAD! 1952 Topps in the spokes of a bike!)
If you know a gear geek and want to get them something truly unexpected, a bit fun, and perfectly sized to fit into a stocking, a spinner is a great idea.
3D Printed Spinner
Spinners are a silly thing–even more the Pog of the EDC world than stuff like beads (though neither are as bad as the Lucky Fatman, which to my eyes bears more than a passing resemblance to the Christmas Pickle from Bad Santa). But silly things can be fun and entertaining, just look at other stocking stuffer favorites like the Slinky and the Yo-Yo (have you seen this kid with a yo-yo? Holy moley.)
I am not exactly sure how spinners came about or why they fell into the realm of EDC gear, but it's clear, just look on Instagram to see, that they are everywhere. And for the most part they are insanely expensive for what they are. The two originals, the Torq Bar and the Vorso Spin, are more than $100 for–what exactly? A steel lump with a bearing in the center. Yeah, I am not so sure. And then, because Custom Knife Factory can't help but follow a trend to his (il)logical conclusion, they released the blingiest of all spinners, the Pepyakka. All of these things, while interesting and of course well made, are nutty expensive, especially when comparing dollars to utility.
I'd much rather drop $15-$25 for a 3D printed spinner. They are widely available on Etsy, with Fidget Craft having a bunch of different designs with lots in stock. Generally they aren't as pretty or as well made as the Torqbar/Vorso/CKF lineage, but I am not sure spending extra dollars will make you happier. Surprisingly though, using a spinner will put a smile on your face. There is something deeply pleasing about giving the spinner a good tap and watching it go on and on forever. I have no idea what the brand is of the spinner in the picture above, but it cost me $25 and was imminently fun to play with.  Standing in line at the post office, talking on the phone and wading through call menus, and driving in stop and go traffic are all a little more bearable with a spinner.
I not saying they are a necessity, but if you need to drop something in a stocking, something that the recipient is unlikely to know of and still probably going to enjoy, a $10-$25 3D printed spinner is sure to please.