Watch: LaserLyte's New Improved Training Targets
Russ Chastain 12.19.16


Laserlyte has been making cool laser stuff for guns for a good while now, from sights to training kits with electronic targets. They've recently released a video (below) announcing improvements to some of their most popular laser targets.
Steel Tyme Targets
The innovation behind these targets comes from popular demand of our customers. You asked, we listened, and now we have three new trainer targets.
Guaranteed to bug everyone else in your household are the new Steel Tyme targets, which produce a resounding CLANG each time a hit is detected.
Turns out, their older Reaction Tyme targets didn't always make a loud enough sound for some training scenarios, so they created these larger targets with a sure-nuff speaker. And if the noise really is riling your loved ones and neighbors, just slide the switch to mute the sound. You will still get flashing LEDs to indicate your hits.
Manufacturer Specs
Product Number: TLB-MOS
Compatible products: All LaserLyte Laser Trainers
Batteries: 3 AAA batteries
Battery Life: 6,000 shots
Material: High Impact ABS Polymer
Weight: 5.60 ounces
Depth: 1.25 inches
Height: 7.63 inches
Width: 3.13 inches
MSRP: $109.95 per pair
Rumble Tyme Target Cans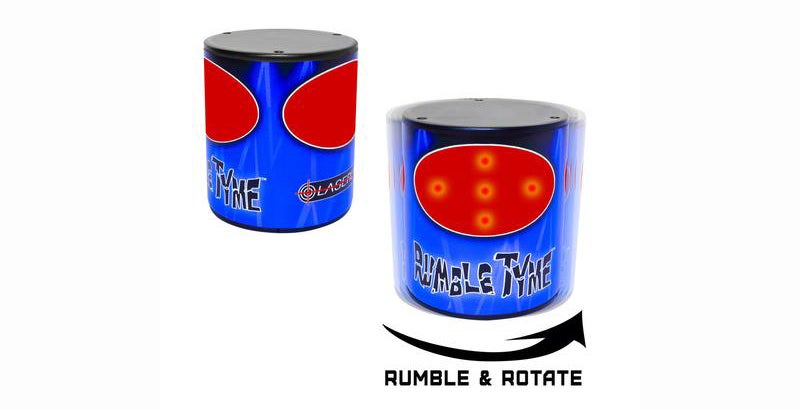 Everyone loves our classic laser plinking cans that fall over when you shoot them, but nobody loves getting off the couch to set them up after every shot. Meet our new auto-resetting Rumble Tyme cans.
These can-shaped targets don't fall over, but they don't force you to get off your duff after every round, either. When they score a hit, they vibrate and spin in place, As they say, "Couch potatoes rejoice, because the three target areas on every Rumble Tyme can are always ready for the next shot."
Manufacturer Specs
Product Number: TLB-RJ
Activation: All LaserLyte Laser Trainers
Batteries: 1 x 9V
Battery Life: 6,000 Shots
Material: High Impact ABS Polymer
Weight: 6.40 ounces
Diameter: 2.70 inches
Height: 3.00 inches
MSRP: $109.95 per pair




Quick Tyme Bullseye/Timer Target

Our classic laser bullseye target is a great training tool… but it can't do this.

Cue the new Quick Tyme target, which has a built-in timer. They say it's "the perfect way to practice drawing from a holster at home."

It can also replay your hits on the bullseye target in the order in which they were fired, via the 62 LEDs behind the target face. Pretty cool.

Manufacturer Specs

Product Number: TLB-QDM
Compatible products: All LaserLyte Laser Trainers
Batteries: 3 AA batteries
Battery Life: 6,000 shots
Material: High Impact ABS Polymer
Weight: 16.80 ounces
Depth: 1.25 inches
Height: 9.50 inches
Width: 6.50 inches
MSRP: $199.95 each

https://youtu.be/OkzA8eK-WDQ