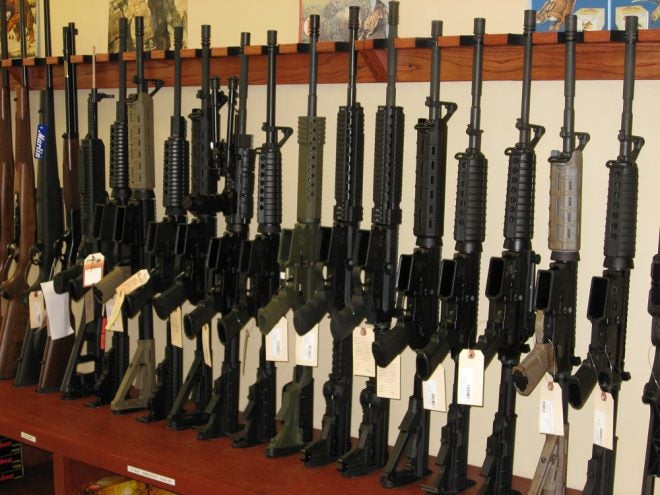 Lucky for All Outdoor readers, gun news is rampant these days. My computer is covered up with news, hotspots, flashes, and enough opinions to choke down that Rose Law Firm's 40 horsepower paper shredder that the Clinton's used to chew up all their documents. We will try to pass along the best news out there to keep our readership on the cutting edge.
Shooters, gun enthusiasts, gun dealers, collectors, hunters, law enforcement, preppers, survivalists, and many others connected to firearms one way or the other need to keep abreast of the latest gun news for all kinds of reasons if for no other reason than gun people need this information to determine its potential impact on their hobby, sport, or livelihoods.
While this is really no rocket science, it is revealing to know why these trends have been shifting rather suddenly. In today's volatile gun market, the two top selling categories of guns are AR rifles and concealment handguns. See, no real shocker there. But why?
First, it is still aggravating that the liberal press continues to call AR rifles "assault rifles," which they are not. As a historical reminder, the "AR" for this type of firearm stands for Armalite Rifle after the name of the company founded by inventor Eugene Stoner. Today, more appropriately these rifles have come to be known in the marketplace as MSRs or Modern Sporting Rifles.
ARs are popular because they can be used for fun recreational shooting, plinking, hunting small game, predators, varmints, and even deer with appropriate hunting ammunition as well as for self and property defense. They are relatively inexpensive and are not cost prohibitive to shoot. These rifles are easy to learn to shoot well and can be maintained with simple steps. They are highly customizable by the owner. It is little wonder these rifles are so popular.
The second best-selling categories of guns are handguns for concealment. Why? Primarily for self-protection as personal attack crimes continue on the rise. Handguns, mostly pistols in 380 ACP, 9mm, and 45 ACP are top choices followed by small revolvers in .38 Special, .357 Magnum and even .44 Special. People are concerned for their personal safety, so they are gunning up and taking training courses for handling concealed carry.
Societal conditions drive gun purchases. When people are threatened or scared, they react accordingly. Today, they are buying and using more guns than ever.