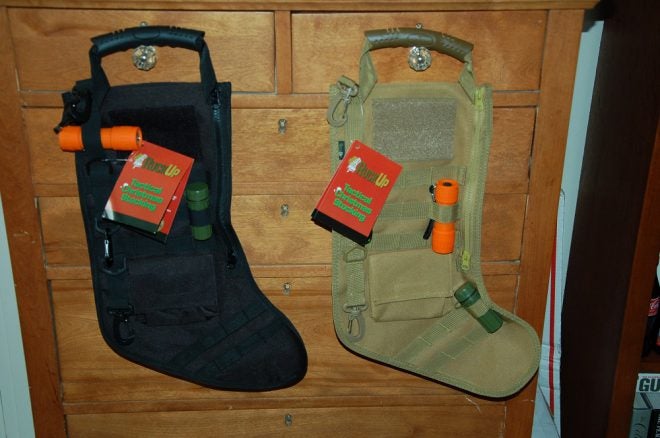 Call it a stocking if you want because it is Christmas time, but the Ruck Up is really a mini-BOB that can be filled with a multitude of small prep items, tools, ammo, containers for matches, meds, a water bottle or thermos, and much more.
The Ruck Up is a large sock looking bag with unique specifications that make it useful for a wide variety of practical applications. The bag includes a solid plastic "rubberized" grip up top with a threaded web strap fed through the grip. At the top is a large hook and loop patch for slapping on your insignia or other items that will stick to the patch.
Down the right-hand side is a long heavy duty zipper that can be opened from the top or bottom. The zipper opens up easy and convenient access to the inside pouch. The inside of the bag is coated with a water resistant lining. Sewn across the front section and also down in the "toe" area are a number of M.O.L.L.E. webs to hold endless numbers of items securely.
On the left side is a webbing strap sewn in place with three combat attachment D-ring loops. At the top and bottom of this strap is a swivel auto-latch carabiner for keys or other gear attachments. In the "ankle" section of the bag is a sewn on pouch with a closure flap secured by Velcro ®. The pouch is water resistant lined as well.
The stocking configuration is double stitched around the entire edge for added durability. The Ruck Up bag is constructed of durable nylon, which is also well known for being naturally water resistant. The bag comes in nine color options from military and law enforcement colors, including black, OD green, khaki, multicam camo, ACU digital camo, and desert digital camo to civilian colors of Christmas red, shadow gray, and pink camo.
If you act fast, you can still get these Ruck Up stocking bags from Optics Planet or by searching Amazon. Judicious shopping can find them from $8 up to around $15. They make great Christmas gifts for the prepper, survivalist, hunter, angler, or just to have one in the car.


SHOP NOW