Review: Browning Mossy Oak Bear 6000 Wheeled Duffel Bag Suitcase
Russ Chastain 12.27.16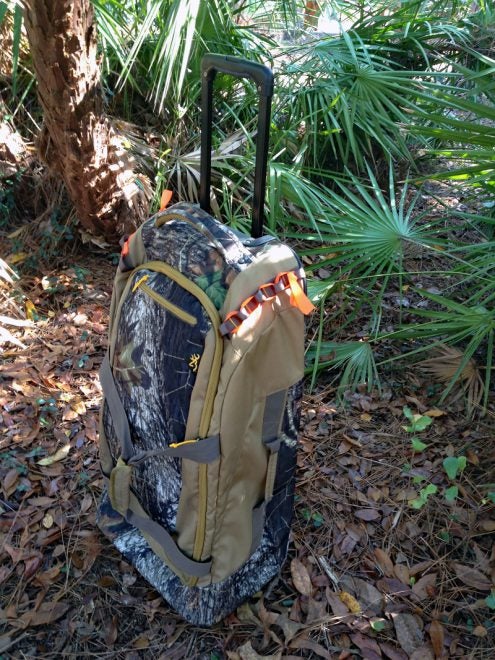 There are some things a person needs, and luggage of some kind is usually on that list. We all go somewhere sometime, and need to take some stuff along. Is the Browning Bear 6000 bag the best way to do that? Well, that depends.
I've had this bag for a while, and it's come with me on a couple of trips. On the first trip, one of the main zipper pulls came right out of the zipper! These pulls are just loops of cordage, and this one was able to sneak out of the little gap on the zipper head. After that, I slipped the pull back in, mashed the zipper heads with pliers to reduce the gaps, and haven't had any more trouble.
The second trip for this bag was flying from Florida to Las Vegas for the SHOT Show and back. I'd been using an old cheap basic rolling Wal-Mart bag for years, but that one was showing its age. I was a little disappointed with the capacity of the Browning bag; due to its tapered design, it seemed to hold a bit less than my old cheap rectangular bag.
But the tapered design allows the Browning bag to be more stable in the standing position, which we all appreciate as we wait for a taxi, an Uber driver, or to check our bags at the airport.
Another apparent lack on this bag is exterior pockets; it only has one flat pocket that's about 4″ deep and 8″ wide. But this too can be seen as a blessing; it helps keep the bag streamlined, so it's less likely to hang up on other bags, car trunks, and the like.
Handles on top, bottom, and sides ensure that you and baggage handlers will always be able to get hold of it.
It's not a light bag; the Bear 6000 weighs in at 9.55 pounds with nothing in it.
Inside the front flap are five zippered interior mesh pockets. They are oddly-shaped, but ought to be useful to keep small things organized. The mesh means you can easily see what's in each pocket without having to open it.
The liner is yellow, which is nice after you've used a bag with black interior; the light color makes it a lot easier to see what's in the bag.
The biggest bummer about the inside, to me, is the weirdness caused by hardware (the retractable handle and wheel wells) protruding into the packing area. This means you'll need to fill those gaps with small flexible items such as socks, t-shirts, and underwear if you want to fill your bag and use the space efficiently. The hardware itself is separated from the interior by a fabric liner with a zipper.
Thoughtful design details are appreciated, such as the nicely padded top handle, the "grippy" rubber insert on the retractable handle, the padded velcro wrap to connect the two large handle straps, and the tough bottom handle that doubles as a rest when you stand the bag on its end.
Specs
Model Bear 6000 WD
Water resistant 600D and 1200D fabric
Volume: 6000 cubic inches
Available in Realtree and Mossy Oak
Overall size 14.75″ x 12″ x 32″
Weighs 9.55 pounds
One exterior pocket 4″ x 8″
5 interior mesh pockets on the inside of the flap
2 interior compression straps
Two 5-loop "daisy chain" straps on top corners
Carry handles on sides, top, and bottom
Large heavy-duty wheels
Retractable two-position handle for wheeling it
MSRP: $199
Conclusion
This bag isn't perfect, but it's pretty good and seems plenty tough. I like its unique appearance; in waiting for my luggage at the airport, I didn't have any false alarms, as I often did with my plain old black bag. As you can see in the photos, I like to add some bright flagging to whatever bag I use, just to help it stand out in a crowd. But in spite of being camouflaged, this suitcase/duffel was easy to pick out among all the other bags.
After one round trip of baggage-handlers' abuse, this bag still looks pretty good and has only a few minor scrapes. This speaks well of its long-term durability, and that's a good thing, since it retails for almost 200 bucks.
If you want a tough, good-looking camo bag that should last for years, I don't think you'll go wrong with the Browning Bear 6000 WD. Just realize that the inside of the main compartment is a bit oddly-shaped, so you might need to get creative with your packing.