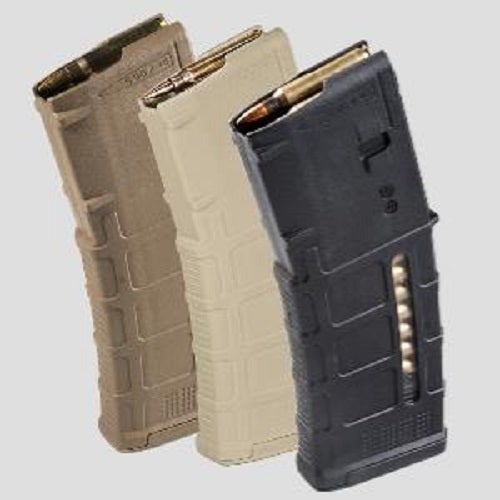 As reported via Fox News "Tech Talk" segment this week, the United States Marine Corps just before Christmas announced it will begin using the Magpul Gen 3 magazines exclusively for their combat AR-15 rifles. It has been known for years that soldiers in the field have been using their own Magpul magazines because of their reliability.
Magpul Industries headquartered in Austin, Texas with production facilities in Cheyenne, Wyoming are well known to AR-15 rifle shooters and in fact by all shooters in the know. Magpul began business back in 1999 by producing the first series of Magpul AR magazines in 20 and 30 round configurations.
After years of research and functional trials in the field, the Marine Corps has chosen the new Magpul Generation 3 magazines for a variety of reasons. The number one reason being the sheer day in and day out reliability. Naturally, the avoidance of stoppages in the function of a combat rifle is paramount for our troops under harm's way.
The new(er) Gen 3 magazines have a long list of features and specifications that have contributed to their stellar reputation for function and reliability. These features include the crush resistant construction of a proprietary polymer material for strength in the body of the magazine. Built into the side panel is a transparent window allowing the shooter to have a rapid visual on the remaining rounds in the magazine.
The magazine top comes with an easy to pop off dust cover. Though troops usually retain extra mags in chest rigs or other magazine pouches, these dust covers provide extra protection against contaminants in the field. The curve geometry of the magazine body is engineered into the magazine to facilitate smooth feeding. This, along with the anti-tilt and self-lubricating follower, ensures reliable function. The flared floorplate enhances handling characteristics.
Magpul Industries manufactures a wide variety of accessories for rifles, shotguns, and handguns. These include add-on backup iron sights, numerous rail mounted accessories for ARs, stock configurations, handguards, slings, and attachment accessories as well as other shooting aids like hand stops and grips.
Of course, law enforcement and civilians alike can purchase the new Magpul Gen 3 magazines on the open market. They are widely available and retail for less than $20. They are made in three colors when available. These include black, tan, and coyote brown. Check out all the Magpul accessories at www.magpul.com.