Watch: Browning Speed Load Replaceable-Blade Knives at 2017 ATA Show
Russ Chastain 01.13.17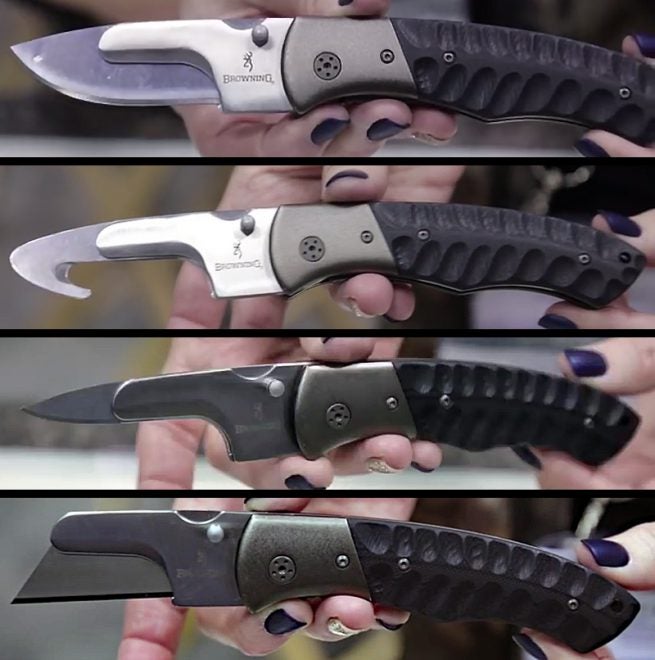 Our sister site ArcheryTalk.com has been checking out new hunting gear at the 2017 ATA Show. This video highlights two models of Browning Speed Load replaceable-blade knives, which are impressive.
I have had a Sheffield Rhino knife for years, and what I like best about it is its ability to solidly hold a standard utility blade. The Browning Speed Load can do that, plus it has plenty of other blades available as well, including standard and serrated drop point blades, sheep's foot, Tanto, gut hook, and a nice slim caping blade. And changing the blade looks pretty easy, too.
No wonder Browning's rep calls it "the only knife you're ever gonna need."
The ceramic version is new and comes with three ceramic blades: drop point, gut hook, and caping blade. Ceramic is known to hold an edge well, so why a replaceable-blade ceramic knife? Because ceramic blades are more brittle than steel blades and are more prone to break. Might as well just replace a blade instead of the whole knife when it breaks, right?
With MSRPs of $39.99, I'd say these knives might be pretty popular with hunters who can't, won't, or just don't like to sharpen a knife. Check 'em out. I certainly plan to get my hands on one.