Long Slide Honor Guard from Honor Defense
Jon Stokes 01.17.17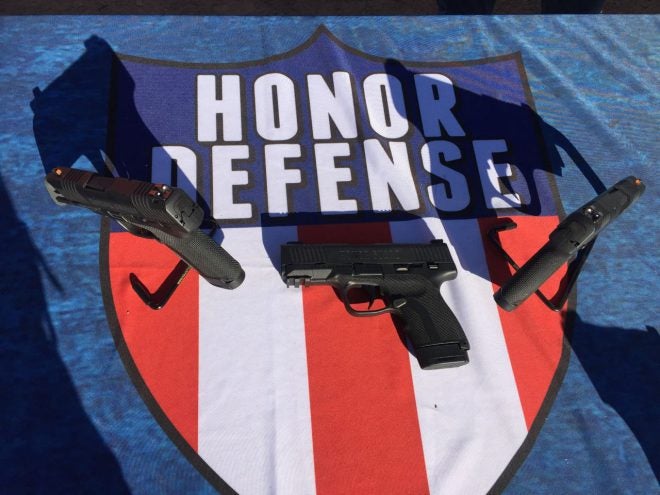 Last year at Range Day I shot the Honor Guard, a new, American-made, single-stack 9mm from Honor Defense. I loved the gun so much that when my birthday rolled around this past September, I bought one.
Today I stopped by Honor Defense station again and shot the company's new "long slide" version of the Honor Guard — they've upped the barrel length from 3.2″ to 3.8″. So how is the new pistol? Exactly like the old one, but longer, and that's a great thing.
Specifically, what I mean is that the Honor Guard is designed so that the action pops out and contain a serial number, thereby making them the "firearm" from a federal standpoint so I don't actually have to buy a new gun from Honor Defense and get it FFLed and so on. All I do is just order a new slide and a new frame from Honor Defense, and pop the internals of my existing Honor Guard into them and voila, a "new" pistol.
This is super cool, because the action of my Honor Guard has been coated with NP3 from Robar Guns (pic below, review soonish), so the gun needs very little lubrication and shoots like a dream.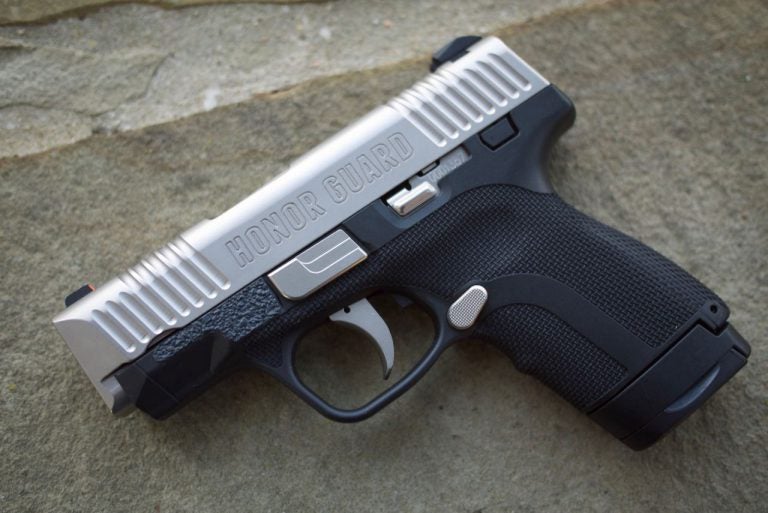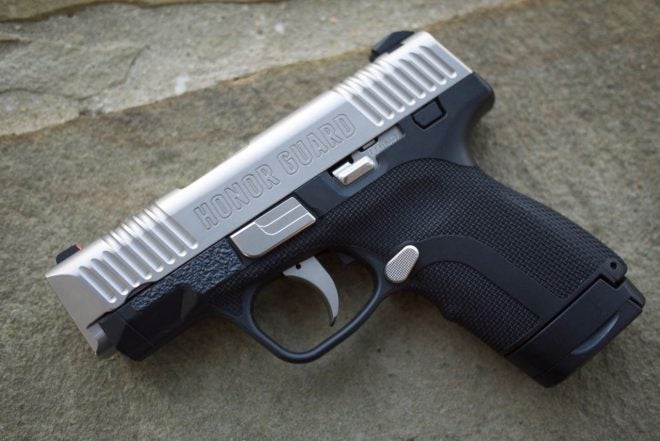 So yeah, I'm going to pick up another frame and slide combo from the folks at Honor Defense, and do a little "upgrade." Hopefully I'll have this done by the time I do a full review of the pistol, so stay tuned.
At any rate, I should quickly mention a few other things I learned about the Honor Guard.
First, in addition to the long slide version being new for this year, also new are versions of the regular Honor Guard and the long slide gun with manual safeties, for people who like that sort of thing.
Second, the sights on the Honor Guard are basically Glock 43 sights, so any aftermarket sights that fit the Glock 43 will fit the Honor Guard. This is great news because I really wanted to put some Truglos on there but wasn't aware that it could be done.
In all this is a great, accurate, fun-to-shoot little gun that makes a great carry pistol, all for not much over $400 street.