Rapid-Rod Foldable Compact Rifle and Shotgun Rod
Russ Chastain 01.26.17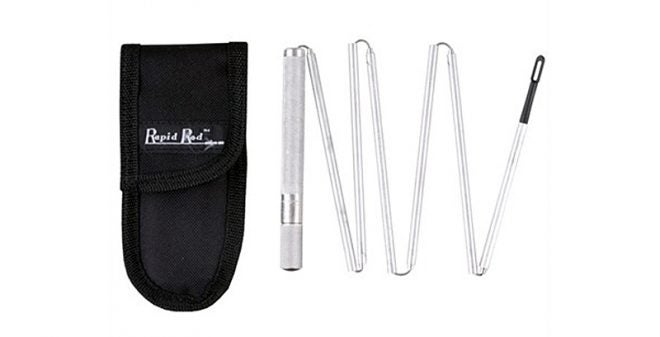 While fast, flexible bore cleaners like the Bore Boss are handy, they are no substitute for a cleaning rod, especially when you're out in the field hunting and you get something hung up in your gun's barrel. That was on my mind when I noticed an interesting little product at the SHOT Show.
This could be the result of accidentally tripping and jamming your gun's muzzle into the ground, dropping your rifle or shotgun, or an underpowered or "dud" round that leaves a bullet or shotgun wad stuck in your gun's barrel. Whatever the case, barrel obstructions DO happen, and they can cause the barrel to rupture violently, causing injury or death.
Rapid-Rod is a compact cleaning rod that weighs just two ounces, folds up into a short and compact package, and can be quickly deployed to shove something through your gun barrel, push a stuck cartridge case or shell out of a chamber, or even to do a quick bore cleaning.
A cable runs through the center of each section of the rod. Think of a tent pole that has elastic shock cord running through its center. The Rapid-Rod isn't spring-loaded though; after you deploy it you tighten a knob on the end to take the slack out of the cable, which draws the cable taut to give the rod some rigidity.
It's nowhere near as solid as even a cheap sectional screw-together cleaning rod, but it packs up into a much smaller package and should knock out a barrel obstruction okay.
Here's what the manufacturer has to say about it:
'Rapid-Rod will keep your barrel clear and safe. Obstructions such as mud, snow, dirt, ice, shotgun wadding, shell casings, or bullets can and do get lodged in chambers and barrels. This dangerous and frustrating situation renders your weapon useless until cleared.

'Rapid-Rod will quickly, quietly, and safely clear all obstructions and save your day in the field.'
Manufacturer Specs
Opens in seconds to a rigid cleaning rod.
Includes a ballistic cloth case.
Folds to fit in your shirt pocket.
No loose pieces.
Weighs only 2 ounces.
Fits rifle from .22 cal. and up, with 26″ barrel.
Fits shotgun from 20 gauge and up, with 30″ barrel.
Overall length: 35″ including handle.
Some sellers say it comes with a set of 5 patch jags and one plastic loop-style patch holder; others do not.
Not sure why they list 20 gauge as the smallest shotgun size. I think we can safely assume that if it works for a 22-caliber rifle, it will work on a 410 or 28-gauge shotgun (though probably only up to 26″ long).
This video shows a very fake "accident" in which the guy jams his rifle muzzle into the mud, then deploys Rapid-Rod, removes the mud, and then folds and stows the rod away. Cheesy music aside, it demonstrates how this product is meant to work.
Looks pretty handy.
Rapid-Rod lists for $22.08 on the Atsko website, and I've seen it as high as $35 (shipped) on eBay. Brownells currently lists it for $19.99.