Benchmade is a weird company. They have a devoted following and great brand recognition, while at the same time producing yawn-inducing blades, playing musical chairs with their brands, and ignoring huge trends in the knife world.
In 2016 they release a series of knives–flippers, framelocks, and lots of Axis locks, but no frame lock flipper. The design that is setting knife world fire is still, four years in to the trend, absent from Benchmade's line up. No a single new blade in 2016 made me reach for my wallet. None. Only the long overdue update to the Mini Grip was tempting and, as it turns out, was a stellar knife. Which, in one way, makes Benchmade's descent into irrelevancy even more painful. It's proof that things don't have to go this way. They have the ability, just not the vision, to go in the right direction.
Benchmade has been teasing its new releases on Instagram for two weeks now and the teasing was very effective. There were lots of cool videos of parts early in the process–handles, rough cut blades, and the like. Unfortunately, the teasers were the best part of the line up for 2017. When they released the actual knives (the link to new stuff is here), the outcry on IG was swift, immediate, and brutal. IG isn't exactly the home of level-headed people, but this time, that anger was warranted. This is a horrible line up of knives.
They showed off a bunch of autos–two new out the fronts, an Auto version of the Presidio, the Cabash, and a 10th Anniversary version of the Infidel (complete with challenge coin).
None really move the needle all that much. If you want an auto, the Infidel is an incredible choice, as are some of the knives from Microtech. If you want a cheap auto, which excludes all of the new Benchmade offerings, then Kershaw's Launch line has you covered. As it is, I see nothing compelling here and nothing that changes that quick and dirty analysis of the auto market. Even more irksome is the steel choices–lots of S30V and on the $500 10th Anniversary Infidel you get D2. That is pretty insulting given that the cheapest of these autos is $110. Bland designs, lots of market overlap, and under par steel all equals Strike 1.
They also showed off the new 87 Balisong. Benchmade has long done good work with their balisongs and I am 100% not a Bali guy. But those that are did not like the 87. They complained about the unnecessarily busy handles and price–$510–for an S30V wharncliffe. It's striking that compared to other balisongs, ones like the Blade Runner Systems Replicant, the MSRP is almost double. The Replicant is beloved in the Bali community for its balance and smoothness, and it comes in at $270 MSRP (though it has been out of production for a while and secondary prices are much higher). The 87 just doesn't do it and the price, even for single piece titanium handles, is crazy. Strike 2.
Now we get to the folders, and I am sorry to report that the offerings for 2017 are pretty dreadful.
First, they all run the Axis lock. Over the years I have come to understand that the Axis lock just doesn't work on mass produced knives. Compared to other options it has a higher rate of blade play and it results is a slow deployment. It can be done well, but Benchmade's track record over the past three years, both from my personal experience and the experience of others (Nick Shabazz and the guys over at Modern Neanderthal podcast) has proven this lock just isn't worth the hassle. But if the designs were interesting, maybe I'd give them a pass. Instead we get a bunch of me-too baloney.
The Anthem was so close to being interesting.
Its a $425 integral, Benchmade's first. Though more than 5 years old now in the production world, the integral is still a cool trick. And the steel, 20CV, is a good thing. My problem with the knife is that it's just behind the times. Lionsteel has been doing integrals for years and they run equally great material for less money. Stop me if you have heard this about Benchmade stuff. Five years ago it would be awesome, now it's just them trying in vain to catch up.
The rest of the folders, the Freek and Boost, are equally boring.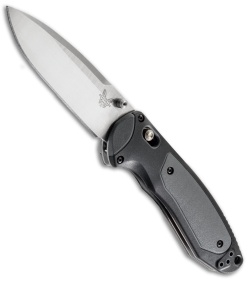 Both run S30V and the Boost is an Axis Assist (you know, in case you want to tempt the Fit and Finish Fates by adding even more unnecessary complexity to your knife). Both have the vague Griptillian shape and both are more than $100 MSRP. They have extra grippy handle materials and hideous, cheap looking inlays. There is only so many times Benchmade can make basically the same knife and have people buy it. I think these two represent the end of that trend. All of the folders are snorefests and all of them are expensive for what you get. Strike 3. Benchmade is outta here.
I am deeply concerned about Benchmade. It's been many years since they had a great showing for a yearly line up. 2015 looked okay with two decent (and inexpensive for Benchmade) fixed blades and the Valet, but 2016 was a total miss. And now we have this year–2017's new stuff looks positively dreadful.
They were not going in the right direction in the first place and they have doubled down on that approach in the year ahead. Their brand confusion, evidenced by new sub brands coming and going on an annual basis, their addiction to the Axis lock, and their woefully behind the times designs makes it harder and harder for them to compete with Spyderco and KAI. KAI has been something of a juggernaut the past five years, building on successes with more successes, and while Spyderco's 2016 was disappointing, their 2017 looks stellar. With Benchmade it is a downward trend that appears to have accelerated. Nothing is compelling at all. I hope they can turn things around, but with this much momentum in the wrong direction, it is going to be a huge challenge. They have the brand recognition, the cash, and the capacity to do it, but that requires vision, the lack of which is what got them here in the first place.
Overall Grade: F
Instabuys: ZERO