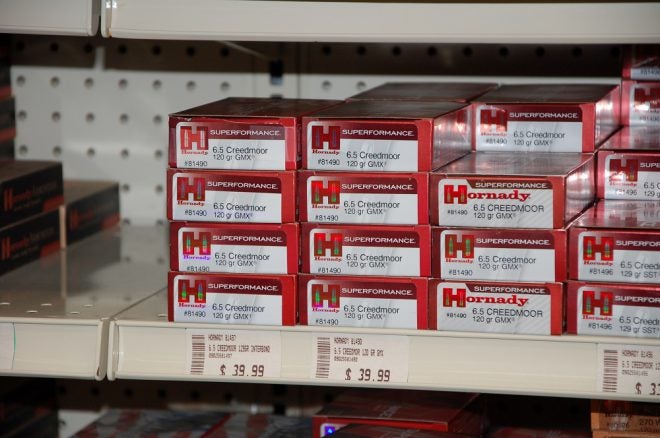 It seems the shooting world has gone completely bonkers over the 6.5 Creedmoor round. Announced recently at the SHOT Show in Las Vegas yet another arms manufacturer is adding the 6.5 to its line ups. Thompson-Center Arms has added this chambering to their line including the bolt action Compass, the Venture line, barrels for the Dimension changeable barrel rifle series, and add on barrels for the excellent TC Pro Hunter single shot rifle.
The 6.5 Creedmoor was fully developed by Hornady Ammunition to provide an exceptional cartridge for competition shooting. The 6.5 is extremely accurate given a rifle capable of delivering such accuracy. It has proven itself quite well at the bench.
Perhaps not to the surprise of many though, the 6.5 Creedmoor has also been adopted by many hunters as an ideal round for medium big game such as white-tailed deer, antelope, and similar. The 6.5 is particularly noted for its light recoil, superior long range accuracy, and its effective terminal ballistics.
Hornady currently lists 10 different loads in their 2017 catalog for the 6.5 Creedmoor. These range in bullet weights from 120 to 147 grains using several of their proprietary bullets including the GMX, ELD Match, SST, InterBond, InterLock, BTHP, and the ELD-X. One might say there is something for everyone on this list.
New this year Hornady has added a 6.5 to their American Whitetail ammo line using a 129 grain InterLock bullet. Also they have a new 147 grain load using the ELD (Extremely Low Drag) Match bullet. ELD implies a high degree of BC or ballistic coefficient or the capacity to fly through air with minimal resistance. Generally, the higher the BC, the greater the flatter trajectory.
So, is all this hype over the 6.5 Creedmoor justified? I have reports from a competition shooter at a local range that has to compete against many other shooters now using the 6.5. They are shooting his pants off. So much so, he is in the search for a 6.5 rifle he can set up to get back into the game. His choice is the Ruger Precision Rifle, which remains difficult to locate at retail dealers in our area.
Hunting wise, the ledger of proof is still being written. On the surface it might seem that the bullets loaded for hunting applications may be too light. However, what may be lacking in bullet weight is made up with the construction of the projectile. Time will tell.