Capsule Lifetime Feeders: A New Approach to Feeders
Russ Chastain 02.06.17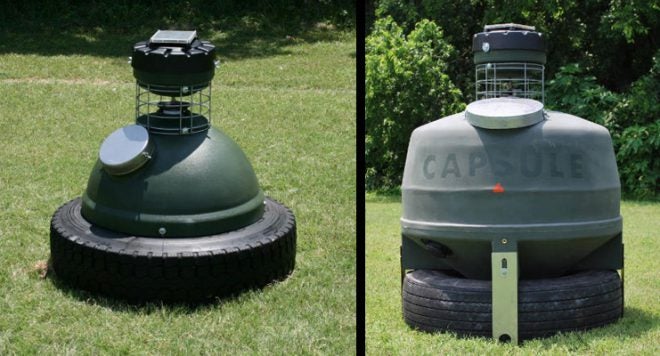 While walking the SHOT Show aisles, I saw Capsule Lifetime Feeders and was immediately interested so I stopped to take a gander. I only had a minute or so to stop, but I made the most of it.
Capsule feeders are tough-looking plastic feeders that sit on the ground instead of hanging up above. This makes them infinitely easier to fill with feed, allows for easy placement and setup (no tripods to set up or fall over), and don't leak feed that attracts raccoons and bears to tear up your feeder.
These feeders are pretty light, so they're designed to be attached to an old tire to add weight. They come with all the necessary parts, other than the tire.
Instead of relying on gravity to supply a flow of feed to the spinner, Capsule feeders use a plastic auger that lifts the feed out of the feed bin. A spinner on top slings the stuff once it gets up to the top — and when the feeder turns off, the feed that was on the auger can fall back down into the feeder. No more corn sitting on the spinner, attracting squirrels, coons, and bears to tear their way into your feeder.
This 30-second video shows how it works:
A large hole off to one side is simply and easily covered by a steel cap. Remove the cap to pour in feed, which you can do from about tailgate-high. No more ladder-climbing with big awkward bags or using winches to raise and lower your feeder. Just get there, dump in the feed, and depart.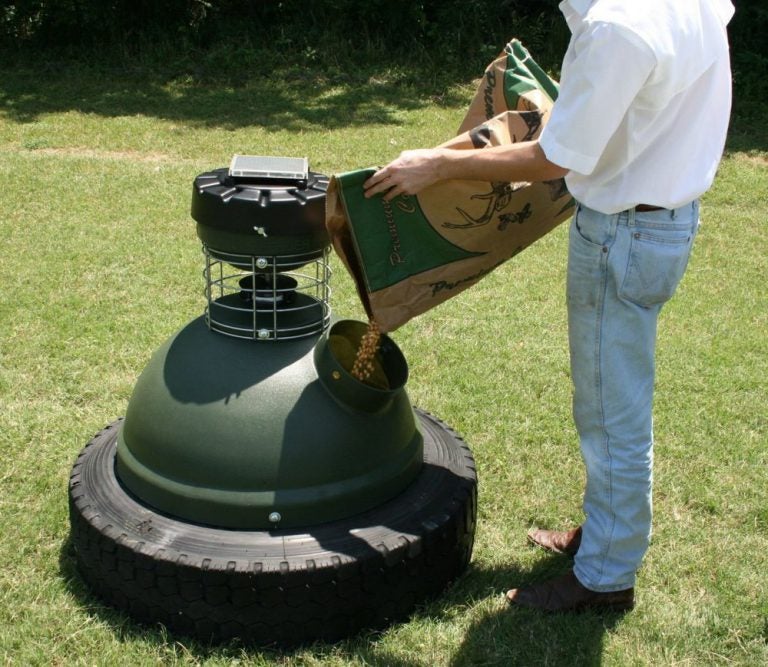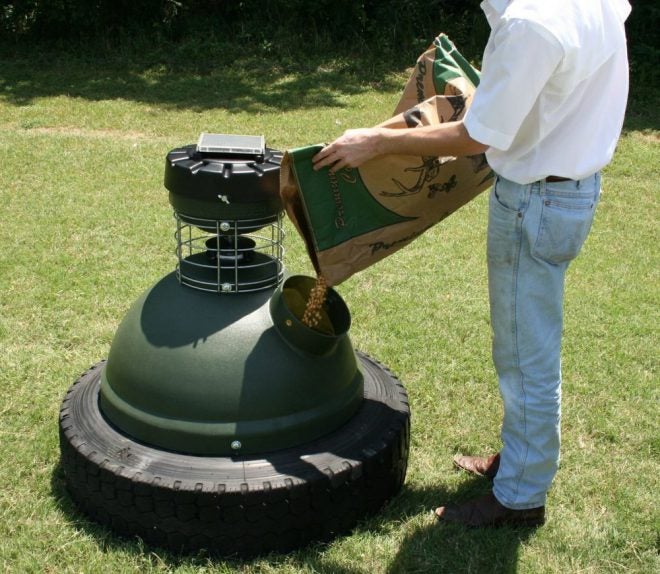 A solar panel is included to keep the (included) battery charged to run the included digital timer. Batteries are rechargeable, 12 volt, 7 Amp hour rated.
This feeder will come with a heavy duty solar panel, metal spinner plate, steel fill cap, timer & battery kit, and lifetime limited warranty.
The lifetime warranty covers the plastic base, cone, and powerhead cover against manufacturing defects. Other parts are covered for one year from date of purchase.
All of this wonderfulness comes at a price, of course. The 250-pound-capacity model is currently selling for $699.99 shipped, and the 800-pound model will set you back $999.99. Wow! And they do note below the "free shipping" note that "residential, farm, and liftgate fees may apply."
But if you feed–especially if you feed a lot–these things might save you enough money on lost feed and feeder repairs to make up for the high price. And they sure are a lot safer and easier to fill.
This video shows the assembly of the 800-pound model.