AR-15 Lower Receivers on Sale Palmetto State Armory
Kevin Felts 02.08.17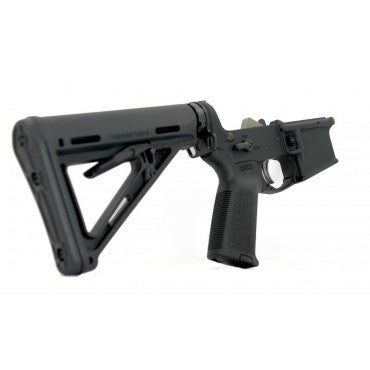 Palmetto State Armory (PSA) is having another great sale on their AR-15 lower receivers.
PSA has made a name for itself by selling straight to the public. Since there is no middle man, they can offer great deals directly to the consumer.
Before you buy, note that all lower receivers must be shipped to someone who has a Federal Firearms License (FFL). If you do not have an FFL, the lowers can not be shipped to you. The lower receiver has to go to someone with an FFL. Then the person with the FFL does the background check and completes the purchase.
Regular price: $99.99, sale price: $49.99 – PSA Blemished Safe/Fire Lower. This is a stripped lower. This is for people interested in building an AR-15 from the ground up. When I build an AR-15, this is where I start.
Regular price: $299.99, sale price: $159.99 – PSA AR15 Complete Ambi Defender MOE Lower. This is a complete lower receiver with all the parts, stock and grip already installed. If you want to buy a lower that is ready to go, this is the one for you.
Regular price: $399.99, sale price: $219.99 – PSA GEN2 PA10 BLEM .308 Complete Classic Lower Receiver. If you have been thinking about building an AR-10 in 308 Winchester, now is your chance.  This lower comes with all the parts already installed and with a standard grip and stock.
Regular price: $199.99, sale price: $129.99 – Palmetto State Armory Magpul CTR Lower Build Kit, If you buy a stripped lower, then you will need a parts kit. This kit offers Magpul stock and grip along with a mil-spec diameter receiver extension.
Regular price: $129.99, sale price: $99.99 – Blem PSA 9mm Forged Dedicated Glock®-style Lower Receiver LRBHO. If you have an interest in building an AR-15 chambered in 9mm, here is your chance. Please note: This lower requires a Palmetto State Armory Hybrid 9mm Bolt. This lower will not work with Colt style bolts.
Looking for something besides lower receivers?
Regular price: $259.40, sale price: $139.99 – Ten D&H 5.56 30rd Aluminum Magazines & Ten Magpul PMAG 5.56 30rd Magazines. That is 20 AR-15 magazines for the amazing low price of $139.99.