When it comes to heavy-duty roto-molded ice chests, one name rules them all in terms of brand recognition. I think it's safe to say that name begins with "Y" and ends with "eti." But Yeti was not the first to make heavy-duty roto-molded coolers. From what I can tell, that honor belongs to Engel. They call their products "The ultimate and the orginal Roto Molded High Performance Coolers," and add that they are "rugged, durable, and bear proof."


Aside from their history, I liked what I saw when I stopped by the Engel booth at the 2017 SHOT Show. Their latches looked tough and were easy to use, and they double as bottle openers, which is a nice bonus. They didn't seem to be ridiculously heavy, as are some other brands of premium coolers.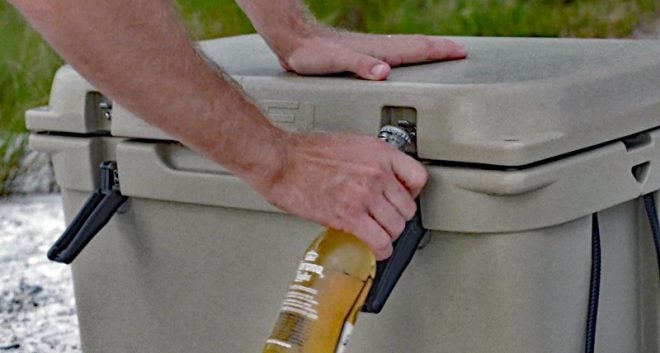 The latches are draw-type, which are usually quite easy to operate and actually pull the lid shut. When closed, the latches are protected by the recesses in which they lie.
Finger-grip handles are molded in, and there are also rope handles.
I now wish I had taken some photos, but at the time I was on my way to an appointment and couldn't linger. Specifically, I wish I had taken photos of the hinge and the drain, because detailed photos of those features seem to be lacking on their Coolers page and pages describing the individual coolers.
The hinge is described as "Anvil Hinge: Integrated full-length self-stopping rear hinge." The drain is described as "Flick Drain Plug: Unique recessed 'one-twist' opening drain plug with lanyard hole."
In fact, here's a photo from their site highlighting some of the selling points:
Most, if not all, models are available in white. Color options vary by model, with tan, light gray, and camouflage being offered on some variants. Be aware, though, that the camo is only on the lid.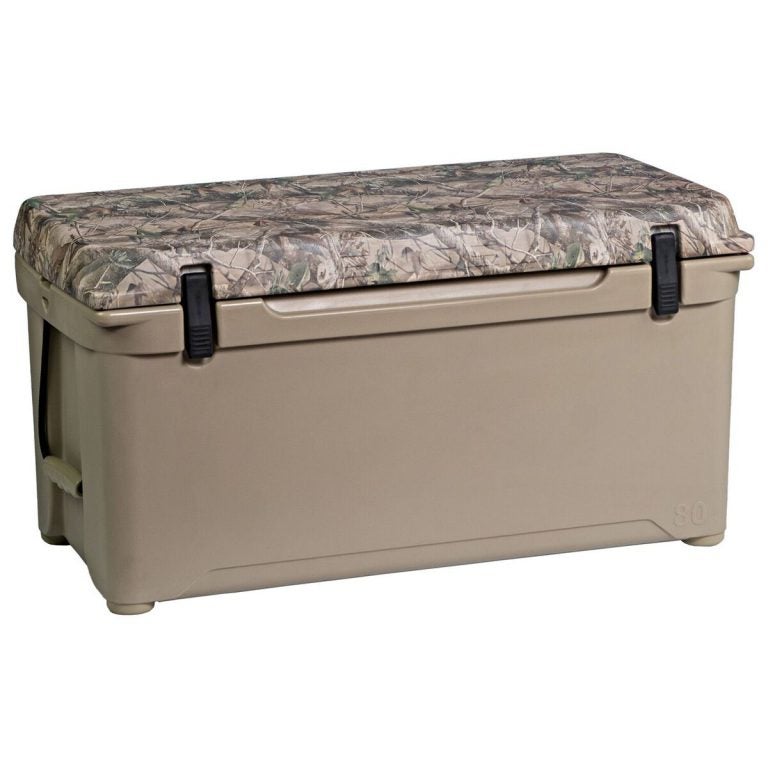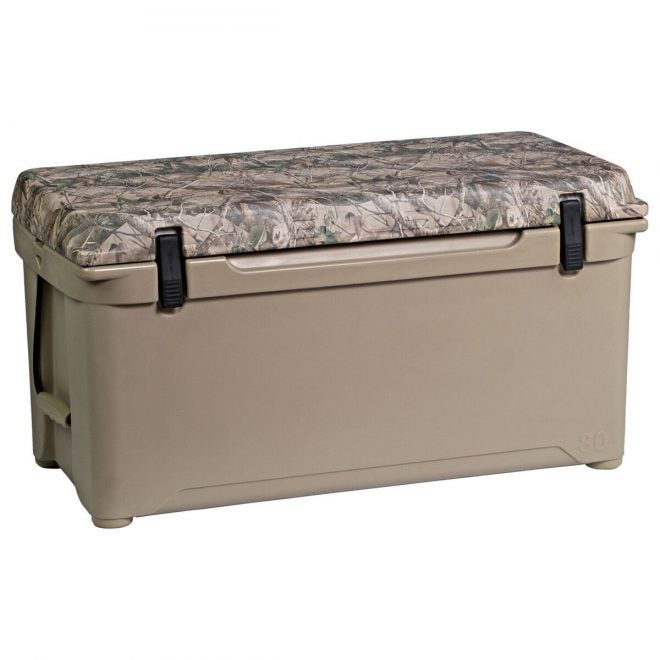 Some info from Engel:
Engel, the original high-performance cooler, is roto-molded for toughness and durability. It's filled with a full 2 inches of insulation in the lid, on the sides, and on the bottom, helping to retain cold and ice for up to 10 days. The all silicon gaskets create an airtight seal that is durable and will never lose it's shape.
"IGBC Certified Bear Resistant Container" – molded on rear lid of cooler
Up to 10 days Ice Retention
Dry ice compatible
2″ thick walls with polyurethane insulation
Food grade plastic resists stains and is easy to clean
Durable seamless rotationally-molded construction
UV-resistant polyethylene
3 Year Warranty
I'm torn on the subject of the non-skid feet affixed to each bottom corner of these coolers. That should be great for boating, but not so great for sliding a heavy cooler in and out of a pickup truck or UTV bed. But it IS a nice touch that the cooler sits up off the surface, allowing you to hose out the area below it without moving the cooler and preventing the bottom from wearing through by being dragged around.
At any rate, it's nice to know there are other choices out there.