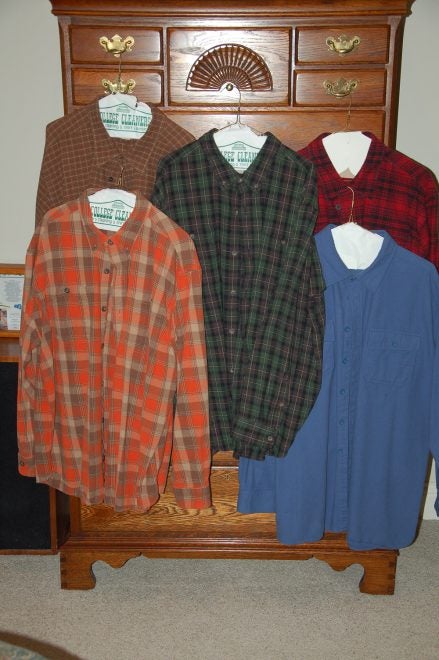 I am a wool kinda guy when the thermometer really starts a dive south. But in between weather and moderate temperatures for hunting, cool fall fishing, or outside work projects, there is nothing better than a good flannel shirt.
Hunters are the experts on the casual wear scene even better than cowboys without the pointed boots. Hunters need to stay warm, but comfortable. They have to move quietly, quickly, and without clothes binding or pulling. For shirts, nothing beats flannel.
Now, not just any flannel. There are all kinds of flannels on the market often marketed by the relative weight of the fabric in ounces. Do not buy the cheap stuff from the one dollar store. Heavy weight flannel is best overall for really chilly weather, but there are mid-weights, too, that work when it is not freezing, but breezy.
Flannel of course, is a man's man fabric. Primarily flannel is a cotton fabric that has traditionally been brushed to a soft surface feel. It has some natural flex to it, so it does not bind like canvas or some of the stiffer materials. It has a great feel against the skin, which is one of its best features and attractions to hunters and outdoors people.
Flannel shirts come in all kinds of patterns and colors. The main casual appeal are the plaids that square up a number of colors and sizes. Flannels also come in many shades of colors in one color shirts. Heck you can find a good flannel shirt to go with just about any outfit, but they really combine with modern camouflage patterns too for hunting or life around camp.
A high quality flannel shirt comes in the usual man sizes, but will not be skimpy in the sizing. Shirts come in button down or plain collars. One sign of a good flannel shirt is a full seven button front. Don't skimp here, because that seventh button helps keep the shirt tucked in and in place regardless of the activity.
Where to get the best flannel shirts? The very best and time tested by yours truly comes from Duluth Trading and L.L. Bean. If you shop for features, you can find some good flannels at Bass Pro and Cabela's. Flannel shirts are great for hunting, fishing, chopping wood, riding ATVs, shooting at the range, joking around the campfire, or lounging at camp.