"Nubs, the No-Handed Shooter" Talks Competitive Shooting
Russ Chastain 02.20.17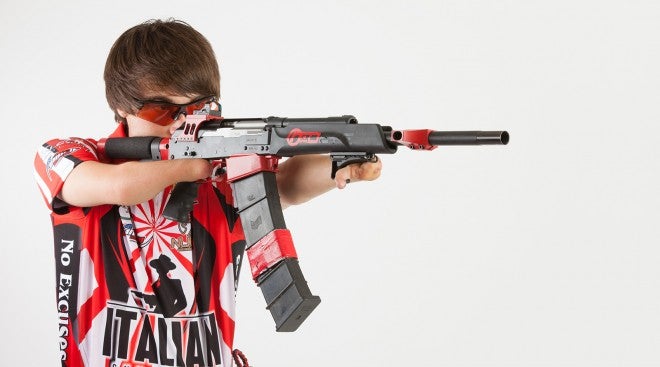 Hunter Cayll is an inspiration. Born without hands and with a club foot, he doesn't let that hold him back from competing in a sport that's too tough for most of the rest of us: 3-gun. His motto is "No excuses," and he lives by that credo.
After video games got old, he looked for something new, and shooting was the result. Competitive shooting, that is.
I've tried just bout every sport out there, just because I want to show that I can. I used to play a lot of video games… got bored of playing that stuff by myself, so I was like, 'I wanna actually go shoot some gun stuff.'
Hunter, or "Nubs," as he calls himself, got into 3-gun competition. What he likes most about it is the variety; it's always different.
You never truly master this sport. It's impossible.
He talks about how he and his coach continually look for ways to reduce steps or otherwise shorten their times in a sport that requires shooters to move quickly through a course of targets.
For 2017, Hunter says he will be shooting some long-range PRS semi-auto and bolt-action rifle matches in addition to a lot of 3-gun stuff and heading to Russia for the "first world IPSC rifle match."
Asked to give advice to young folks interested in competition, he said:
There's always a way. Whenever there's somebody that says I can't do something, then… I've obviously gotta do it. There's no really limitations to what someone can do. It's all mindset. If you don't think you can do it… then you never will. But if you just push at it, no matter what it is, then you can do anything.
Good advice from someone who lives it every day.
Watch the video below for more.