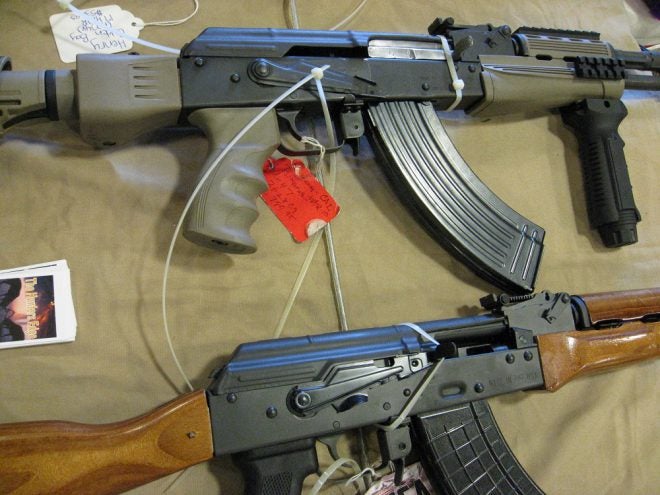 Perhaps the most prolific battle rifle of all time, the Russian AK-47 has almost a cult following. It is the sort of weapon that shooters and preppers either love or hate. Like anything mechanical and man-made, it has its own unique quirks and complications, but alas a production of 75 million rifles can hardly be denied.
The AK-47 was the brainchild of the famous Russian arms designer-engineer one Mikhail Timofeyevich Kalashnikov. It went into full production around 1949. Though Kalashnikov created the AK, it had other influences in its development. The most famous contributor of ideas for the rifle was none other than the German weapons designer Hugo Schmeisser, who was captured by the Russians during WWII.
It was Schmeisser that perfected the manufacture of stamped steel sheet metal parts, in particular the actions of his MP40, MG42, and the StG44. This engineering feat led to the development of the stamped sheet metal receiver of the AK-47 that allowed mass production at a cheap cost. The rest is history.
The AK was manufactured officially in some 30 countries though it is reported that the rifle has been unofficially copied and produced by many other countries. A true history with complete details can be found on Wikipedia or in the book The Grim Reaper by Frank Iannamico. On Wiki be sure to check out the long list of references and indeed the countries where the rifle has or is seeing active service.
The AK of course came to our presence during the Vietnam War. Reportedly, many G.I.s tossed their M-16s in favor of the AK. In fact, the loose manufacturing tolerances were the rifle's greatest design asset. It would work anywhere, anytime.
The AK-47 is chambered for the 7.62×39 round, a medium range cartridge capable of killing out to 300+ yards. The rifle weighs 7.7 pounds with a 16.3 inch barrel and was 35-inches long with a base stock or 25.4 inches with a folding stock. It had open sights and was not known for mounted optics. Its rate of fire was 600 rounds a minute, assuming full auto.
Today, original Russian or official AKs are hard to find. Many are cobbled from assorted parts, though parts and ammo are readily available. If you like the AK design, then it can be a functional survivalist weapon. It is not easy to accessorize like the AR-15, but it is an effective rifle.