Remington Recalls Batch of Rifles With Faulty Triggers
Russ Chastain 02.20.17

Just when you think you've seen the last of Remington's recalls, they surprise ya.
After decades of denial and quietly settling lawsuits resulting from faulty "Walker" triggers on their Model 700 rifles, Remington finally caved to immense pressure placed upon them by the father of child victim Gus Barber and began using a different sort of trigger on their Model 700 and Model Seven bolt-action rifles: The X-Mark Pro, or XMP.
And now they're recalling many of THOSE rifles because they may have "excess bonding agent used in the assembly process, which could cause an unintentional discharge."
Here's what they have to say about the recall:
WARNING:

STOP USING YOUR RIFLE. Any unintended discharge has the potential for causing injury or death. Immediately stop using your rifle until Remington can inspect it to determine if the XMP trigger has excess bonding agent used in the assembly process, which could cause an unintentional discharge and, if so, replace the trigger mechanism. If you own a rifle subject to this recall, Remington will provide shipping, inspection, replacement of the trigger mechanism if necessary, and return at no cost to you. DO NOT attempt to diagnose or repair your rifle yourself.

Contact Remington

For the safety of you and those around you, Remington strongly encourages you to STOP USING YOUR RIFLE immediately and contact Remington for inspection and repair. To participate in this recall, visit the Remington Recall Center at xmprecall.remington.com. Or call Remington on its toll-free XMP-Recall Hotline at 1-800-243-9700 (Prompt #3 then Prompt #1) Monday through Friday, 9 a.m. to 5 p.m. EDT. You will be asked to provide your name, address, telephone number, and the serial number of your rifle.

E-mail: [email protected]

We apologize for this inconvenience. We want our customers to enjoy the shooting sports safely. It is imperative that owners of Model 700™ and Model Seven™ rifles subject to this recall do not use their rifles until they have been inspected as part of this recall program.
To see if your rifle is affected, go to this page and enter the serial number.
The rifle's serial number is located where the barrel meets the receiver (for a right handed rifle, the serial number is located on a user's left, and for a left handed rifle, the serial number is located on a user's right).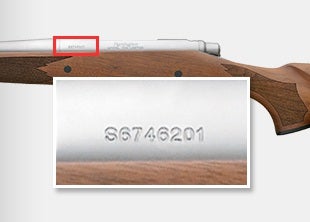 Update, August 2017
Remington got in touch with us about this article and sent us the following clarification:
"The Model 700 and Model Seven X-Mark Pro trigger recall mentioned in your February 2017 internet post was actually announced and commenced by Remington in April 2014. The recall applies to those rifles with X-Mark Pro triggers which were manufactured from May 1, 2006 to April 9, 2014. To date, over 350,000 X-Mark Pro triggers have been repaired and replaced at no cost to owners. The recall is ongoing, and owners of affected rifles who have not yet participated in the recall are encouraged to do so.

For over 50 years, Remington bolt-action centerfire rifles have been a favorite of millions of American hunters, target shooters, law enforcement and military personnel. As shown by its voluntary 2014 X-Mark Pro recall, Remington continues to stand behind the reliability and safety of its firearm and ammunition products."
There was definitely some confusion — not just on our part, but on the part of many others, too — about whether or not this was a new recall. It turns out it's not, it's just the older recall.