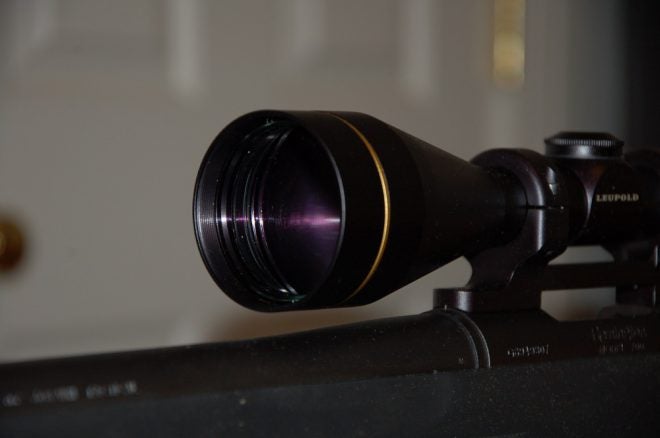 It won't be very before you can look into the objective lens of a riflescope or binoculars and not know if that lens is glass or a new form of plastic. Nano engineered plastics are coming, and it won't be that long. Some hint new introductions at the 2018 SHOT Show. Time will tell.
So, why create plastic optical lenses? Perhaps the primary reason for this research and optical engineering development is about weight reduction. If you could mount a scope on your new rifle that was a pound or more lighter with equal optical clarity, would you? Well, a lot of hunters and rifle shooters certainly would.
This goes for toting a set of binoculars in addition to a game rifle up and down mountains or across Wyoming plains all day. To match the wits and skills of rifle makers in their never ending quest to pare more ounces off their rifles, scope makers are leaning toward the same goals. If the scope quality, ruggedness, and reliability stays the same, then practically every rifle carrier would want to shed some extra weight off their primary hunting implements. It's coming.
These new polymer lenses are technically called Gradient Refractive Index Optics. The engineers have nicknamed them GRIN. In reference to the technology, they are nano-layered lenses. Layers? Yes, hundreds of thousands of microscopic layers laid together then baked into one lens.
Then these lenses are polished and finished much like glass optics. Coatings? Yes, after the lens layers are baked, then the same types of optical coatings are applied much like they are to conventional glass optical lenses. These coatings provide the same types of protections as well as anti-reflection factors found with traditional glass optical lenses.
Back to the instrument weight issues. Today's riflescopes consist of multiple sets of lenses to get the job done for magnifications and optical clarity. Many standard scopes on the market now may have as many as a dozen glass lenses inside. Obviously if this number of lenses can be reduced by half with lenses of even lesser weight, then the entire scope becomes lighter. Some internet reports reveal that scope lens weight could be reduced by as much as 70 percent. That is significant.
So, expect to see this new wave of scopes sooner than later. Such optical instruments are already being produced for the military. Commercial and sporting versions will emerge soon, perhaps next year.