Want to Block Pipelines? Copyright Your Land (a Picket Fence Helps).
Russ Chastain 03.06.17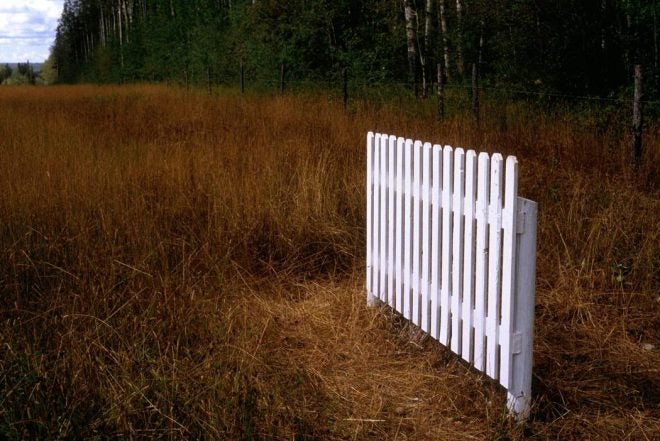 There's been a lot of to-do over oil pipelines lately. I'm not ready to come down on one side or another, but I recently ran across a 2014 article about a guy who managed to keep pipelines off of his land through a combination of legal and financial tactics that have apparently been effective.
Canadian artist Peter von Tiesenhausen and his wife once allowed "a small pipeline" to cross their land. After sitting down with developers and agreeing to terms, the couple discovered too late that the contract they'd signed contained none of the agreed-upon stipulations. Naturally, this didn't sit well with them and they were reluctant to allow any more pipelines to cross their land.
But once the steamroller of a pipeline gets moving, it can be difficult to turn aside. After being approached "every two to three weeks with a project proposal for [their] land," one of Peter's friends suggested that he copyright his land, based on the precedent of an architect copyrighting a building that he'd designed. Then, in a meeting with developers who were "threatening [him] with arbitration," he recalled that discussion and "blurted out" that he was going to copyright his land.
He didn't know much about it, but after doing some legal research, he really did claim copyright to his land. That was in 1996.
As an artist in Canada you automatically have copyright over your own creations for up to 50 years after your death. So if you create something you retain copyright unless you sell it. So that was the part of that law that we decided to enforce.
Somehow, his claim relates directly to a white picket fence on his property, which apparently serves as a sculpture of sorts.
One of the really important pieces on my land was this white-picket fence. The picket fence is probably 100 yards or less, within 100 yards of where they wanted to build this pipeline. I [plan to] extend it 8 feet every year for the rest of my life and I've been doing that for 25 years. It got me thinking, where does this piece end? Does it end at the actual structure of the fence or the things growing around it, growing through it, that are part of the photography, the documentation of it? I realized at that point that [the fence], and the other sculptures and pieces and incursions and conceptual works, were actually integral to that piece of land and to my practice.
The oil company then offered big money, which was refused. And soon thereafter, von Tiesenhausen began charging $500 per hour to sit down with their "negotiators" and tell them "No." After all, he was the only one in the room who wasn't being paid big bucks to be in that meeting. He even told them ahead of time that it would cost $500 per hour–and that his answer would still be no.
…after two or three meetings when they realize the answer is going to be no, they stop asking for meetings because they're quite expensive. So far we've been able to keep them at bay, and they don't bother us at all anymore.
Why did he go to all this trouble? Because of hazardous pipeline blowouts and leaks that are largely ignored. The article talked of blown-out pipes causing evacuations with no government oversight, and a gas leak near his home that leaked for ten years! No wonder he's interested in keeping them as far away from his home as possible.
Not sure whether this would fly here in the good ol' USA, but if we really do live in the land of the free, we should at least have the right to decide what does or does not occur on our own property.