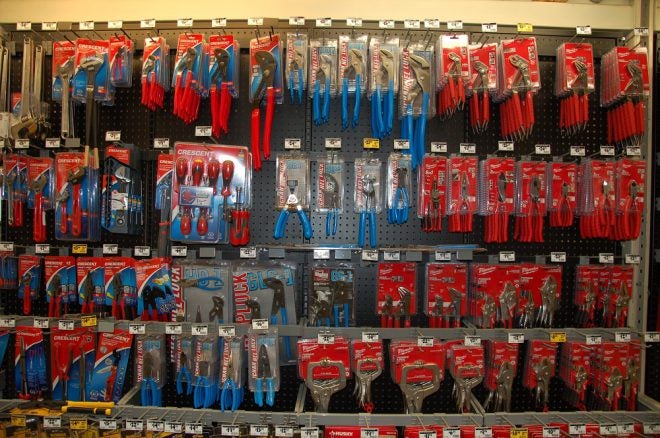 Many preppers new to the movement are often inexperienced in the use of many tools and mechanical repair instruments. Unless like me you were raised around engines, auto parts, vehicles and aircraft, how would you learn what tools to buy and how to use them?
Some people are just not mechanically inclined. That's okay, because learning to use them can be easily learned. But you have to have the right tools. As with buying many things in life you are much better off buying quality the first time and leave the $1 tool bin alone. Junk is junk.
Whether you bug in or out, the time will come when something will break. Under SHTF conditions there will likely be no repairmen to call even if the phone systems are working. You will be on your own. So, as soon as possible, start collecting a comprehensive set of tools and then learn how to use them. Among the first to buy are wrenches and pliers.
Don't have the necessary skills? Go to a major lumber-hardware store or auto parts store to buy some basic repair manuals. Surely book stores will have some of the "idiot" books, too, and that is fine. Start with the basics by learning tool terms and what to select to repair or build certain things. That is a great place to get started.
Wrenches tighten or loosen nuts and bolts, the cornerstone of how many things are assembled and held together. There are lots of types of wrenches, but to have a basic set start with a set of fixed box-end/open end wrenches up to at least an inch size. Then get a set of socket wrenches in at least 3/8-inch size, but the small quarter-inch sockets have their place, too. Next, buy 2-3 sizes of adjustable jaw wrenches that screw in and out to fit a wide variety of nuts and bolts.
Likewise there are many types of pliers. First buy a basic slide size adjustable pliers in a couple different sizes. There are angle pliers, needle nose pliers, and many others. These are useful for holding a bolt or nut, while the other end is manipulated with an open-box wrench, socket, or adjustable wrench. It usually takes two to get the job done. Pliers grip stuff to work on.
There are basics in all tools. Buy quality steel tools from a reputable brand. There are many custom or specialty tools that you can always add later. Start building a basic set now.