Florida Proposal Would Pay Hunters to Kill Pythons
Bob McNally 03.16.17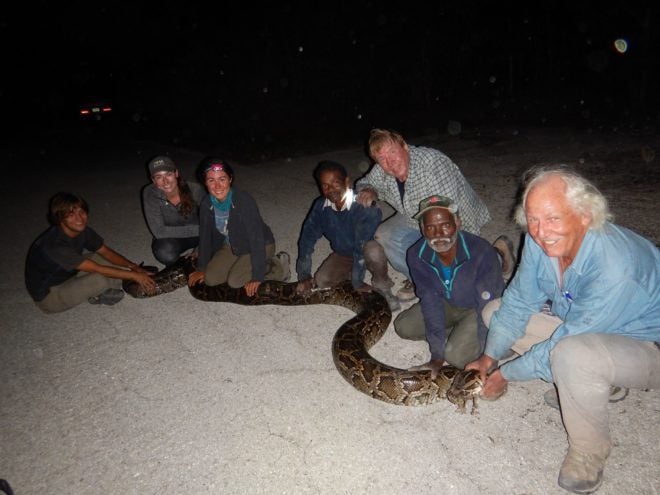 Hired guns to take out alien pythons?
Yep, that's a proposed plan for the South Florida Water Management District in an effort to rid the state of the massive serpents that have infested remote swamps and islands and are increasingly showing up in homeowners backyards and vacant lots.
The proposal will pay hunters an hourly wage, plus a bonus for every python they collect. The plan is endorsed by the native Miccosukee Indian Tribe, that still retains hunting rights on much South Florida land where paid hunting for snakes is proposed.
"The only way we are going to solve this problem is with public help." said Truman Duncan, the tribe's water resources director. "Of course there will need to be strict controls on access. But I think it's a great idea.
"Our Wildlife Officers only patrol Tribal lands. That leaves the majority of the Everglades with very little protection."
One paid hunter is Bobby Hill who has taken hundreds of South Florida pythons over the last 10 years, including a 150-pounder measuring 18 feet in length just three years ago.
Florida also has an annual "python challenge" event asking hunters to kill and remove snakes. Plus the state has brought in Irula tribesmen from India who use special tracker dogs to catch the elusive, massive serpents.