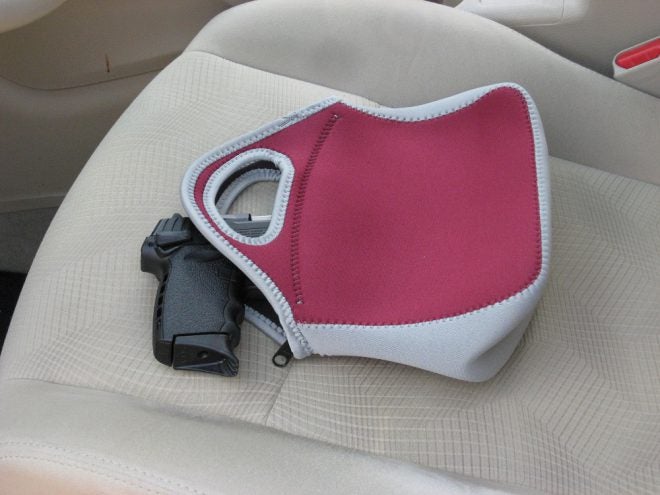 We have often preached how to blend into our surroundings when carrying a concealed handgun even when we are just tooling around town, at work, or other public venues. By sheer accident, I recently discovered a rather cool way to carry around a personal protection handgun without drawing much attention. Was there a pun there?
At work we are always buying marketing stuff to give away at conferences, trade shows, and to give to our best customers. Recently we got in one of the neatest little totes you can imagine. Though I suspect it is meant to be used as a mini-lunch cooler or drink tote of some sort, I have discovered it to be perfect for slipping a handgun into it.
The nice part about this tote is that the material is a neoprene sort of fabric that offers a natural cushion to anything put inside. What could be better for a small handgun to be carried in? The top forms two handles just above a secure zipper closure to the pouch that prevents contents from falling out, or it can be left open for quick item retrieval. It really works well for discreet handgun carry.
If this tote is carried anywhere out in public it is not going to attract any particular attention to probing audiences. So, if you are headed to the park with the kids or to the mall, you can keep this bag loaded with goodies, as it were.
Now, think on this one further. Any lunch bag per se could be used to carry a concealed handgun. It is not unlike a purse for women, but it ought to draw even less attention, because in fact, it just looks like a lunch bag. Surely nobody is going to suspect or steal that unless you put it in the fridge at work, which you won't do. Just leave it on the desk or bottom drawer at work or in the seat beside you on the ride in.
What else could be used in this mode? Wine bags, beer totes, small shopping bags, pull string tote bags, a blue velvet bourdon sack, or even a plain ole brown paper bag. These modes may be useful for those in certain instances where a conventional concealed carry is not appropriate or easy. The bottom line to carrying a gun outside is certainly the discreet part.