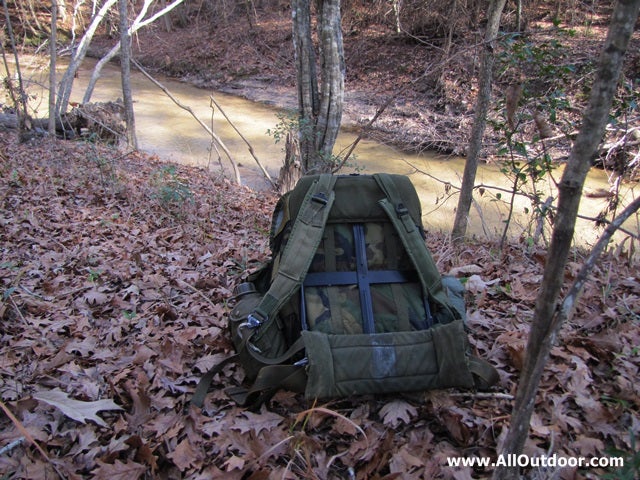 Military surplus is one of the greatest things since sliced bread. The gear may not be in the best of condition, but for the most part it certainly is not junk. If you know something is going to get used, stained, or otherwise run through the wringer, why buy new?
Starting in the early 2010s, prices for military surplus items started inching upwards. Rumors say certain items such as ALICE packs are dying up and fewer and fewer are hitting the market.
I tried to put together a list of surplus items that are still affordable and that might appeal to a wide range of people.
Clothing – A lot of people buy used camouflage military surplus clothing for hunting season. It is only going to be used a few times a year, so why buy new?
Looking at Ebay on March 22, 2017, there are camo pants for $10.00 + shipping.
Sleeping bags – A buddy of mine has been using a U.S. Army surplus sleeping bag since the 1980s.  Every winter camping trip we go on, he brings this same sleeping bag.
Back in the mid-1990s, I bought a surplus extreme cold weather sleeping bag. Even though it is rather bulky, it has kept me warm on nights well below freezing.
As of when this article was published, surplus sleeping bags start at around $20.00 and go up from there.
Butt pack – Known in the civilian world as a fanny pack. These are great packs that can carry a light load for a day hike.
As of when this article was posted, prices start at around $12.00.
Canteens and canteen pouches – Planning a hiking or camping trip, be sure to bring a canteen.
The beauty of the current MOLLE canteen pouch is that it comes with a flap so it can be used as a dump pouch.
I have a 2 quart on one of my large camping packs and one quart on the smaller packs.
MOLLE II fighting load carrier vest – They may not be as pretty as a civilian load carrier, but they get the job done.
I have a FLC in woodland camo. While not as elegant as some of my buddies' load carriers, for the price it is difficult to beat.
Current prices start at around $15.