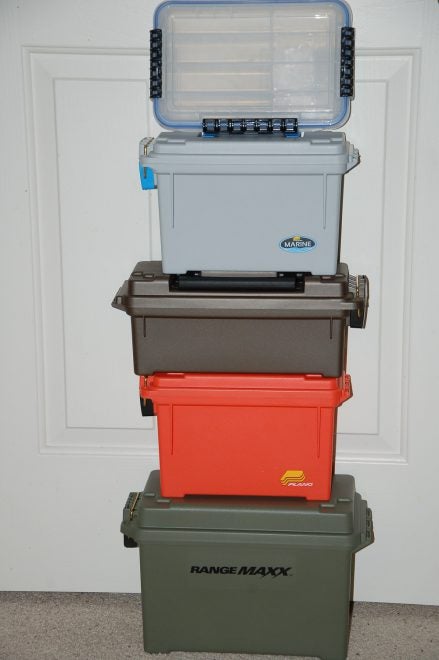 How do you carry your ammo? When you leave out for deer camp or the shooting range, how you pack, and carry your ammo can make a difference. Sure you can pile some boxes of rifle ammo into a cardboard box and throw it in the back of the truck. However, there are better ways to carry ammo to keep it safe and clean.
There are numerous brands of commercial molded boxes specifically intended for carrying ammunition. Two of the primary brand names for these boxes are Plano and Case-Guard. I am sure there are others on the market, too.
These boxes come in several different models, lid, and latch types, so pick the ones that do the job best for you. In practice the single hinge lid tops seem to work well. I like the models with only one snap over lock, not two smaller ones. The one latch models seem to be tougher, thicker, and latch tighter.
There should be a way to add a padlock, slip tie, or even a cable tie if you want the seal to be more permanent for long term storage. Also take note when inspecting these boxes for purchase to buy the ones with the rubberized gasket seal around the lip top. Some of these box lids are simple plastic to plastic. These could leak.
Take note of the handles on these ammo boxes, too. Some have larger, sturdy, grab handles while others are a bit flimsy. Once you load up one of these boxes especially the smaller sizes, they are quite heavy. This requires a well-made, heavy duty handle to tote the load.
As mentioned, these factory made boxes do come in several sizes. I have noticed that some of them will not accept for example rifle ammo boxes turned a certain way. What happens then is you end up not getting as many boxes of ammo into the tote box as you might like.
I wish the makers would fashion these tote boxes more in tune with the more or less standard sizes of say 30-06 or .270 factory paperboard boxes. When you go shopping for an ammo tote, try out various sizes of boxes of ammunition to see how they fit or stack in the totes. I prefer the rifle ammo to sit on end so I can read the ammo type on the end of the box.
Now, besides these smaller 30-50 caliber type sized ammo totes, there are bigger storage boxes available, too. While some of these can be used to haul large quantities of ammo from home to a secondary bug out location, loading them up fully will make them very heavy. Still most likely you will not be moving these around very often. They do take up considerable space.
These bigger boxes are intended more for long term storage in a cool, dry, safe location. These boxes also come in 2-3 different sizes, so obviously different amounts and types of ammo can be stored back locked up and secure.
If you have large amounts of ammo to store, then maybe one box for each type or caliber would be appropriate to reduce confusion. For example, one storage box could be used for only .223/5.56 ammo, or multiple types of hunting ammo, while another could be designated for just pistol ammo, or only 9mm and so forth. Add a strip of masking tape on the outside end of the box for a label that can be easily read when multiple boxes are stacked up.
Many of these storage type boxes are quite heavy duty and will withstand reasonable abuse. I carried one to Russia with me as checked baggage and even the 6-foot, muscular Army lady could not destroy it, though she tried. These can usually be locked on both ends, too, to deter prying minds or outright theft, unless they carry off the entire box.
These boxes are ideal for secure storage for ammo. They do not leak as a rule, and will keep ammo dry, clean, and safe. I would not though recommend storing them loaded with ammo in a hot garage or up in an attic. A basement might be okay so long as there is not a high moisture and humidity level. But preppers need to keep in mind, these boxes can also be grabbed quickly for a bug out, so storing them on ground level is probably a smart move.
Keeping ammo together in one secure place is convenient for sure. Just make certain that access is limited and secured. If it is in a house closet, add a key lock to the door. Only adults should have access to such keys, ammo, or guns anyway.
Using the appropriate ammo totes and storage boxes is better than just stacking random boxes of ammunition on a closet shelf or on the floor. These boxes promote organization, secure storage, and ready access when needed.