Mountain House Turkey Tetrazzini Review
Kevin Felts 03.29.17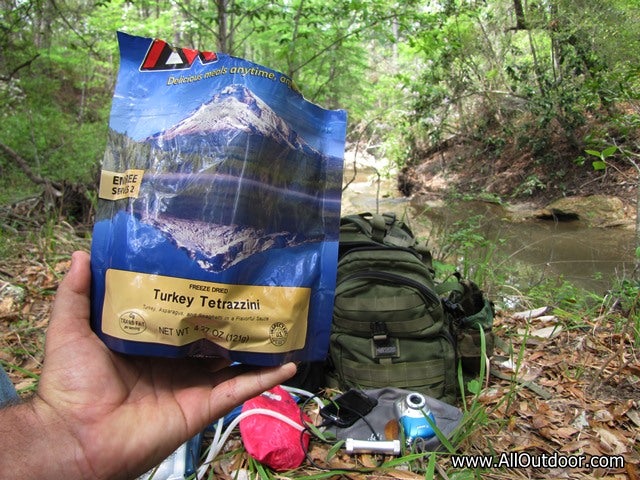 Mountain House turkey tetrazzini is packaged in either a #10 can, or a 4.27 ounce pouch that contains two servings. The label may say 2.5 servings, but the description says two servings.
Starting around 2010, I slowly started moving away from MREs and towards Mountain House freeze dried food. The pouches have a 30 year shelf-life, are cheaper, and are much lighter than MREs. The issue however, with so many freeze dried options on the market, which ones should you stockpile? To answer that question, I started taste testing the pouches. If I like the meal, it will be added to my stockpile.
Hiking Trip
On the morning of March 28, 2017 the Maxpedition Condor II was sitting next to the front door packed and ready to go.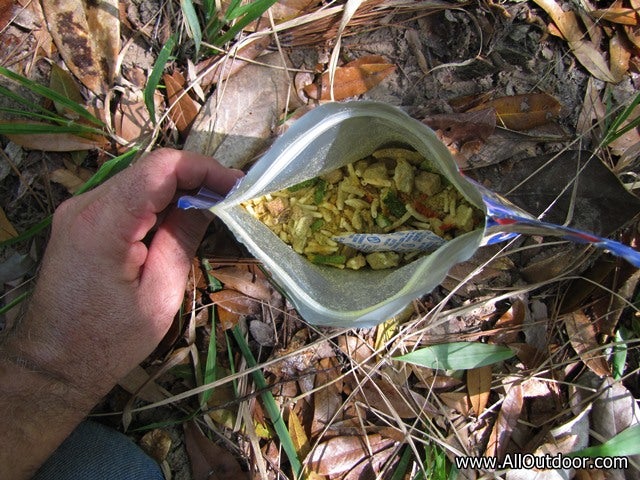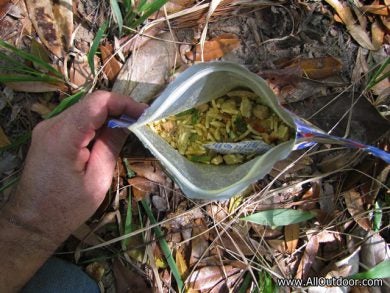 Contents included:
Cook set
Pouch of Mountain House turkey tetrazzini
Water filter
SteriPen Traveler
Glock 19
Rain poncho
TOPO maps, GPS and compass
Mosquito repellent
The hike started when I was dropped off on an old abandoned logging road. The plan was to follow the  dirt road until I came to an ATV trail. Then follow the ATV trail as it wrapped around, and then down a hill towards a creek. The trail slowly became overgrown and faded away. Once the trail ended, I continued downhill until my path intersected the creek.
The creek was followed until I found a nice place to eat lunch.
The top of the bank was around 10-15 feet above the water. The spot overlooked an almost 90 degree bend in the creek. The water came from my right side, went into a nice sized pool, then left out going over small rocks heading almost directly away from me.
With wild honeysuckle growing all up and down the creek bank, the area had a plethora of sight, smell, and sound.


Specifications
Take from my pouch of turkey tetrazzini:
Net weight: 4.27 ouncnes
Servings: 2
Calories: 320
Sodium: 780 mg
Protein: 27 grams
Vitamin A:  4%
Calcium: 10%
Vitamin C: 10%
Iron: 10%
Turkey Tetrazzini Taste Test
The instructions called for 16 ounces of boiling water to be added to the pouch. A Coleman Max mixed fuel stove was used to heat  the water. After the water reached a rolling boil, it was added to the pouch. The contents were stirred with a spork, and then the bag was sealed.
While waiting for the meal to cool, a Katadyn Hiker water filter was used to fill a couple of canteens, then a SteriPen Traveler was used to purify the water.
These 2 and 2.5 serving pouches take a lot longer to cool down than a single serving pouch. The turkey tetrazzini took maybe 20 minutes to cool enough to eat.
The sauce had plenty of flavor.
Turkey pieces were about 1/4 inch in diameter.
There was a nice contrast between the turkey, noodles, and asparagus.
Noodles were small but good. I wish the noodles had been a little larger.
There was a slight sodium taste, but not overbearing.
Needs more black pepper.
I ate almost the whole pouch.
Overall, I liked the turkey tetrazzini and will be adding it to my stockpile. As of March 29, 2017 prices range around $9 for a two serving pouch.
I rate the flavor pretty good and right there with meals such as beef stroganoff with noodles and beef stew.