Review: Vortex Recon R/T and Solo R/T Ranging Monoculars
Major Pandemic 04.05.17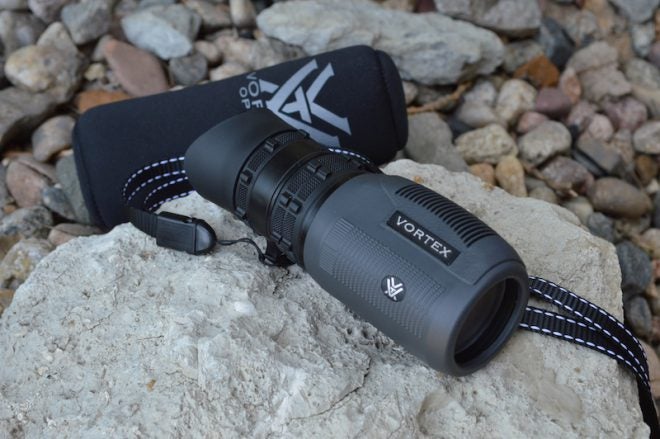 Warning: A Vortex ranging monocular will end up on your "stuff I need" list. Let me sum this up quickly and then I will work through the features: The Vortex Recon R/T and Solo Tactical R/T provide the shooter a compact and robust solution for observation, scouting, and ranging for a price that starts at $169. It is a "wow, I wish I would have thought of it" idea that combines an offset MRAD/MilDot ranging reticle with a simple-to-use high quality monocular.
Vortex is offering these monocular models in 8x, 10x, and 15x magnifications. All the R/T (Ranging and Tactical) models feature the mil-dot reticle and pre-ranged 300, 400, 500, and 600 meter standard man sized silhouettes. Look, range, adjust turrets, and shoot. The Mil-Based reticle also allows ranging via a standard mil-dot grid system.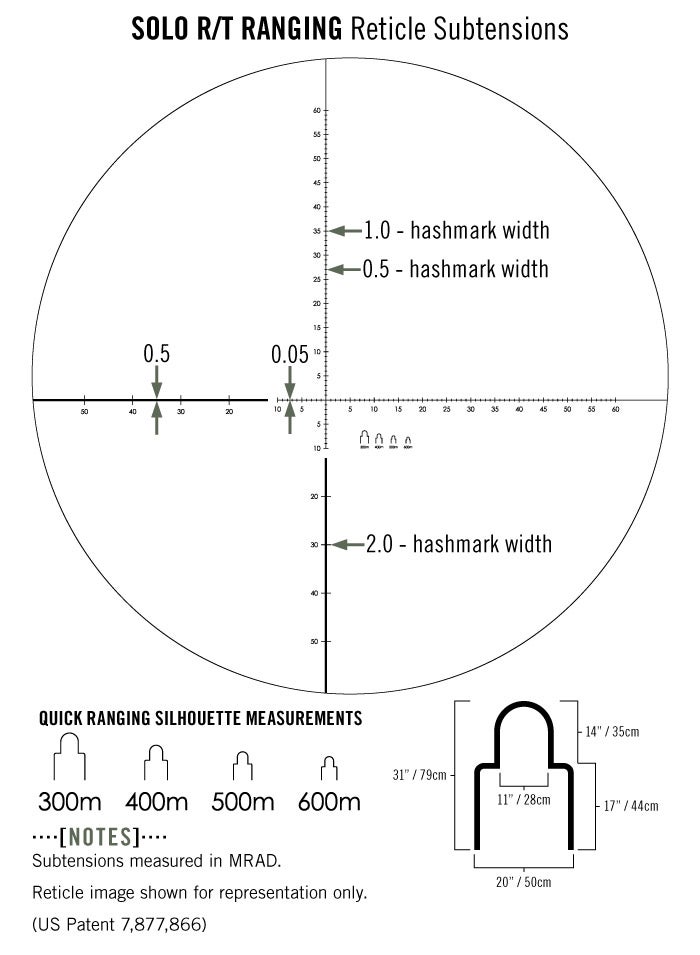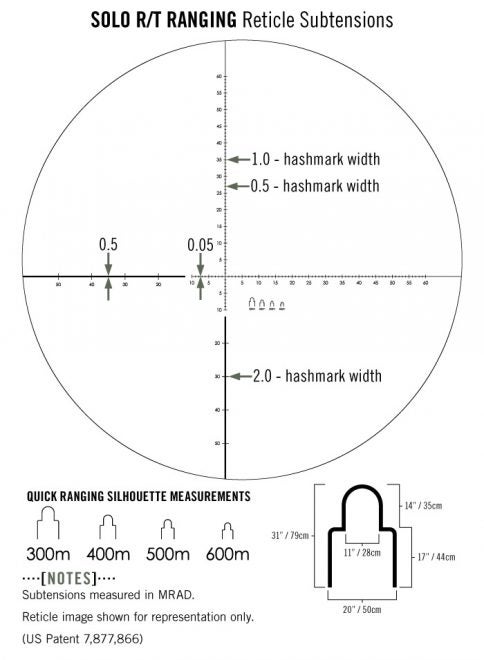 To quickly calculate range without batteries, line up the silhouette outline with a human-sized silhouette for immediate ranging, or use the the Mil-Dots. This method also prevents rangefinder errors due to interference from grass, leaves, or other things that lie between you and your target. Ahh, good old fashioned manual ranging paired with enough magnification to see more detail than an electronic 4x rangefinder would allow. In my opinion, this was one of the top optic products of the 2016 SHOT Show and after testing, I believe it should be in everyone's kit.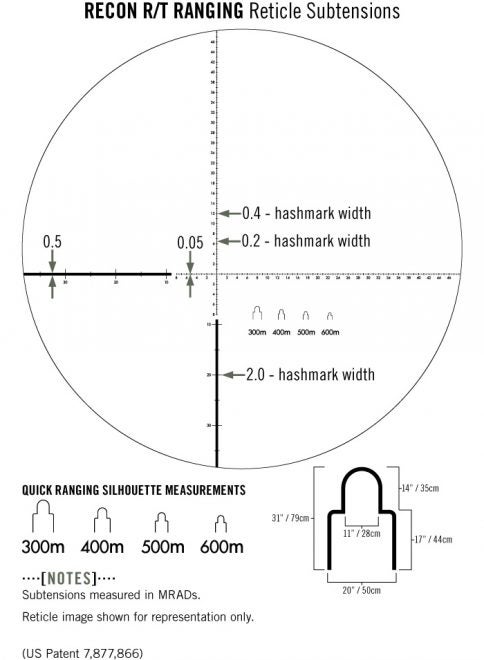 A great pair of binoculars is handy, but they can be cumbersome and heavy. A monocular can be tucked into a jacket pocket or clipped to your belt. Technically, you are getting better optics in a monocular for the money than you would with binoculars simply because you are paying for one eye-full of optics rather than two. The clarity of these Vortex Monoculars is really outstanding considering the price.
I wish they had a focus-free model. Current models do feature easy-to-use focusing and ocular adjustment.
When using a Mil-Dot ranging system, the conventional approach would be to find what you are looking for, then get behind your rifle to relocate the target in your scope, and use its reticle to measure objects in order to calculate the distance for the shooting solution. With both the Vortex RECON R/T and Vortex SOLO R/T, you or a shooting partner can find and range a target and the rifle only needs to be used to send a bullet.
Some people would ask, "Why should I care?" Largely so that you can range things without pointing a gun at them at football games, golfing, and keeping an eye on that car down the street all without waving a gun around. Another valid reason is that it will never require batteries. Once you start burning into your brain the mil-dot sizes of typical animals, human, and environmental objects, ranging can be really fast without any math involved.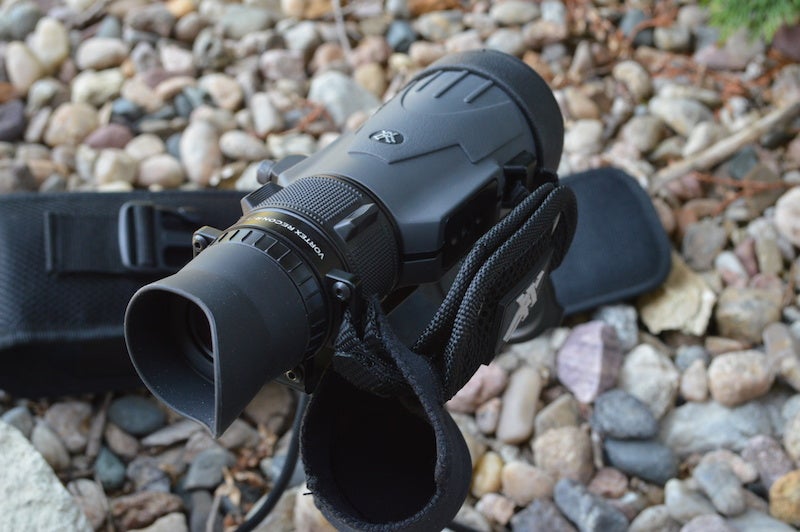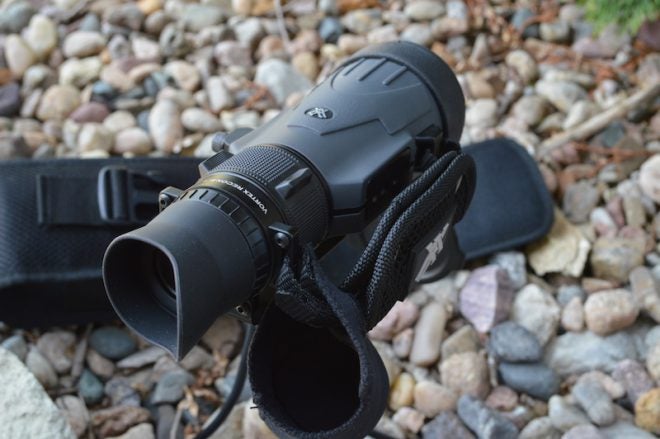 Vortex has thought each of these monoculars out very well. Both have belt clips for attaching to a belt or pack. Other accessories include lens covers, lanyards, and neoprene covers. The larger RECON R/T also includes a hand strap, picatinny rail, tripod adapter, and mini tripod.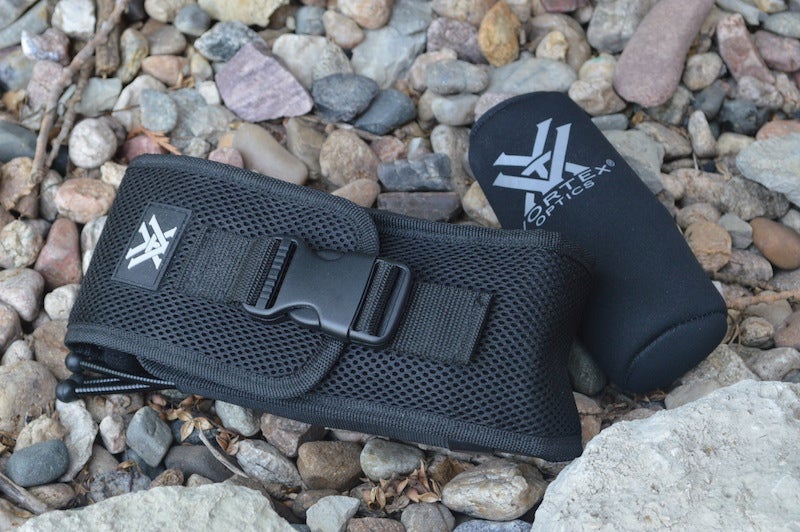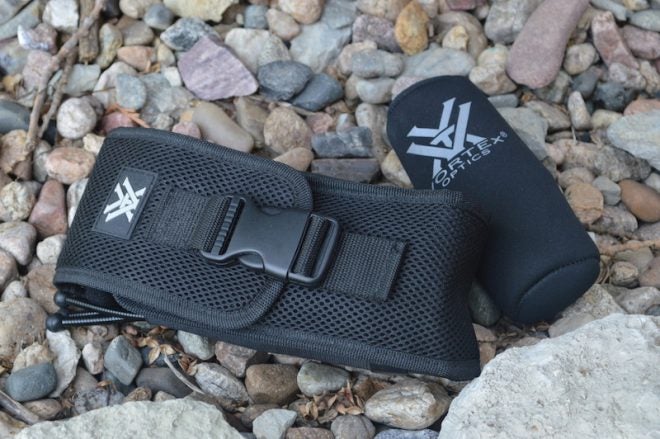 Vortex Recon R/T
Vortex's Recon is basically a compact spotting scope with 40 mils of positive and negative ranging ability from center. The 10X magnification does require some type of stabilization or the image starts to jump around. Vortex includes a small flexi-leg tripod, which mounts quickly via the included multi-mount. This tripod is just barely strong enough to support the Recon's weight, but it does work if you get the legs bent just right. The Recon R/T can also be mounted to any screw-on type tripod on either side, which would be a preferable mounting if used on a bench.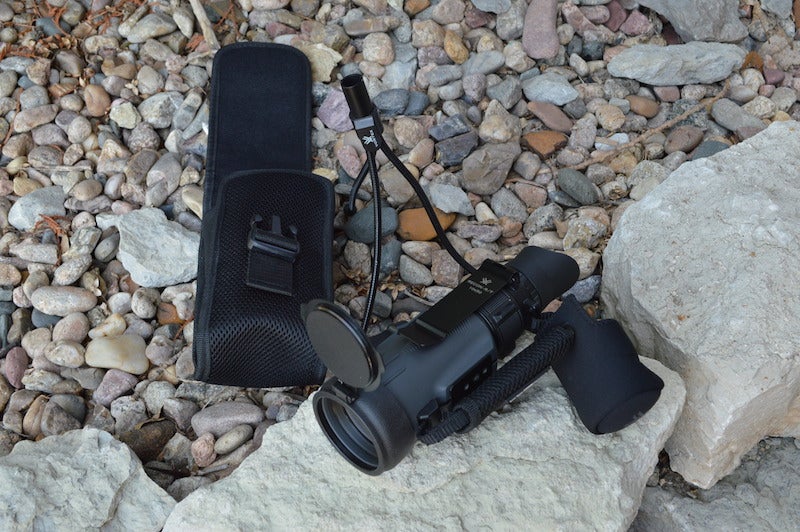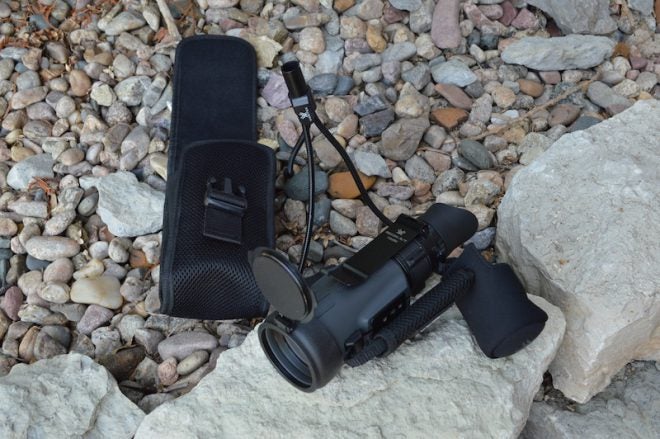 At $689 the assumption is that the Vortex Recon R/T is a significantly better optic than its little brother, and I think that's correct. Notably the Recon is a significantly higher tier of optic with greatly improved clarity and brightness all around. It feels more rugged and more feature-packed than the slimmed down Solo. I see the primary role of the Recon R/T 10x and 15x models as taking the place of compact spotting scopes in the field while reducing the weight burden of also carrying binoculars and ranging devices.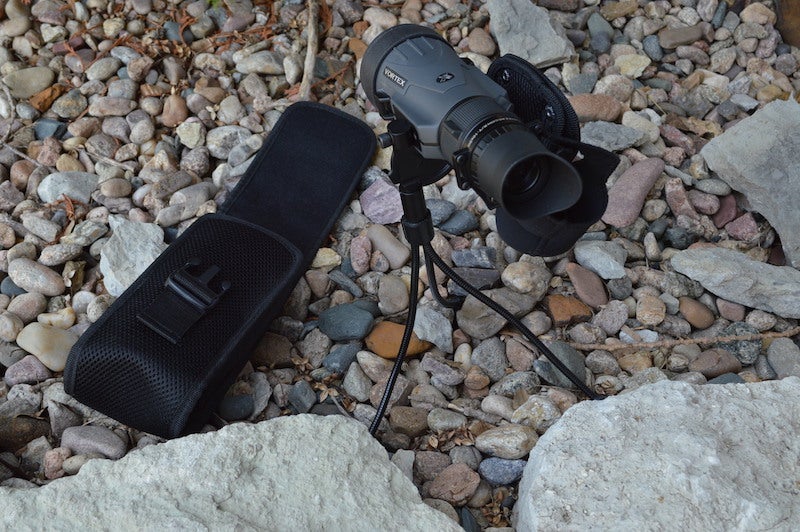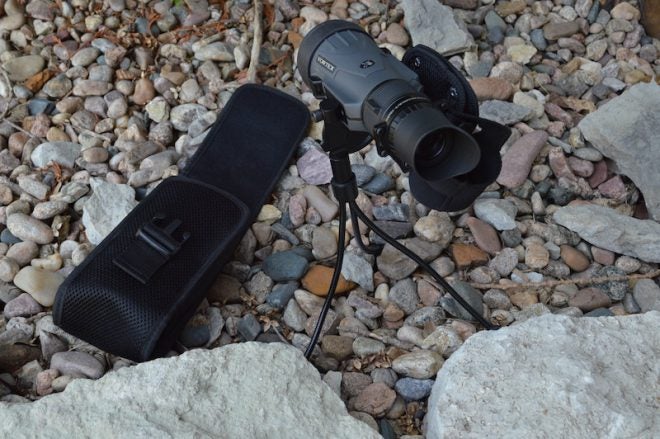 Vortex Solo R/T
The Vortex Solo is the little brother of the Recon, but with 60 Mils of positive and negative ranging from center due to the broader field of view due to the 8x magnification. The Solo does not have the extra lens covers, the tripod, or the hand strap, but it offers the perfect compromise of compact usefulness that would make you carry it everywhere. It does not look "tactical," which I think is important as a multi-tool optics for residential, urban, and even public sporting environments.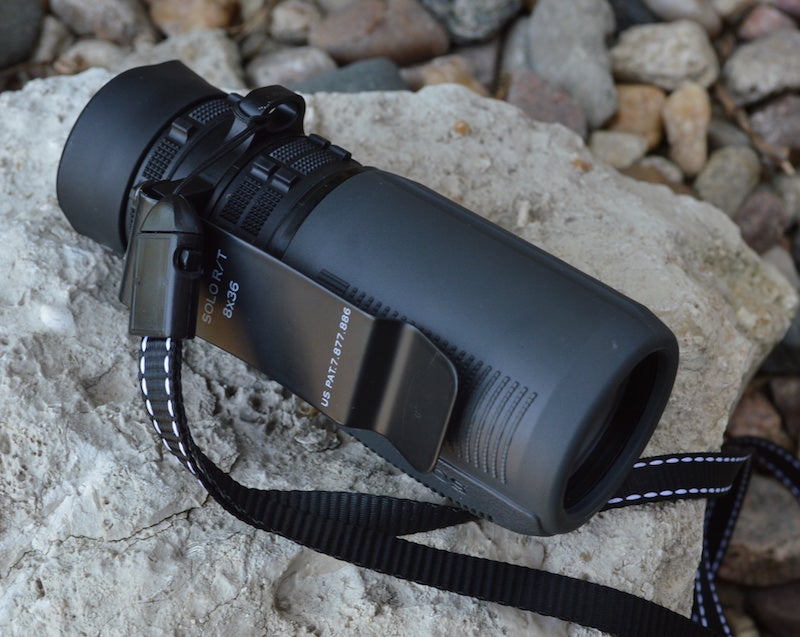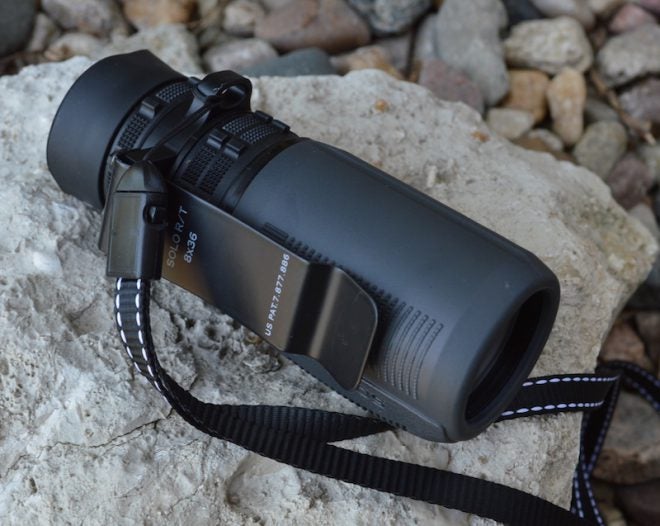 The Solo R/T still packs the ranging reticle, silhouette ranging, and pocket clip–all protected by a simple neoprene case. The 8x magnification is more forgiving when it comes to getting a stable image without the use of tripods or other supports. I can say that I use the Solo so much I will likely buy at least another one. It gets used a lot at the range to see "Now where exactly did I hit that steel?" or just to check targets.
Final Thoughts
It is easy to whip out your laser range finder, but there are many situations where I have found them to give false or unreliable readings. Mil-based ranging may not give you the perfect accuracy of a laser range finder, but the Recon and Solo do provide a tool which can validate a laser range and/or double as a scouting tool. A brilliant idea by Vortex of offering this concept in an affordable package to the consumer markets.
Manufacturer Specs
Vortex Recon R/T
Magnification

10 x

Objective Lens Diameter

50 mm

Eye Relief

19.5 mm

Exit Pupil

5 mm

Linear Field of View

280 feet/1000 yards

Angular Field of View

5.3 degrees

Close Focus

12 feet

Length

7 inches

Width

3 inches

Hand Grip Width

2.4 inches

Weight

15.2 ounces

$689
Vortex Solo R/T
Magnification

8 x

Objective Lens Diameter

36 mm

Eye Relief

18 mm

Exit Pupil

4.5 mm

Linear Field of View

393 feet/1000 yards

Angular Field of View

7.5 degrees

Close Focus

16.4 feet

Length

5.3 inches

Width

2.3 inches

Hand Grip Width

2 inches

Weight

10.2 ounces

$159