Watch: Reloading Rifle Ammo with Lee Loader
Russ Chastain 04.10.17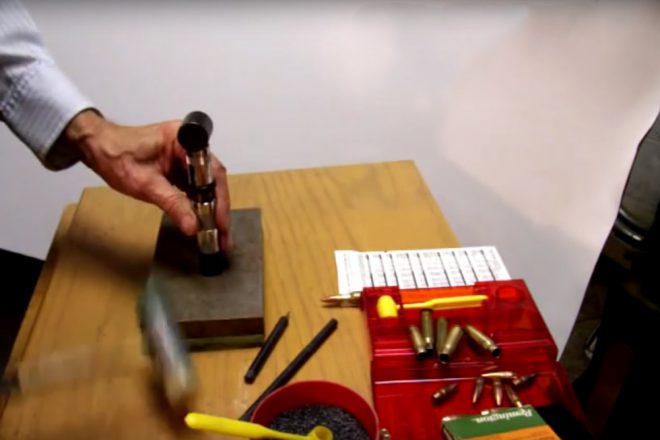 We have touched on the Lee Loader here before when Major Pandemic posted about it, but it definitely deserves a revisit, especially as a cheap and effective prep that you can easily take with you and use just about anywhere to reload ammunition.
This video shows inventor Richard Lee prepping and reloading a rifle cartridge in about 40 seconds. It's not the most detailed video out there, but it tells you what you need to know without a bunch of stuttering and guesswork, and it shows that you can do a good job of reloading with these simple tools without taking all day to do it.
Be aware of the limitations of the Lee Loader for bottleneck rifle cartridges (those cartridges with a large body and smaller neck for holding the bullet). In short, the Lee Loader can only neck-size the brass, so in most cases you will need to fire the loaded cartridges in the exact same gun in which they were originally fired, and you do not want to reload for a semi-auto with a Lee Loader. Bolt actions should run fine with neck-sized cases from the same gun, and they may be even more accurate than fully resized brass.
Lee products are sometimes sneered at by snobs who don't know any better, but the fact is that Lee products are usually the most affordable, purely practical, reloading tools you can get. Yes, you might have to do a little more work to get the job done, but in the meantime you've saved a considerable hunk of cash. And these days, the Lee Loader is one of just a few small, portable, reloading solutions still being made.
While you're prepping, don't forget to lay in a supply of suitable primers, powder, and bullets to go along with your reloading gear.
Look at Mr. Lee's hands in the video. They are the hands of a man who does things and makes things.
Impressive.