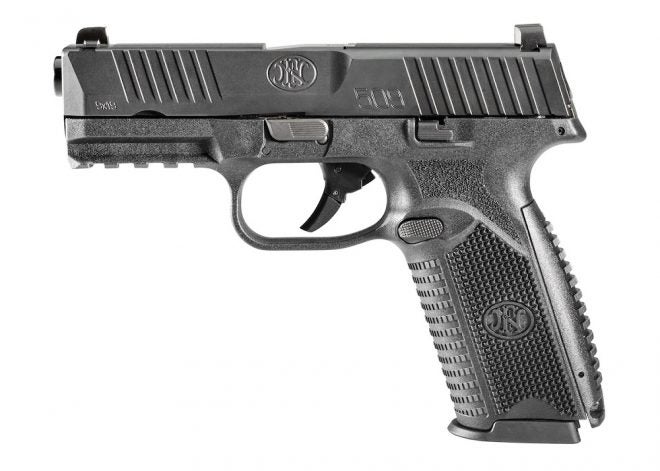 Wow, just in time for tax refunds, FN has announced the introduction of its brand new Model 509 pistol. A striker fired version chambered for the world standard 9mm, the 509 came from development trials to compete in the new U.S. Army pistol selection process. What the Army has not chosen will not be available to the public consumer and others such as law enforcement commencing next month.
The FN509 did not come as an afterthought either from their already popular and excellent FNS compact pistol. The Army trials set forth a number of specific qualification specifications, including the modular pistol concept. FN proceeded to work on those exacting specifications to develop the 509.
And if you don't think a company like FN fully tests their pistols to enter the Army competition, the 509 test versions were fired over a million times to prove its functionality and reliability, which of course is a benchmark performance standard for any military firearm. The 509 more than proved itself in terms of ammo compatibility and durability.
If you get a chance to look and hold the new 509 such as at the upcoming NRA show in Atlanta in Booth 2429 at the end of the month, the first feature you may notice is the aggressive serrations on the front and rear of the slide. This makes for easy grasping with the naked hand or gloved at the range or field. The grip panels are also textured for sure fit handling as well.
Specs on the new FN509 include a 4-inch barrel, weight of 26.9 ounces, overall length at 7.4 inches, fixed 3-dot luminescent sights, but LE personnel will get 3-dot night sights. The DAO trigger pull is adjustable from 5.5 to 7.5 pounds. The 509's safety is internal, non-manual, but manual safety models will come later. Magazine capacity is 10 or 17 rounds. The suggested retail cost will be in the $649 neighborhood.
The FN America, LLC company a part of the FN Herstal corporate complex is headquartered in McLean, Virginia. Their manufacturing plant is located in Columbia, South Carolina. FN is reporting that shipments of the new 509 are underway to their distributor network for commercial models by May. Law enforcement versions will follow in June of this year.
All FN products including the new FN 509 can be reviewed at their web site.