Review: Indian Creek Design Blast Forwarding Device
Major Pandemic 04.18.17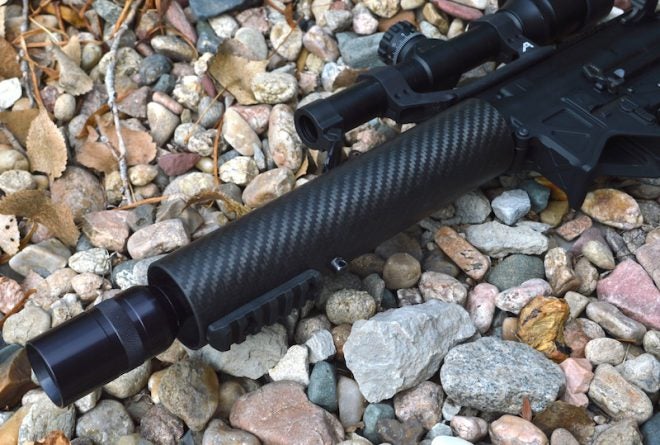 When you're accessorizing your AR, don't forget a blast shield. The concept is simply to redirect muzzle blast forward to help reduce the noise level to which you and your fellow shooters are exposed.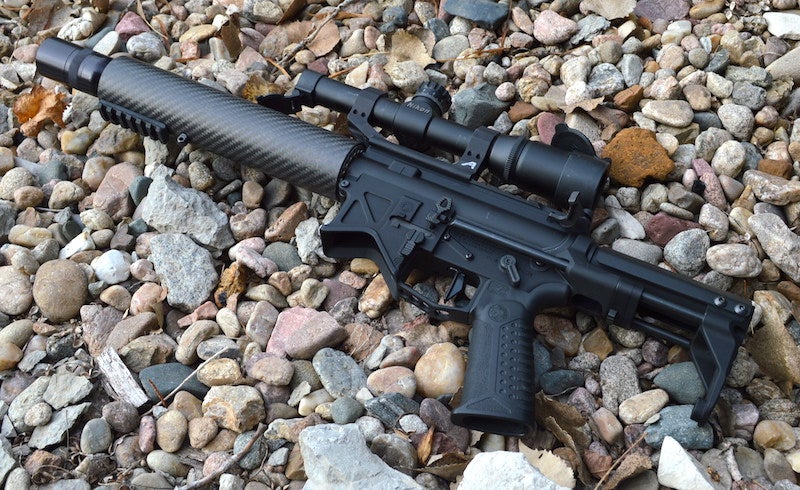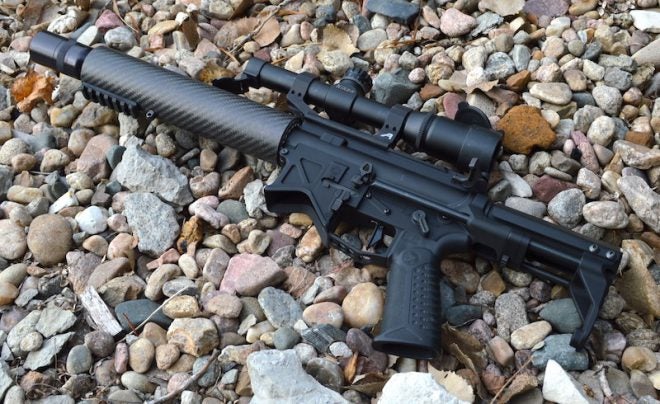 The concept of the blast shield or concussion redirector has been around for a while and originated in the tactical market for CQB entry teams, who were firing short-barreled rifles standing next to each other in a room. There have been a number of takes on the idea, but all require a proprietary blast shield designed exclusively for a proprietary brake. For example, YHM, VG6 and Strike industries all offer exceptional blast shields — if you happen to be running one of their brakes. The Indian Creek Design Blast Forwarding Device (BFD) is a universal alternative for everyone else.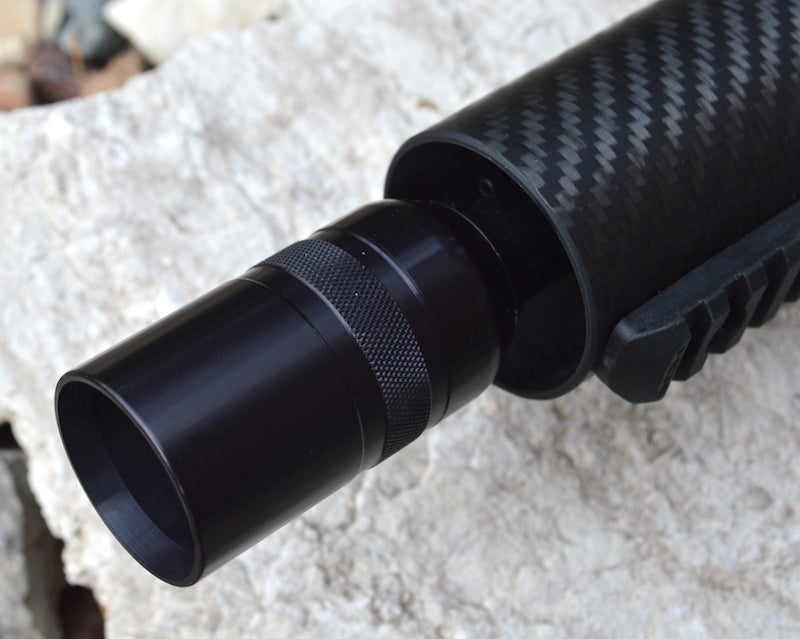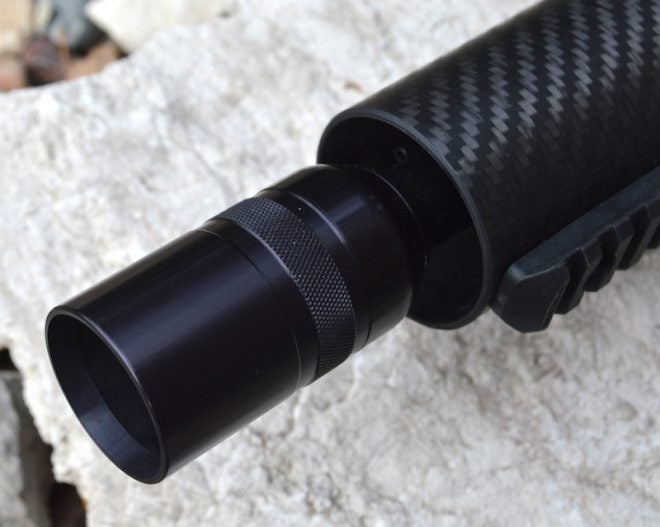 Fit, Finish, Feel, Features, and Functions
Indian Creek Design Blast Forwarding Device has a threaded attachment collar that slips over the barrel before or after the crush washer, and then the muzzle device is attached. The brilliance of the design is that it's compatible with almost any muzzle device, including your standard A2 birdcage flash hider or even a super-loud muzzle brake.
The Blast Forwarding Device is compatible with pretty much any muzzle device as long as that muzzle device does not have a shoulder that shrouds the attachment point on the barrel. (AAC, YHM, and PWS have a few brakes with shoulders that hide the crush washer.)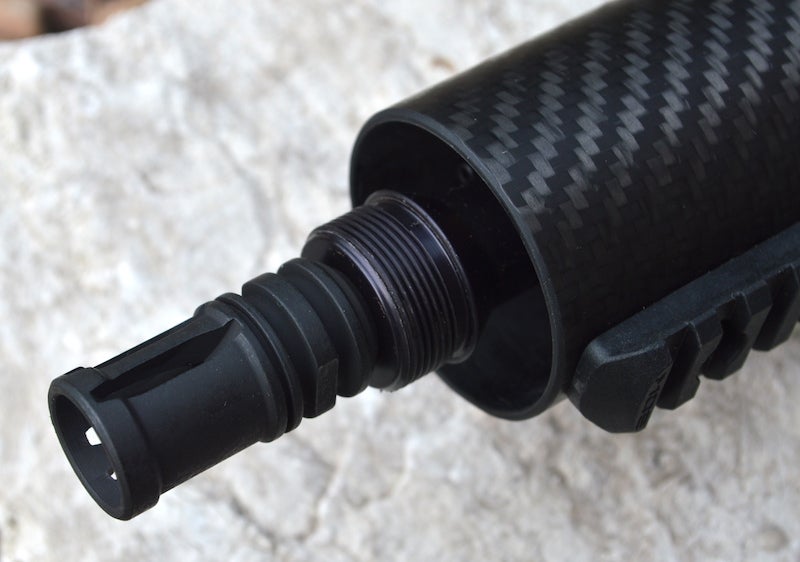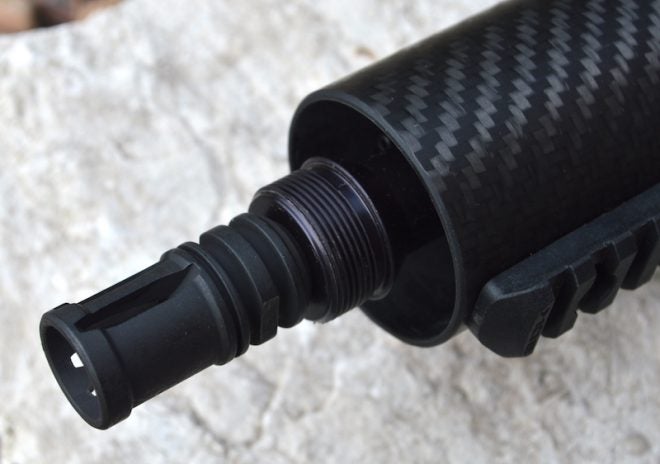 Despite the appearance, the ICD Blast Forwarding Attachment Collar only takes up 3/32-inch of the barrel threads because the majority of the attachment collar is back down the barrel, potentially hiding the ugly crush washer.
After the attachment collar is installed, the Blast Forwarding Shield can be screwed onto the collar whenever it is needed. If you want to use the blast shield on another gun, just buy another attachment collar.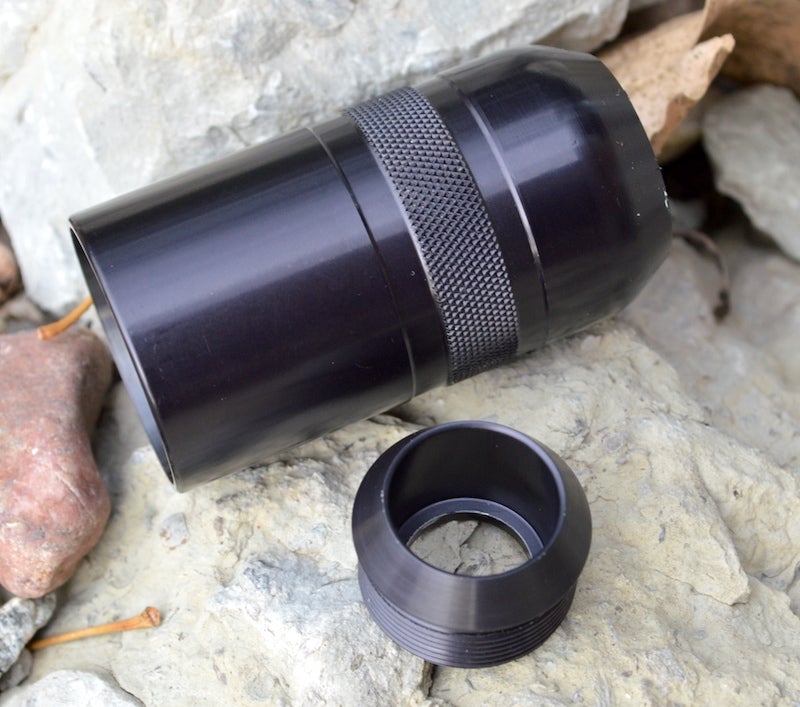 The BFD is made of billet aluminum Type III hardcoat anodized and will work on almost any muzzle. The BFD is only 2.6 ounces but is pretty large; its 1.5" diameter x 2.5" length is similar in size to the YHM blast shield. Made in the USA.
Final Thoughts
The Indian Creek Design BFD is a spectacular solution for only $80. It does its job and drives the concussion away from the shooter or adjacent shooters. I mounted the BFD to a Faxon-barreled Aero Precision upper mounted to my SBR-registered Battle Arms Development lower, and also tested it on a number of other rifles. In all tests, the BFD delivered a huge improvement in shooter comfort.
Cool product, which I am stunned it took this long for someone to invent. Great job, Indian Creek Design.
The BFD is listed on the Indian Creek website for $79.95. Additional threaded mounts are $29.95 each.


Manufacturer Specs
The Indian Creek Design BFD

Type III hardcoat anodize

Fits 1/2″-28, 1/2″-36, 5/8″-24, and 14mm muzzle devices

It weighs 2.6 ounces

O.D. is 1.49″ and OAL is 3.1."

Maximum projection when mounted is 2.5″  

Made in U.S.A.