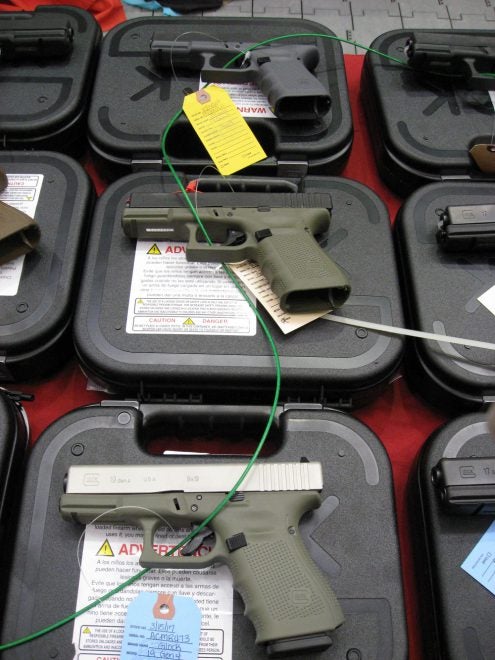 Have you noticed your hands shaking a little bit at the gun counter? Do you break out in a cold sweat and have heart palpitations? Is your vision blurring even just a little bit? If so, then you may be suffering from Glockoma. It is an ailment of sorts that is near approaching epidemic proportions. It is the desire to want to own a Glock handgun.
Now, to be fair, I am not personally a super huge fan of Glocks but for unreasonable reasons of my own. Glock handguns have their issues like anything else manufactured of metal and polymers under the hopeful and watchful eyes of factory technicians and assembly personnel. But, darn if the dad-burn handguns weren't just so dog ugly. But, then I have sure seen some ugly dogs turn out to be fine hunters.
Glock handguns have definitely earned a reputation for quality and functional reliability. Nearly 65 percent of the law enforcement agencies in America use the Glock pistols as their official issued firearms. Glock handguns are used in many elite military units around the world.
Millions of Americans use one model or another of Glock handguns for personal and property protection and self-defense. Many shooting ranges and training schools use Glock handguns to promote gun shooting safety as well as basis shooting orientation and instruction.
Glock handguns are striker fired, so they are easy to learn to use. Nearly all shooters quickly learn to handle the Glock platform, and this includes women shooters learning to handle firearms for the first time.
Additionally, Glock pistols are proven to be reliable and functional under all types of adverse conditions including mud, water, and sand. Of course like any other mechanical device, these handguns have to be regularly maintained, cleaned, and inspected. Glock parts can wear out like any other firearm, so upkeep is required.
The Glock models 17, 19, 42 and 43 are favored among preppers and survivalists for Every Day Carry (EDC) as well as supplying their BOB's or Bug Out Bags. These particular models of Glock guns are 9mm (17-19-43) and one .380 ACP, the Model 42. Other Glock models are also deployed by preppers, but these four are often mentioned as the most popular versions.
Having Glockoma is not a serious disorder. There is a cure. In fact, it might actually turn out to be a lifesaving malady, sort of. Certainly if you are just now looking for a good, basic self-defense and protection handgun, then take a serious look at the Glock.